One of the dishes you can have all-year-round but is high on demand during the holidays is bibingka, because it's truly the dish that's synonymous with Christmas. It's a soft, sweet rice cake that's topped with salted egg, slathered with butter, and sprinkled with niyog and a bit of sugar.
If you're suddenly craving for bibingka (Christmas is less than 50 days away!), here are the places in Manila where you can have that craving satisfied ASAP!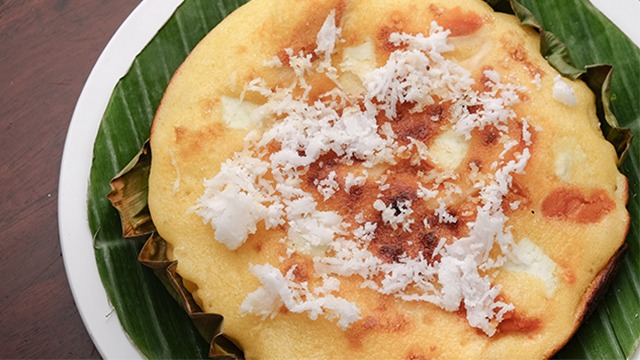 1 Ferino's Bibingka
Ferino's Bibingka uses an 81-year-old recipe that has never changed since the first time Ceferino Francisco, the founder, concocted their secret galapong recipe. If you're looking for an extra special bibingka experience, Ferino's offers the Extra Super, a bibingka that has kesong puti (made from carabao's milk), salted egg, and topped with niyog (coconut).
See the list of Ferino's Bibingka branches here.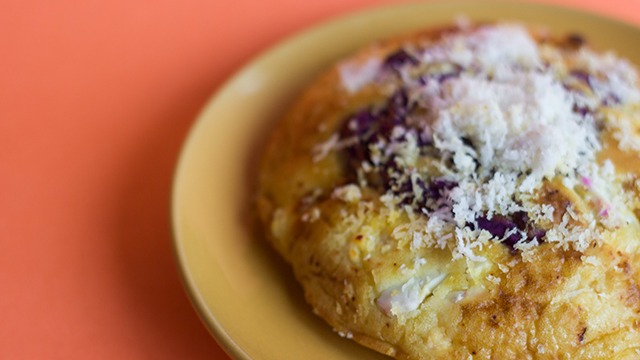 2 Manam
Manam is one of the obvious choices when it comes to Filipino dishes. It's no surprise that this restaurant offers a classic such as bibingka—but in a slightly different way. Manam makes it unique by incorporating swirls of sweet ube, another Filipino-favorite, to make it even more delicious and irresistible.
See the list of Manam branches here.
[instagram url="https://www.instagram.com/p/B4B4IsMnj1N/"]
3 Via Mare
When you're craving bibingka, you can always rely on a classic, OG restaurant such as Via Mare. For more than four decades, patrons and new customers-turned-into-patrons of Via Mare always go back for their freshly-baked bibingka that is made with rice flour, coconut milk, butter, and topped with salted egg and shredded coconut.
See the list of Via Mare branches here.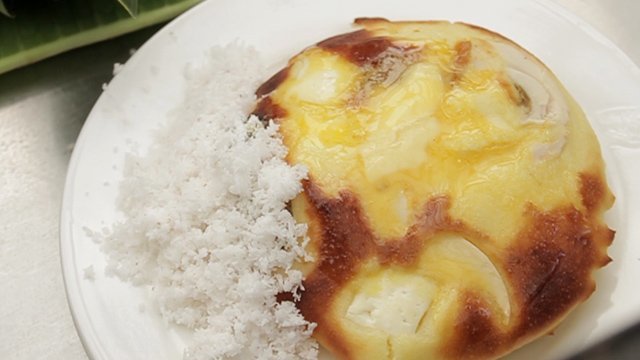 WATCH: Here's How Bibingka Is Made
Posted in:
News + Trends
[instagram url="https://www.instagram.com/p/BoJX_KoFyGg/"]
4 Sentro 1771
Sentro 1771 makes their bibingka extra, extra fluffy, topped with kesong puti, salted duck egg, and grated coconut. You can pair this with puto bumbong, another Christmas staple that's served at Sentro 1771. Both of these kakanin are best coupled with a cup of their hot chocolate.
ADVERTISEMENT - CONTINUE READING BELOW
Recommended Videos
See the list of Sentro 1771 branches here.
[facebook url="https://www.facebook.com/ProvencianoRestaurant/photos/a.541330076006053/576288479176879/?type=3&permPage=1″]
5 Provenciano
If you frequent Quezon City, you probably know about the bountiful, delicious Filipino dishes you can find at Provenciano. One of the dishes they're known for is the bibingka which is prepared in their mini bahay kubo. Provenciano serves a classic bibingka: large, buttery, topped with salted egg, shaved coconut, and the option to sprinkle coconut sugar for a little bit of sweetness.
Provenciano is located at 110 Maginhawa Street, Quezon City.
[instagram url="https://www.instagram.com/p/B1Lh2l4nFQZ/"]
6 Bibingkinitan
For a quick fix when you're on a tight budget, you can always go to Bibingkinitan and buy a piece or a box of their bibingka. Bibingkinitan's original mini bibingka, albeit its smaller-than-usual size, is delicious enough and not bad for its price point. This is best paired with Bibingkinitan's kapeng Barako, of course!
For more information, follow Bibingkinitan on Facebook.