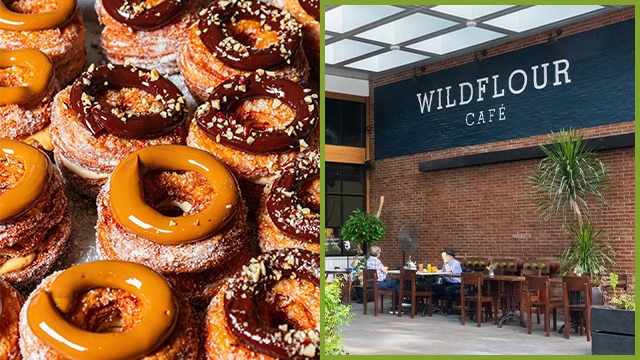 Ana Lorenzana De Ocampo is a name that has become synonymous with culinary excellence and entrepreneurial success.
With her passion for food and business acumen, De Ocampo has successfully launched several dining concepts that have become household names in the country.
De Ocampo was born into a family of entrepreneurs. Her maternal grandmother was a highly accomplished business founder who owned and operated several businesses in Olongapo City, while her father's family are renowned entrepreneurs behind the popular fish sauce brand Lorin's Patis.
Growing up, De Ocampo was immersed in the world of business, working alongside her accomplished grandmother in their bakery in Olongapo City during the summers.
These experiences played a vital role in shaping her understanding of how businesses operate. It was during these formative years, while working in her grandmother's bakery, that she discovered her love for baking.
Driven by her passion for food and her desire to make her mark in the food industry, De Ocampo pursued a degree in Hotel and Restaurant Management at the University of the Philippines. After completing her degree, she further refined her culinary skills by enrolling in a course at Le Cordon Bleu in London.
In 2012, De Ocampo invited her sister, Margie, who had also studied culinary arts in the US and London, to join her in launching their first bakery in Bonifacio Global City.
Initially focusing on pastries, sandwiches, and bread, the bakery, known as Wildflour Café + Bakery, rapidly achieved remarkable success. Its triumph led to its expansion into a full-fledged restaurant.
Today, Wildflour Cafe + Bakery boasts a total of 16 outlets, with plans to open eight more by year-end, making it one of the country's fastest-growing restaurant groups.
De Ocampo's passion for food, combined with her solid foundation in culinary arts, has allowed her to create a thriving business with a diverse portfolio. Over the years, she has also created other concepts such as Little Flour Cafe, PINK's burgers and hotdogs, and Farmacy Ice Cream.
How did De Ocampo manage to grow Wildflour into a world-class dining restaurant? What lessons can we learn from De Ocampo's success in the food industry?
Here are five essential business lessons every entrepreneur can learn from Ana Lorenzana de Ocampo, the co-founder and CEO of Wildflour Café + Bakery:
1 Know how to harness the power of the passion to succeed.
Building and running a business is not without its challenges. There will be tough times, failures, and moments of doubt, but passion provides the resilience needed to bounce back from setbacks and continue moving forward.
De Ocampo's passion for food, baking, and cooking propelled her to start a bakery business. Her passion provided her the drive and persistence needed to overcome challenges and seize opportunities. Despite initial rejections and difficulties finding a suitable location, she remained determined to pursue her dream.
"Food was really our passion," she says. "At a very young age, me and my sister, we love to bake na, we love to cook, we were very passionate about it.
"At that time, I was working for Office Warehouse and it was growing, so I said, 'You know, maybe I can have a hobby, with my sister, sayang naman what we studied, and it's always been our passion to put up a small bakery, baking was always our passion.
ADVERTISEMENT - CONTINUE READING BELOW
Recommended Videos
"So I said, let's put up a small one lang, the one that just serves sandwich, coffee and pastries. That's all we want. A small café.
"Anybody who has tried to open a restaurant business in the super, very competitive Manila food scene knows how hard it is for a newcomer like us at that time to find a good location and to really start a business, so many hurdles that you have to clear to be able to operate.
"If you don't have any track record, you can't get a good location because initially, we were turned down several times by the malls. Ten years ago, you have to imagine, wala, really, there was hardly anybody outside the malls. A lot were always in the malls, kasi traffic nga was important.
"And I was looking for a location in BGC, and we got this one. During those days, spaces in the ground floor of all these nice buildings were really meant for multinationals or banks, so when I submitted my proposal, the landlords took a chance on us.
"And it's good because up to this day, this branch remains to be our oldest and our flagship branch, the one in BGC started with one small space and then it grew into three spaces."
2 Know how to earn customers' trust with exceptional product and service.
Quality products and services that meet or exceed customer expectations can lead to high levels of satisfaction. When customers have a positive experience with your business, they become natural advocates, sharing their satisfaction with others and helping to promote your brand.
By offering high-quality food, De Ocampo ensured that her customers were satisfied with their experience at her Wildflour Cafe + Bakery.
Customers appreciated the unique quality of Wildflour, which set it apart from competitors. This distinctiveness resonated with customers and contributed to the positive word of mouth, further fueling the café's growth and success.
"After we locked in the space, the challenge there was being able to construct and really execute our vision. At that time, I had very minimal experience in construction. And I only had a bunch of karpinteros, a ragtag team from my dad, but I didn't have any idea that, in BGC you had strict building restrictions and all that. We experienced a lot of delays and setbacks, but actually after so much prayers, perseverance and so much effort, we finally opened it.
"And it didn't end there. It was one of the very few restaurants outside the mall that was a stand-alone, so walang foot traffic. The buildings around us were all under construction, and then the building we built in was empty.
"At that time, we had very few customers on the first day, and the second day, ang konti-konti, and I was already saying, 'What did I just do? Dapat nagre-regret na ako.' I said, 'Why did I even think of opening this business?' But we did open it, and I guess, good thing we were able to serve good food and the ambiance was good and all that.
"The first day that we opened, sabi namin, 'We'll just open for lunch and then for one week, and then next week, maybe lunch and dinner, and then maybe breakfast, lunch and dinner, so ganun ang nangyari.
"But the first couple of days, walang tao talaga, it was so dead and I told myself one thing I will never do is let our service go out the door and make harang to come in. But in the first days, we were so overwhelmed. I mean, konti pa lang, and then parang we got surprised that people were coming. Parang saan galing ito mga tao na 'to? Parang people were starting to come, then we realized it was word-of-mouth.
"People liked what they had because, modesty aside, these were things that were never really served in other restaurants. Like, at that time, I think we were one of the very first to make our own bread, to make our own brioche, for like a French toast. Maraming firsts e.
"People found it like a fresh concept and, you know, to this day, they say, 'Were you copying' or whatever? Wala e, it's really the soul of Wildflour. I think a lot of our food has soul, and I think that's what spells the difference."
3 Know how to build a strong foundation with solid core values.
Effective branding encompasses more than just names, logos, and trademarks. It encompasses everything that influences how customers perceive a company or product.
From visual design and quality to the purchasing experience and customer service, branding extends to every aspect of a customer's interaction with a brand.
De Ocampo utilized effective branding strategies in various aspects of their business. She carefully selected the name "Wildflour" for her establishment, which not only aligned with their focus on baked goods but also brought a fresh and unique concept to the market.
She also successfully positioned Wildflour as a brand known for simplicity, attention to detail and uncompromising quality by emphasizing consistency and quality in all her branches.
"My sister came up with the name Wildflour," De Ocampo says. "Actually, I wanted the name 'Flour,' and she said no. And then she started to play around with it and then finally we said, 'Okay, Wildflour.'
"We wanted 'flour' kasi a lot of our products in our menu had flour. Originally, puro baked goods nga gusto namin, so we said flour, but then there was another restaurant that was known as 'Flour,' and so she said why not 'Wildflour?'
"We eventually chose Wildflour, and then the design, my brother-in-law's passion was carpentry and design, so he helped us out also with the design and he's a chef in L.A.
"Because we wanted lang simple pastry, coffee, sandwiches, pero as we were building the restaurant, biglang nag-evolve. Little by little, we started adding to our menu.
"At the time when we were starting, wala masyadong ingredients. We couldn't get the right ingredients at that time. We couldn't find the right herbs. It was so hard talaga and we couldn't find very good ingredients, so that's why our costs were high, because we were only focusing on suppliers who could give us the best lettuce, the best herbs.
"A lot of things we make our own, like tomato sauce. Those were the challenges in the beginning: not too many choices in terms of good ingredients. But it's a lot better now. It has changed a lot.
"We pride ourselves in the fact that we do very simple food, simple comfort food, but done well. Like you can have a very simple French toast, and if you look at our ingredients, we don't scrimp on them. We don't just buy margarine, we buy the best butter.
"When we use syrup, we don't just use whatever syrup is available, we use pure maple syrup. So we really want it to be in our DNA that whatever it is that we serve, it's not just whatever na lang the ingredients. We make sure that it's simple, but it's the best.
"Like our butter, we don't settle for kung ano-ano butter lang. It has to be the best. If we make adobo, it's not just whatever; our adobo takes hours to make, to make sure that it gets the right consistency and quality. That's how we do things and I think people can see that.
"Even if we do buy things locally, we make sure that it's good, it's not just whatever the cheapest one is. It has to be the best-looking quality. Let's say a tomato. It has to be the best-looking tomato, it has to be a good tomato. It can't just be cheap tomato and whatever, so I think that's really part of why we are where we are right now. We try to be the best we can be in everything that we do every single day.
"And without scrimping on ingredients. I think we make sure that among all of our chefs, there is consistency and quality across all branches, and really, we want to make sure that we are united in this objective that we're always doing the best we can do every day, which leads to every week, every month, every year.
"We want daily improvement in everything that we do, so if we started this, it has to, you know, not end there. We can't be satisfied with just being good at one thing or limiting ourselves to being good at one thing. It has to be across.
"People ask us who our biggest competitor is, and we're always like, everybody's a competitor, and we compete with ourselves. You know, we don't want to have this tunnel vision and one single rival because for us really, it's really constant. A daily improvement of everything that we have, like our products, the consistency of all of these things."
4 Know how to hire the right people.
Hiring the right people ensures that you have individuals with the necessary skills and expertise to perform their roles effectively. They bring their knowledge and experience, which adds value to the organization and enhances overall productivity.
Each employee at Wildflour Cafe + Bakery represents a crucial aspect of the business to customers and the community. By hiring individuals who aligned with the company's values and possessed the necessary skills, De Ocampo ensured a positive customer experience and a strong team dynamic.
By nurturing a positive attitude and fostering a culture of continuous improvement, De Ocampo creates a team that is dedicated to providing exceptional service and hospitality. It also allows for a seamless integration into the existing team, preserving the company's unique culture and promoting loyalty among employees.
"We really try to instill in all of our chefs, and not just the chefs, but everybody in the company—consistency and quality. We try to really put in that kind of culture that they really get used to. That's very important to us.
"When we hire people, 'di ba sometimes people like to pirate? That's another challenge—getting the right people. But we always put priority on aptitude and attitude over credentials, because we feel like when we get the younger ones, okay, skill level is important, experience is important, but we feel like the strength of character and the ability and the capacity to learn is really what spells the difference.
"So, we prefer to hire people who have no experience, but then we feel that they are the ones who can put in the hard work. They're the ones who are willing to learn, as opposed to those who have experience and who are always parang may rigid mindset na. You can't change them and they come from a nice company.
"The younger ones are easier to mold and transform into high performers, and they end up being more loyal. And that's how we do it.
"It's really the attitude, and we're lucky enough that we understand that, di ba? Kasi, if you always get from other companies and then just put them there, iba yung culture. We just want them to make sure that the culture is what we want it to be.
"The culture here is to be the best you can be, and to not just have good service, but hospitality to the customers, always serving simple, authentic, comfort food done well and with personable service in a very homey atmosphere."
5 Know how to make mistakes early in life and learn from it.
It is important to train young people to learn from their mistakes early in life, especially in the context of business. By instilling this valuable skill from a young age, we help them develop a growth mindset and resilience that will greatly benefit their future business endeavors.
When young individuals are encouraged to understand the consequences of their actions and take responsibility for their mistakes, they gain a deeper understanding of themselves and their capabilities. They learn that setbacks and failures are not the end of the road but rather opportunities for growth and improvement.
The story of De Ocampo highlights the importance of learning from mistakes, especially at an early stage in life. Through her father's encouragement and the lessons they learned from their startup experience, she was able to grow and succeed in her future business ventures.
"You know one thing about my dad, whenever there was a business, he would always encourage us to try it," she says. "The thing is, of course, we didn't have money and he would be the investor. Like he would give us the seed money, and whenever we made mistakes, he never faulted us for these mistakes.
"For him, it's a lesson that we learn. I'll tell you a small story: fresh out of college, me and my two brothers, George and Eugene, we told our dad we wanted to put up a small restaurant, it was called BBQ Hut. It was 30 square meters lang siguro. Ang liit-liit, and my dad said, 'Sige, I'll support you.'
"So we were we were the ones who found the location, we had a very good BBQ recipe. We got an architect to help us design that small, small space so akala namin, everything was okay na and all that. But after six months, the business started to lose money. Akala namin it was great, kasi it was outside GMA 7, the one in Broadway Centrum. Akala namin, wow this was a great location.
"And you know what? We made so many mistakes in that one little branch. A lot of all the mistakes we made in that one branch really taught us all the lessons that we know now in building the businesses that we all have. Like, it doesn't necessarily mean if there are a lot of people, it's a great location. It doesn't necessarily mean that if you have a great product, okay ka na. It all has to come together. You really have to think of it as a whole.
"You know, my dad, he did not fault us. He did not get mad at us. When we all lost interest, kasi syempre it wasn't doing well, he could have said 'I'll take over.' But eventually talagang it didn't work, because nobody had the time to manage it anymore. But my dad didn't get mad at us and say, 'I told you so. See what happens.' And I think it's very valuable, the lessons we learned from that little branch.
"Now I know, no matter how small that business was, a lot of our mistakes we kind of learned from it. That's why they say it's better to make all your mistakes early in life than late.
"My dad was very encouraging. He would always tell us it's always very good to have discipline. Discipline is one of the most important things. And also, basically, just work hard.
"Passion is important, but I think nothing beats hard work and being there. You can't put up a business and then you're absent. You always have to be present, especially in the middle of the line of fire. You have to be there. You see all the mistakes. You see what the problem is. You cannot be an absentee owner. You really have to be where the action is."
Henry Ong, RFP, is an entrepreneur, financial planning advocate, and business advisor. Email Henry for business advice or follow him on Twitter. 
This story originally appeared on Esquire.ph. Minor edits have been made by Yummy.ph editors.