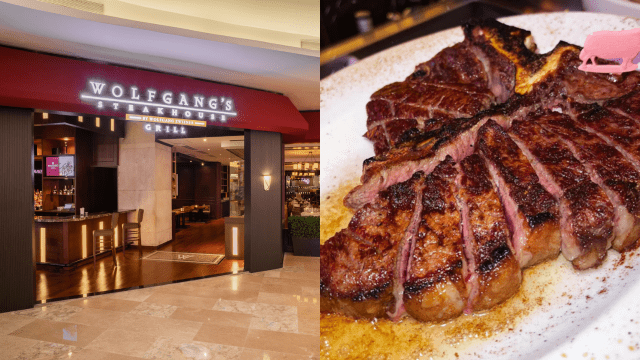 There's a new Wolfgang's Steakhouse in town, and the already vibrant dining scene at City of Dreams is made even more exciting with its addition. The new branch inside the City of Dreams complex is ready to captivate carnivorous connoisseurs with its exceptional steaks and impeccable dining experience. With a renowned reputation, this world-class steakhouse brings its signature blend of elegance, craftsmanship, and delectable flavors to food enthusiasts in an unforgettable manner — from the effortless sophistication of its interiors and the impeccable service of its staff and of course, down to their lip-smacking pièce de résistance: their dry-aged USDA Prime steaks. 
What You Need to Know About Wolfgang's Steakhouse, City of Dreams:
Tucked away on the upper ground floor of the City of Dreams complex, this newest branch is the fourth in the Philippines and the 32nd worldwide. Wolfgang's Steakhouse is known for using only dry-aged USDA Prime Black Angus beef that's been shipped directly from the United States, and this may very well be the secret to maintaining the same level of consistency and quality of each of their locations. 
This newest branch also introduces a new grill concept that's unique only to the City of Dreams branch; with it, Wolfgang's Steakhouse president and co-founder Peter Zweiner aims to introduce newer items from the grill while still keeping the classic Wolfgang's Steakhouse menu items patrons have come to know and love.
Don't Miss These Mouthwatering New Dishes At Wolfgang's Steakhouse, City Of Dreams:
1 USDA Prime Dry-Aged Porterhouse Steak (P8,976)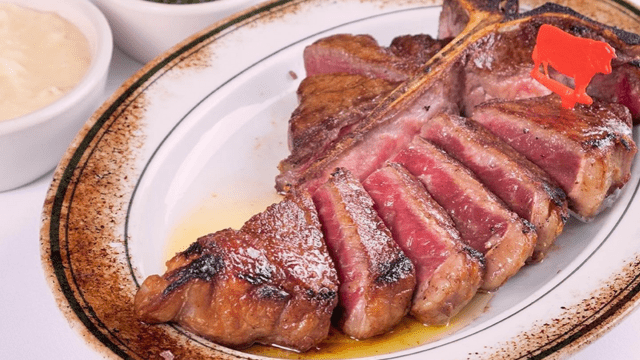 It feels almost criminal not to start this list with one of Wolfgang's signature dishes: a dry-aged porterhouse steak! This magnificent cut is a two-in-one treat — you get the juicy, velevety filet mignon on one side and a flavorful and tender striploin on the other. While you can definitely eat this with Wolfgang's homemade steak sauce, we found that the flavors developed by dry-aging the meat so rich that, if you wanted a boost, all you really need is a dash of salt and pepper — if that. The caramelized crust provides a delightful contrast to the juicy, savory, and impeccably cooked meat. The only time we really willingly put down our forks and knives was when we had all but finished the steak. 
The steak was really so well prepared that all you really need is a spoon — to spoon the meat juices left behind on the plate over your cut of steak. 
2 Grilled Barbecue Short Ribs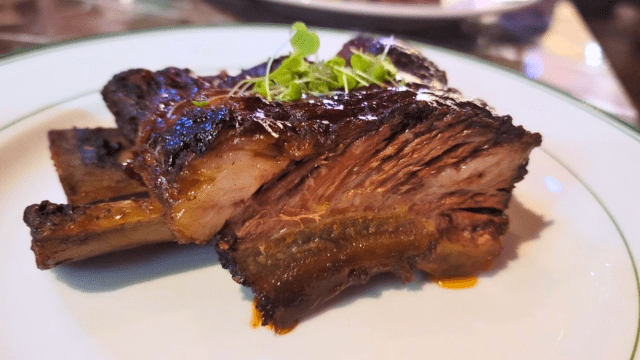 Eating the grilled barbecue short ribs is a fall-off-the-bone, melt-in-your-mouth experience that is perfect for those who love bursts of flavor. It's served with a potent rib sauce that — you've been warned — you really only need a small dip from to complete the bite. The beef ribs meat itself is well-seasoned and has that deep smoked flavor you could only get from a grill. Plus, the sauce is a bright, spiced concoction that cuts through the fat and livens up the senses in your mouth.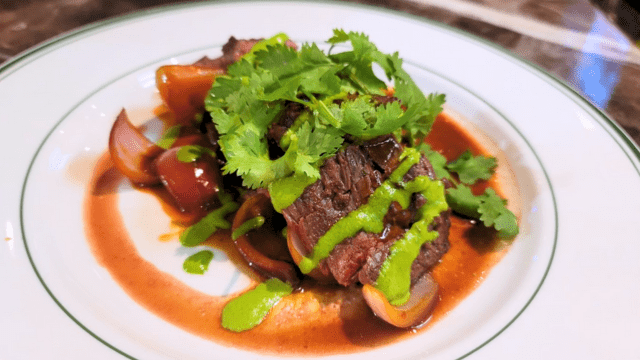 The lomo saltado is a love letter to founder Wolfgang Zwiener's wife, Elena, who is of Peruvian descent. It may look unassuming, but this traditional Peruvian dish packs a balanced and flavorful bite! It is made with thin, medium-rare cuts of tenderloin strips and served in a deliciously light but salty, tangy, and savory sauce along with tomatoes and onions. On its own, the strips all but burst in flavor, marrying the rich flavor of beef with the sauce, but take a bite of it with an onion or a tomato and you'll find that there are new textures and flavor combinations to discover — and it's hard not to keep wanting more.
ADVERTISEMENT - CONTINUE READING BELOW
Recommended Videos
This was a super smart addition to the menu (It's unique to this branch!) since we all know Filipinos love flavors, and this dish delivered a glorious cacophony of it to your taste buds. 
4 Burrata Salad & Arugula Salad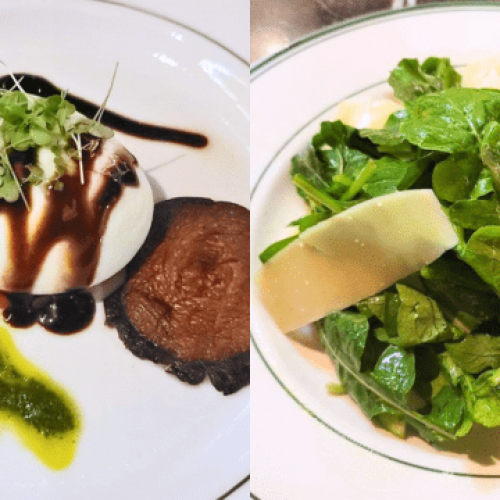 You can skip these if you're not a fan of eating greens at a steakhouse, but you'll be missing out! The burrata salad is a simple yet delectable starter that features a creamy burrata that lies atop a fresh slice of tomato. the earthy portobello mushroom and sautéed bell peppers that also accompanied the creamy cheese are as sweet as they are colorful. It's a delightful dish; rich, creamy, earthy, sweet, and fresh that it's almost too indulgent to be called a salad!
Meanwhile, the arugula salad is yet another example of Wolfgang's mastery in bringing out the beauty of simplicity. The nutty and peppery arugula, paper-thin wedges of Parmesan cheese, and slivers of crisp green apples are tossed in a light vinaigrette. It's a refreshing take that gives you sweet and tangy bursts of flavor as you savor the nutty greens and the mild and creamy cheese.
5 Key Lime Pie (P348) & New York-Style Cheesecake (P398)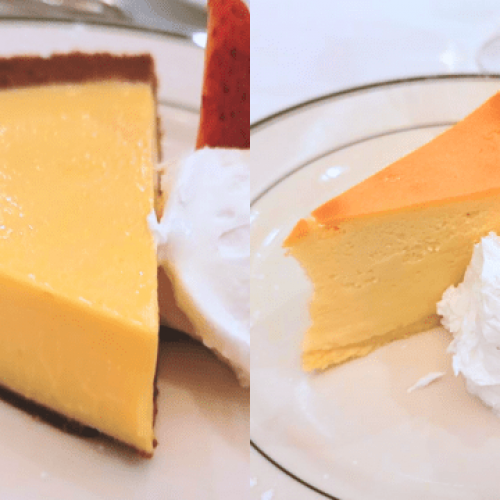 It's a shame that there's no English word for kilig because that's what you get when you bite into the unapologetically tangy-sour key lime pie. It's the perfect follow-up to the rich and fatty entrees as the sourness, tempered just enough by some sweetness from the custard, cuts through your palate. It's served in a sweet graham cracker crust that balances the tanginess some, but if you're not big on sour desserts, the light whipped cream served with it will be the just-right dollop you need to appreciate this pie. 
If you've got more of a sweet tooth, you'll love the New York-style cheesecake! Looks might be deceiving because, while it looks like a dense slice, it's actually one of the lightest and fluffiest cheesecakes you'll ever try. The rich cream cheese comes through but is balanced by a sweetness that feels like you've put an amazingly delicious cloud in your mouth.
Where to Find Wolfgang's Steakhouse, City of Dreams:
Wolfgang's Steakhouse in Upper Ground, City of Dreams, Entertainment City, corner Macapagal Ave, Aseana Ave, Parañaque City. It's open daily from 11:00 a.m. to 12:00 a.m. For reservations, contact (02) 8536 9287 via landline, 0956 794 0075 via mobile, or [email protected] via email.
Wolfgang's Steakhouse also delivers! Head to their website for more information. Delivery hours are from 11:00 a.m. to 8:00 p.m. only (5 p.m. cut off for same-day delivery on all orders).
For more information and announcements, visit Wolfgang's Steakhouse's Facebook and Instagram accounts or head to their website.