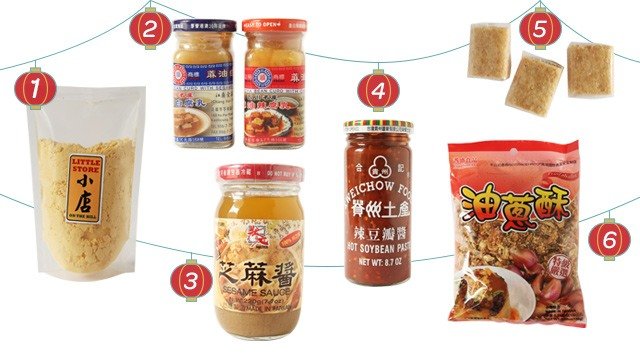 Chinese delis hold some of the tastiest products you can get your hands on. Make your dishes shine with a mix of these salty, savory, umami-rich, sweet, and spicy ingredients.
1 Salted Egg Powder
Grab a bag of salted egg powder whenever you see it—this product particular sells out pretty quick. It makes for a quick alternative from digging out yolks from salted eggs. Use this powder to make sauces for coating chicken wings, potato chips, or fresh-from-the-ocean shrimp!
2 Fermented Bean Curd
This condiment is traditionally used to top rice congee (lugaw), but its strong umami flavor makes it ideal for marinades and sauces. You will find these along the condiments aisle of your neighborhood Chinese deli or Asian grocery store. There are also spicy and non-spicy options to choose from!
3 Sesame Paste
Chinese sesame paste is made from toasted sesame seeds. Add some to your noodles and chicken for an earthy, deeply flavorful twist! You can also use this paste as a base for a sesame dressing to pour over your fresh salads.
4 Hot Soybean Paste
Spicy food lovers can throw this paste over tofu stir-fries, noodles, grilled meats, and rice. Made from a mix of chili paste, salt, fermented soybean and broad beans, soy sauce, and sesame oil, expect nothing but a burst of flavor similar to a gut punch.
5 Peanut Candy
Do yourself a favor and never walk out of a Chinese deli without a pack of flaky peanut candy! This traditional Chinese snack is light, sweet, and simultaneously keeps a crunchy and chewy texture. Keep them in your bag for when you need a quick snack.
6 Fried Shallots
Skip the struggle of meticulously peeling and frying shallots—you can purchase a pack at the Chinese deli. Use fried shallots to garnish and add flavor to: soups, congee, stocks, omelets, dumplings, and salads. The options are endless!
Visit Little Store on the Hill, located at 2 Jose Abad Santos St., Little Baguio, San Juan City for these food finds.