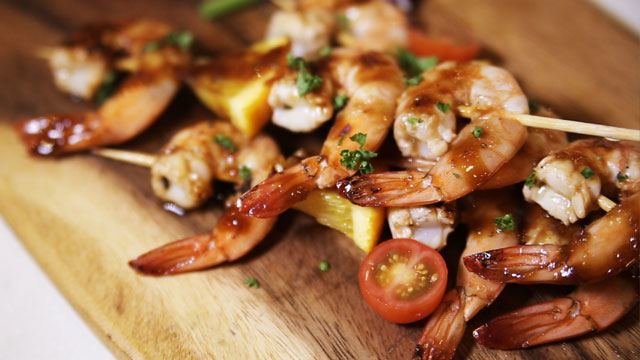 In celebration of Yummy Magazine's 10th anniversary this year, we hosted the first Yummy Academy cooking workshop for the year on February 18, Saturday with Yummy magazine and Yummy.ph readers.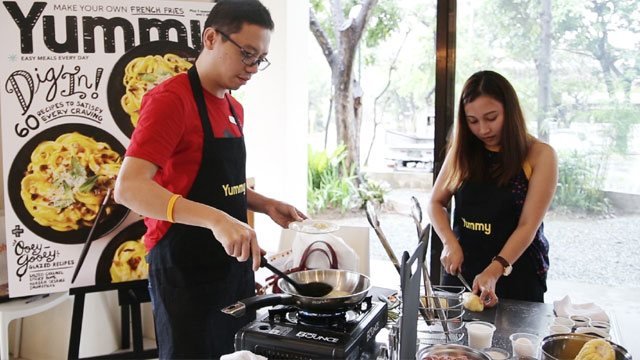 Readers had a chance to learn how to make three recipes from the February 2017 issue of Yummy magazine.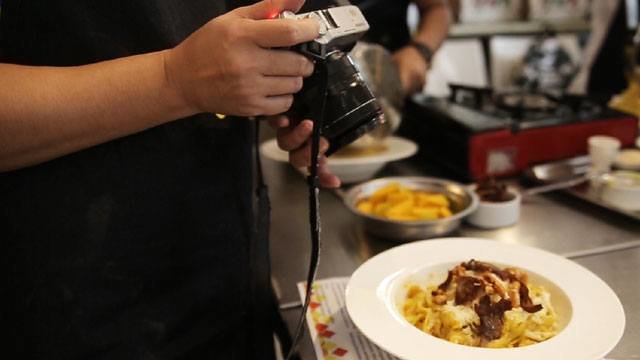 Readers making sure their dishes were social media-ready!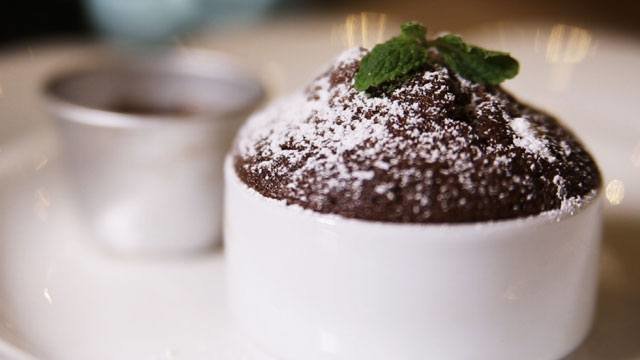 Conducted by Chef LA Sedeno at the 25 Mushrooms Kitchen in Valle Verde, Pasig City, the workshop taught readers how to recreate three recipes featured in Yummy Magazine's February 2017 issue: Squash and Mushroom Bacon Pasta Carbonara, French Chocolate Fondant Cake, and Tamarind-Caramel Shrimp Skewers.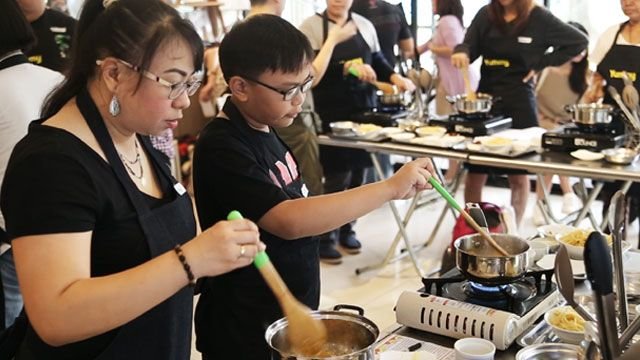 Yummy reader Kathryn Sotto brought her twelve-year old son, Nathan.
Reader Kathryn Sotto, who even brought her 12-year old son to the event shared, "The event was engaging and fun! I learned a lot and my favorite was the creamy squash bacon pasta. Am excited to try the new dish at home.
My son, who has never tried cooking, enjoyed the activity, too. He was very proud to have been able to cook carbonara, his favorite!"
The readers were also given a chance to customize the recipes and make it their own. Check out the three recipes they came up with during the cooking class: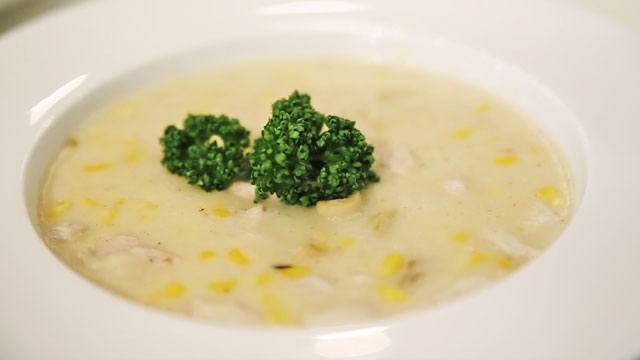 Creamy Chicken and Corn Soup
by Alexis Deocaris, Ellen Viernes, and Jedediah Bertos
½ cup chicken, cut into cubes
1 teaspoon butter
1 teaspoon oil
1 teaspoon onion
1 teaspoon garlic
1 piece medium size potato, cut into chunks
salt and pepper, to taste
1 ½ cups chicken broth
½ cup heavy cream
½ cup corn kernels
ADVERTISEMENT - CONTINUE READING BELOW
Recommended Videos
1 Sauté chicken in butter, then set aside.
2 Using the same pan, sauté onion, garlic and potatoes. Season with salt and pepper. Add chicken stock, bring to boil until potatoes are soft.
3 Strain the potatoes and transfer to blender. Puree until smooth and then bring back the stock in the pot.
4 Add the chicken and corn kernels in the potato puree and stock mixture.
5 Bring to boil until corn is tender.
6 Season with salt and pepper, if needed.
7 Add the heavy cream and simmer for 2-3 minutes.
8 Transfer to a serving bowl and serve warm.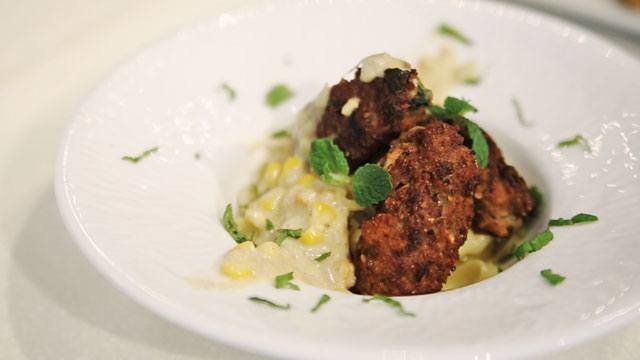 Pork and Chicken Quenelles with Creamed Corn Reduction
by Nathaniel Uy, Clarizze Atienza, and Merlyn Tuto

For the quenelles:
100 grams ground pork
100 grams ground chicken
1 piece egg
1/4 cup Parmesan Cheese
2 tablespoons flour
1 tablespoon chopped garlic
2 tablespoons chopped onion
1 tablespoon chopped parsley
salt and pepper, to taste
1 liter chicken stock
1/4 cup cubed carrots
1/2 cob of corn kernels, save the cob center
2 tablespoons chopped onion
1 tablespoon garlic
1 tablespoon sliced canned button mushrooms
1 liter chicken stock
1 teaspoon oil
1/2 tablespoon flour
1/4 cup cream
2 tablespoons chopped bacon
salt and pepper, to taste
1 Make the quenelles: Mix all ingredients and form into quenelles or meat balls.
Fry in a deep fat fryer until thoroughly cooked. Set Aside.
2 Make the creamed corn reduction: Mix carrots, corn kernels, button mushrooms, 1 tablespoon onion, 1/2 teaspoon garlic, and chicken stock in a sauce pan and let simmer until corn and carrots are tender.
3 In a separate pan, saute remaining onion, and garlic in oil. When fragrant, add flour and make a roux. Add 1/2 cup of broth, including corn, carrots, and bacon. Add mushrooms. Simmer until the mixture thickens. Add cream and adjust seasoning with salt and pepper. Add more stock if creamed corn sauce is too think or reduce further if too thin.
4 Serve with either buttered pasta or steamed rice.Top with Parmesan Cheese and garnish with mint leaves.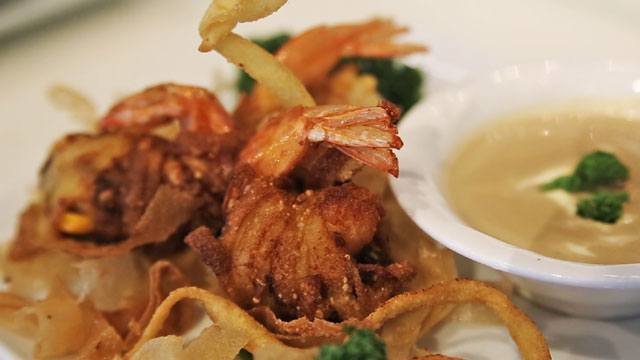 Stuffed Prawns Wrapped in Linguini with Cream Soy Sauce Dip
by Sabrina Go and Hazel Dizon

20 pieces medium prawns, head and shells removed, leave tails attached
200g ground chicken
200g ground pork
¼ cup corn kernels
1 small carrot, grated
1 small onion, diced
2 cloves garlic, minced
100g fish balls, diced
50 grams cooked linguini noodles
oil for deep frying
salt
pepper
For the Creamy Soy Sauce Dip:
2 tablespoons soy sauce
¼ cup water
1 clove garlic, minced
1 teaspoon brown sugar
1 cup heavy cream

1 In a mixing bowl, combine ground chicken, ground pork, corn, carrots, onions, and garlic and fish balls. Season with salt and pepper.
2 With the butterflied prawn in your hand, take a heaping spoonful of the stuffing mixture and pack it into the prawn. Wrap the linguini noodles (about 2 noodles) around the stuffed prawn and secure the loose ends by tucking it in and laying it on a tray. Refrigerate for about 20 minutes.
3 Preheat oil for deep-frying. Cook until golden brown on all sides. Drain oil with a paper towel and serve alongside the creamy soy sauce dip.
4 Make the creamy soy sauce dip: In a small saucepan, combine soy sauce, water, garlic and brown sugar and bring to a boil. Simmer for 10 minutes or until it reduces by half or less.
5 Add in cream and bring to a low boil for 3-5 minutes, being very careful not to curdle the cream. Serve warm.
Have your own recipe that you want to share with the rest of the Yummy community? The reader recipe function on Yummy.ph allows readers to upload and share your own recipes–just sign up for an account on Yummy.ph and submit all the recipes you want. See how easy it is to upload your own recipe with this video: