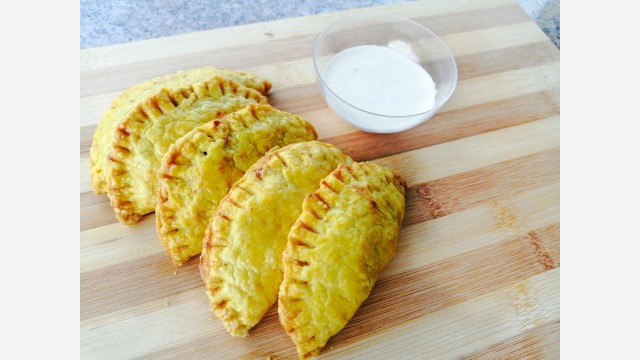 The Jamaican patty is a baked pastry filled with meat or vegetables. This savory and crispy beef Jamaican patty recipe is perfect to make as a snack or for merienda.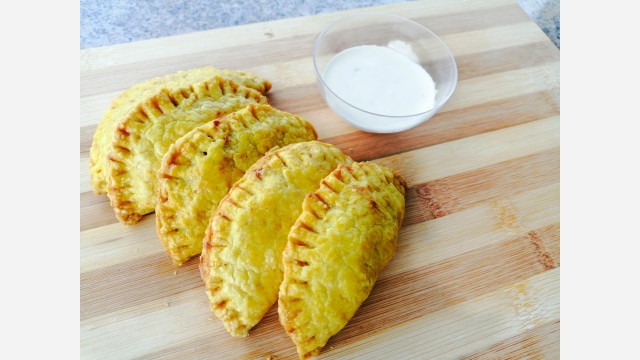 Beef Jamaican Patty Recipe with Aioli Dip
Satisfy your craving with this homemade version.
Ingredients
Beef Jamaican Patty Ingredients with Aioli Dip
Instructions
To make the dough, combine and mix together all dry ingredients in a bowl: flour salt, sugar, curry powder, turmeric powder, and baking powder. Add butter and shortening. Use a fork to mix and break some of the butter into smaller pieces. The texture should be a crumb-like texture.

Add cold water or milk. Use a fork again to mix it just enough to incorporate it. (Do not overmix or else the dough will not be flaky.) Using your hands, compress and form it into a ball and wrap it with cling wrap. Let it rest inside the refrigerator for 1 hour up to 1 and a half hours.

For the filling, heat a pan with cooking oil. Sauté garlic, onion, and sliced mushrooms. Add tomato paste and brown it for about 2 minutes.

Add ground beef and cook it for 7 to 10 minutes or until cooked. Add red bell pepper, soy sauce, oyster sauce, pepper, and salt. Mix and let it stay for 2 minutes. Transfer into a bowl and let it cool.

To make the aioli dip, mix mayonnaise, vinegar or lemon juice, minced garlic, and salt. Add warm water or milk to make the sauce thin. Set aside.

To assemble the patty, knead the dough on a flat surface with flour. Cut into the desired shape and add the filling on half the dough then fold. Using a fork, gently press it down to seal the patty. Brush each patty with egg wash.

Place it on a baking tray or cookie sheet and bake it inside a preheated oven (200 degrees C or 400 degrees F) for 20 to 25 minutes or until it is golden brown.

Transfer to a plate and serve it together with the dip.