Crisp on the outside yet soft and chewy inside, light and not too sweet. It's how I describe my low-carb Chocolate chip cookies recipe. These are also easy, healthy, and simple to make since there is no chilling time needed. You can indulge your craving with its soft centers and slightly crisp texture on the outside and edges. This will satisfy your cookie cravings.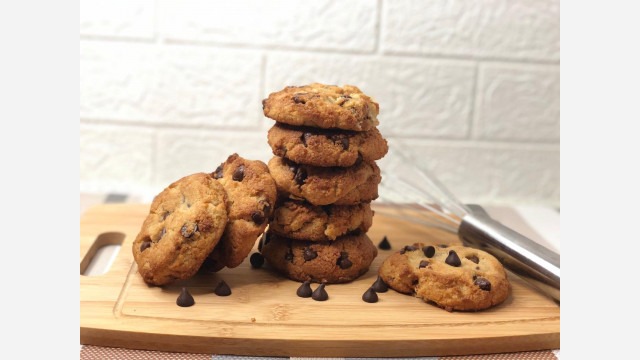 Low-Carb Chocolate Chip Cookies Recipe
You can eat these without any guilt!
Ingredients
Low-Carb Chocolate Chip Cookies Ingredients
Instructions
Preheat the oven to 338 degrees F or 170 Celsius. Line a baking sheet with parchment paper. Set aside.

In a mixing bowl, add almond flour followed by erythritol. Add Himalayan salt, baking soda, and baking powder. Mix until well combined. Set aside.

In a separate mixing bowl, pour the melted butter. Add egg. Whisk until combined. Add and whisk in whipping cream followed by vanilla extract. Mix until well combined.

Combine wet and dry mixtures into one bowl. Using a spatula, mix until barely combined. Add dark chocolate chips and mix.

Once combined, scoop the cookie dough onto the prepared baking sheet. Add 3 to 4 pieces dark chocolate chips on top of each cookie. Use the back of a spoon to slightly flatten the top.

Bake in the preheated oven for 12 minutes. After 12 minutes removed from the oven and let it cool. Serve with coffee or milk.