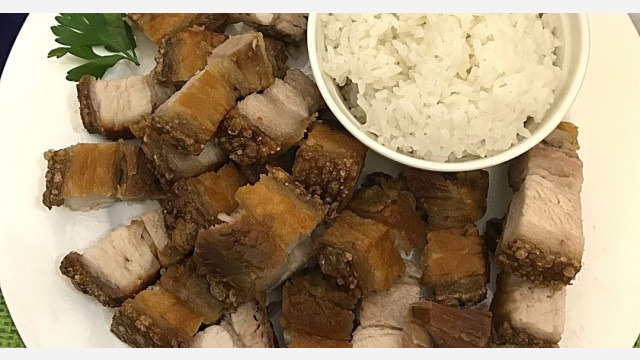 Lechon kawali is a popular Filipino pork dish that is deep-fried to golden perfection. Crunchy on the outside and juicy on the inside, this delicious dish is great as an appetizer or main course.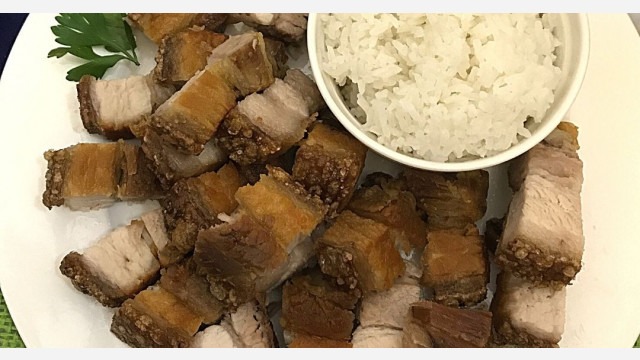 Lechon Kawali Recipe
This is crunchy on the outside and juicy on the inside.
Ingredients
Lechon Kawali Ingredients
Instructions
1 In a large cooking pot, pour around 2-3 liters of water or enough to cover the pork belly.

2 Add the pork belly with skin side down, garlic, onion, whole peppercorns, salt, bay leaves, vinegar and soy sauce. Bring to a boil over medium-high heat and remove any scums that floats on top.

3 Cover and simmer in low heat for 45 minutes, or until the meat is fork-tender and not falling apart.

4 Take the meat out of the pot and set aside to cool for a few minutes.

5 Season the pork belly with 1 tablespoon of salt and rub evenly all over the meat.

NOTE: I like to slightly cut the skin horizontally and diagonally in order to make chopping it later easier and for the salt to penetrate deep into the meat.

6 Place it on a wire rack over a baking pan to let the water drip. Dry the meat completely for 1-2 hours in room temperature or in the refrigerator (see notes for tips).

7 Cut the belly into 2-3 equal parts to make the frying easier with less oil. You can skip this step and fry the whole belly if desired.

8 In a large cooking pan, heat the oil. Carefully place each piece of boiled pork belly into the heated oil.

9 Fry for about 2-3 minutes each side until slightly brown.

Note: When cooking, be extremely cautious because oil can spatter. While the oil splatters, you can cover the pot with the lid, but remove it once the splatters subsides, since steam will be trapped causing more spatters.

10 Remove the meat from the pot and set it aside to cool a bit. Do the second fry to make your lechon kawali extra crispy. Cook for about 1-2 minutes on each side or until crisp.

11 Drain on a paper towel or on a wire rack.

NOTE: The slices you made earlier in the skin can be your guide when cutting up the pork.

12 Serve with lechon sauce or any dipping sauce on the side.