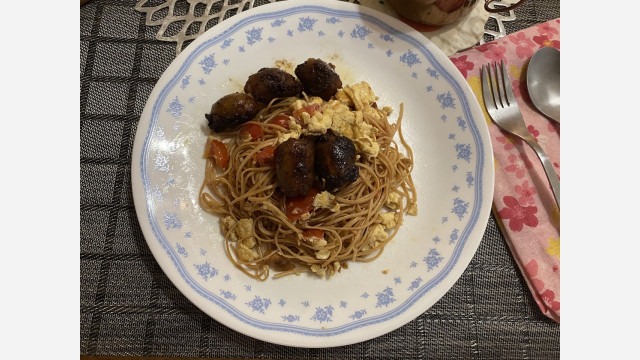 Longganisa and egg on protein pasta make for a simple yet tasty meal! I use the Alaminos longganisa aka toothpick longga which is my fave, but any longganisa will do.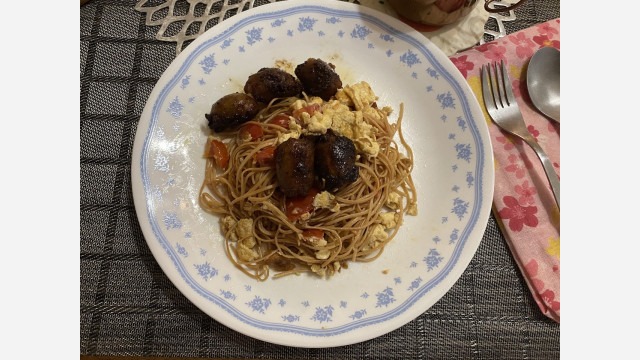 Low Carb Break-Pasta Recipe
This hearty meal is a perfect blend of breakfast and pasta.
Ingredients
Low Carb Break-Pasta Ingredients
Instructions
1. Prepare tomatoes first. Cut into cubes. Mix in salt. Set aside.

2. Prepare pasta according to the box directions. Save 1 cup pasta water.

3. Boil longganisa in 1 cup pasta water until mixture is oily. Keep frying longganisa until only the oil remains. You may add a bit of olive oil to help fry and brown it faster. Save and serve the oil and longganisa later.

4. Fry chopped garlic in olive oil. (Tip: Put the garlic in the oil while it is still cold to allow garlic to thoroughly flavor the oil.) Fry until garlic is brown. Mix in cooked pasta and toss until fully coated.

5. For the egg topping: beat eggs with almond milk. Drain off excess water from tomatoes, and add to the egg mixture. Fry the egg scrambled.

6. Serve the pasta with the egg and longganisa as topping or on the side.