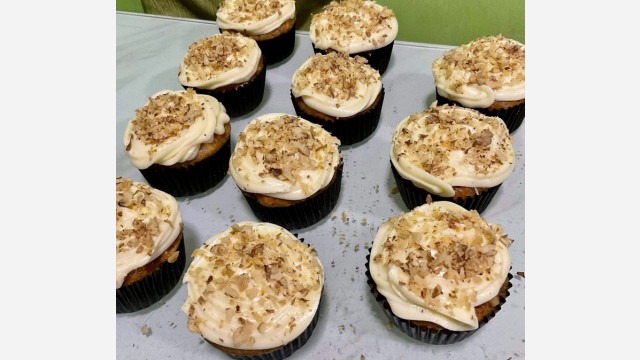 This carrot cupcake recipe is inspired by the famous bakery, M Bakery.  
M Bakery-Style Carrot Cupcakes Recipe
These cupcakes are soft, moist, and topped with cream cheese frosting!
Ingredients
M Bakery-Style Carrot Cupcakes Ingredients
Instructions
Preheat the oven to 350 degrees F (180 degrees C).

In a large bowl, sift together flour, cinnamon, salt, baking powder, and baking soda. Whisk together.

In a separate large bowl, beat the brown sugar, granulated sugar, and eggs until just combined.

Gradually pour in the vegetable oil to the wet ingredients.

Add the flour mixture to the wet ingredients. Beat just to incorporate. Stop mixing when there is just a small amount of flour visible.

Add the walnuts, grated carrots, coconut flakes and pineapple to the batter and fold to incorporate with a rubber spatula.

Bake for 18 to 22 minutes, until a fork inserted in the center of a cupcake comes out clean.

Cool the cupcakes on a wire rack.

Make the icing: In a large bowl, beat together the butter, cream cheese, and vanilla until light and fluffy.

Add the powdered sugar, ½ cup at a time, beating on medium-low speed to incorporate each addition.

Pipe a generous amount of icing sugar in each cupcake and top it with crushed toasted walnuts.