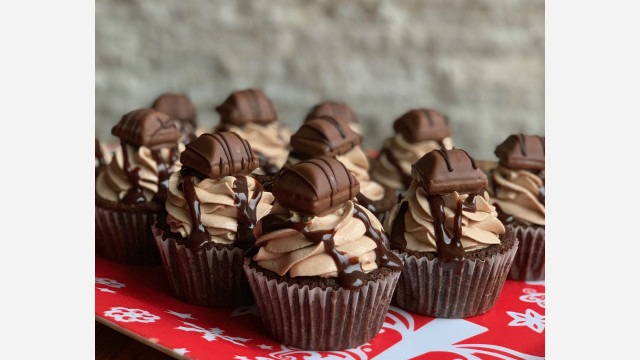 There is nothing ordinary about these cupcakes! These cupcakes are chocolate cupcakes, frosted with a decadent Nutella frosting, and then topped with a chocolate-covered candy wafer that's filled with more Nutella. If you love Nutella and Kinder Bueno candies, these cupcakes need to be on your must-do baking list.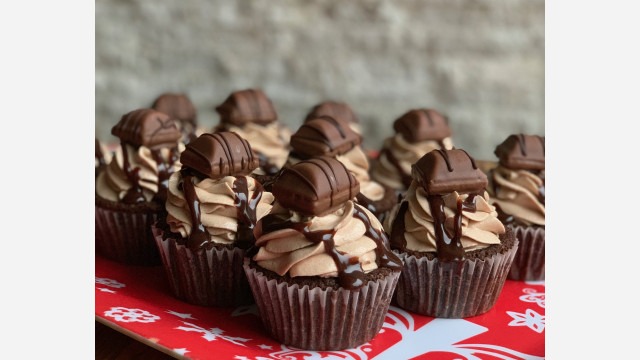 Nutella Kinder Bueno Cupcakes Recipe
Candy + cupcakes = delicious!
Ingredients
Nutella Kinder Bueno Cupcakes Ingredients
Instructions
Preheat oven to 340 degrees F or 170 degrees C.

Combine flour, cocoa powder, sugar, baking soda, salt, butter, and eggs in a bowl. Beat with a mixer until combined.

Add milk and vanilla extract, and mix.

Line a 12-cupcake tins with cupcake liners, and divide the batter evenly among the liners.

Bake for 20 to 22 minutes or until a toothpick comes out clean. Cool completely on a rack before icing.

To Make Icing: Cream butter and Nutella on high speed for 4 to 5 minutes using an electric mixer.

Add icing sugar in 2 parts, beating well after each addition.

Add milk and mix, scraping the bowl as you go.

Ice the cupcakes and drizzle chocolate syrup or ganache (optional) and place 1 piece of Kinder Bueno on each one.