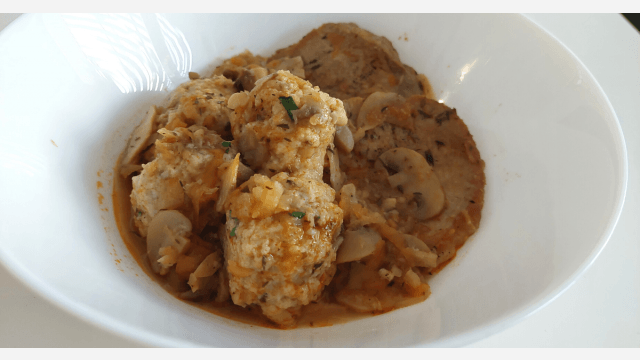 Here is the recipe for the soft pork chops cooked in mushroom sauce and served with flavorful bread dumplings. 
Pork Chops Recipe In Mushroom Sauce With Bread Dumplings
Leve-up your pork chop meal with a creamy sauce and hearty dumplings.
Ingredients
Pork Chops Ingredients In Mushroom Sauce With Bread Dumplings
Instructions
1 Slice up the bagels into squares, pour milk over the bread, and set aside to allow the bread to absorb the milk for about 30 minutes.

2 In the meantime, warm some olive oil in the pan and saute 1 chopped onion for about 5 minutes. When they seem done, set them aside and bake in a preheated oven for a few minutes. Cook the small pieces of bacon. Let bacon and onion cool.

3 Add parsley, onion, bacon, and eggs to the softened bagels. Add salt to taste and form into balls using your wet hands. Set aside for now.

4 In warm oil in medium heat, bake your pork chops for a few minutes each side. Set meat aside. NOTE: They won t be done, but baking will ensure that chops stay juicy.

5 Add chopped onion and garlic cloves in the same oil where the pork was baking. Saute them for about 10 minutes. If they seem like they will burn, pour a small amount of water on them. Then add grated carrot and parsnip. Saute together for 10 minutes. Add mushrooms, paprika, thyme, and salt and pepper to taste. Cook the vegetables for another 10 minutes.

6 Now pour in the wine and leave it for another 5 minutes.

7 Add about 2 cups of warm water to cover all the ingredients. Bring the meat back to the pan and leave it to cook for about 30 minutes.

8 Pour a decent amount of water into another bowl and bring it close to a boil. Lower the heat and carefully put bread dumplings inside. Let them cook for about 15 minutes, then transfer them into the meat sauce.