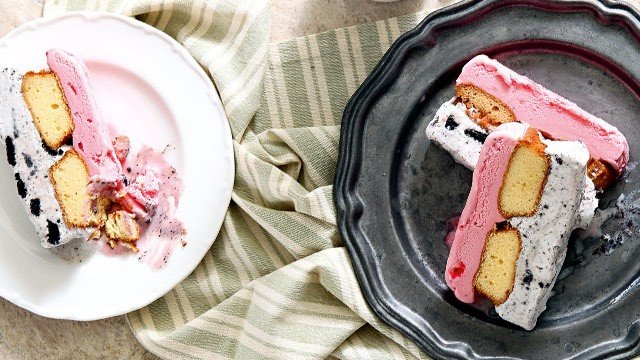 Desserts have never been easier to make! This no-bake 3-ingredient ice cream cake makes use of ready-made ice cream and butter cakes to assemble. All you have to do is sandwich butter cakes in between two of your favorite flavors of ice cream! We used a no-fail combination of strawberry and cookies and cream for this one.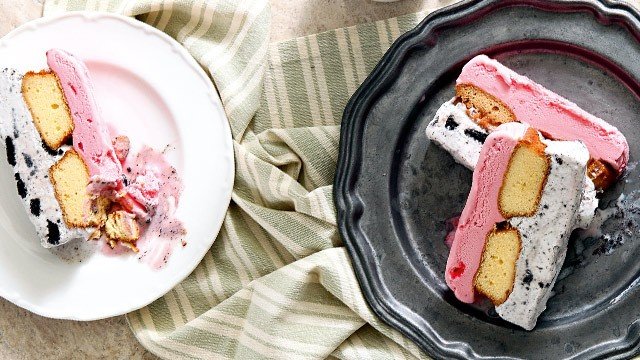 3-Ingredient Ice Cream Cake Recipe
Use ready-made ingredients to put this easy dessert together.
Ingredients
3-Ingredient Ice Cream Cake Ingredients
1/2

gallon

ice cream

cookies and cream flavored, softened

1/2

gallon

ice cream

strawberry flavored, softened

5

mini

butter cake
Instructions
Line a loaf pan with plastic wrap, enough to cover cake and form an overhang. With a standard ice cream scoop, place about 6 scoops of cookies and cream ice cream onto the bottom of the pan. Use a metal spoon to smooth out the layer; add more ice cream to completely cover the bottom of pan. It should reach about halfway up the sides.

Cut one butter cake in half. Position butter cakes on top of the ice cream, overlapping as needed to cover the layer. Place about 6 scoops of strawberry ice cream over the butter cakes, making sure the ice cream fills in crevices between cakes. Add more ice cream until you reach the top of the pan, smoothing out the layer with a metal spoon. Fold plastic wrap over the ice cream. Place in the freezer for at least 4 hours or until frozen through.

When ready to serve, turn loaf pan upside down onto a cutting board, and tap to loosen plastic from the metal. Once unmolded, remove plastic wrap. With a large knife, slice cake, plate, and serve immediately. Recipe originally published in the May 2015 issue of Good Housekeeping Philippines.