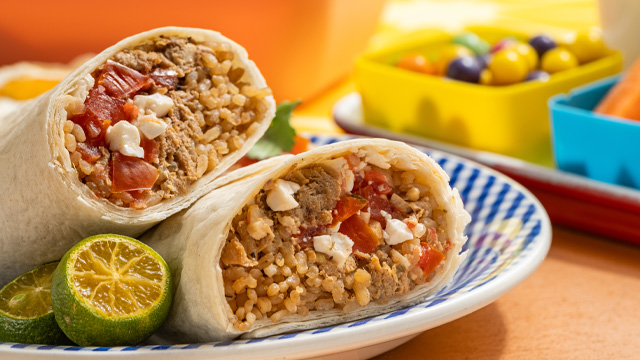 The adobo is the unequivocal Filipino food that has taken over the identity of what Filipino food is all about. The great thing about this recognition is that it has put itself at the forefront of our cuisine as one of the best Filipino ulam dishes to make. 
So if you are one of those people who love coking this as a big batch, here is a delicious way to turn any leftover adobo you may have into a meal that's still appetizing. 
What Is Adobo Burrito?
The adobo burrito is a fusion recipe that marries a savory adobo meal and a burrito. The adobo is a savory stew commonly made with either pork and/or chicken as the main meat and this is marinated and stewed in a flavorful but pungent mix of soy sauce, vinegar, black peppercorns, garlic, and bay leaves. 
While the soy sauce can be replaced with another salty ingredient such as salt and the spices can vary, the vinegar is the ingredient that makes it an adobo. 
The burrito meanwhile is a Mexican food that uses flour tortillas to wrap meals in. In this case, it's fried rice and viand rolled into one as a tortilla meal. 
How to Serve Adobo Burrito
The burrito is really an all-in-one meal so there is little else that it needs to be more appetizing. Despite that being said, there  are ways to make you enjoy this dish even more:
Add more salsa: The adobo burrito has a salted egg (itlog na maalat) salsa in the burrito itself. This doesn't mean you cannot serve more of that delicious salsa on the side! In fact, we highly encourage it! The tangy tomatoes and onions make a wonderful taste contrast to the savory pork and rice. 
Make it bite-sized and serve as an appetizer: If you're having a party, tiny versions of this burrito would make a hearty appetizer to keep your guests happy before you're ready to serve the main meal. 
How To Cook Adobo Burrito 
The burrito filling is where you have to start. The adobo you use is leftovers but if you somehow do not have any, you can shred meat, be it chicken, pork, or even beef, and toss in a simple adobo sauce. 
Toss the rice with the adobo sauce, too. The adobo sauce recipe is also useful to use to make the adobo rice, especially if you like cooking your adobo dry or tuyo. 
Next is the salsa. This need more effort since you need to chop up the onions, tomatoes, and salted egg but it's easily done if you have mini chopper, be it an electric one or the manual version. 
Once you have these prepared, it's just a matter of putting them all together and rolling them in the tortilla wraps. Roll these in aluminum foil or parchment paper so you can easily tear your way through the wrap when you're ready to eat it. 
Tip To Make Easy Adobo Burrito
Always make a big batch of adobo. 
We can't tell the number of ways you can use adobo in meals! While there are as many different ways to cook adobo as there are to use it in different ways, you can make a big batch and freeze any remainder for another day and another meal.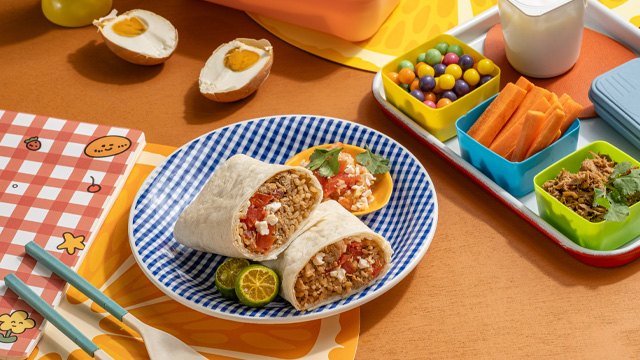 Adobo Burrito Storage Tips
1 Make and refrigerate. 
These are excellent to make the day before! Just wrap and then refrigerate. When ready to pack the baunan, just add it in. As it thaws and warms, it'll be ready to eat. 
2 Skip the freezer. 
While the adobo can be frozen, the rice and the tortillas are best not frozen. It not only has the danger of becoming soggy all over but the texture and quality of the rice and tortillas will also affected when it thaws. 
Watch: Adobo Burrito Recipe Video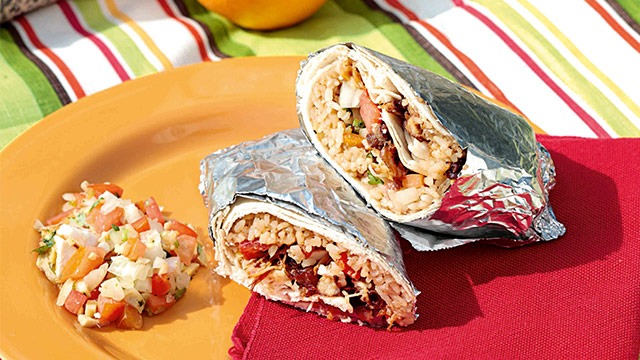 Adobo Burrito Recipe
Makeover your leftover adobo and turn them into picnic or baon-ready dishes.
Ingredients
Adobo Burrito Ingredients
1

tablespoon

garlic

chopped

3

cups

rice

cooked

1/2

cup

leftover adobo sauce

4

large

flour burritos

heated on a dry pan

1

cup

adobo flakes

shredded

1

cup

salted egg salsa

1

piece

Salted Egg (itlog na maalat)

finely chopped

1/2

cup

tomatoes

chopped

1/4

cup

onion

chopped

1

tablespoon

cilantro (wansoy)

chopped

2

tablespoons

ginger

finely chopped
Instructions
Saute garlic, rice, and adobo sauce. Set aside.

Make salted egg salsa: Mix salted egg, tomato, onion,cilantro, and ginger. Set aside.

Place burrito on a flat board. On top of burrito, layer 1/2 cup adobo rice, 3 tablespoons shredded adobo flakes, 2 tablespoons salted egg salsa.

Roll up, tucking ends in. Wrap tightly in foil.

Place in a hotbox until ready to serve.
Try These Other Yummy Recipes:
ADVERTISEMENT - CONTINUE READING BELOW
Recommended Videos