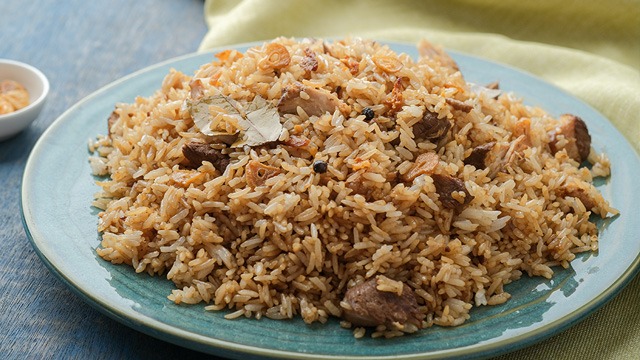 Updated as of June 17, 2023 by Camille Georgia Uy.
If you usually just toss out the leftover adobo sauce after all the meat has been eaten, don't! We implore you to try this adobo rice recipe instead; in a few minutes, you'll make the most flavorful, most appetizing, most satisfying fried rice recipe you may ever make.
What Is Adobo Fried Rice?
Adobo, a well-known Filipino dish, typically features marinated meat simmered in a tangy sauce of soy sauce, vinegar, garlic, and various spices. By incorporating the adobo meat and its flavorful sauce into fried rice, you get an easy rice dish that's packed with all the goodness of adobo.
That sauce from your pork or chicken adobo is supremely flavorful! It's got all the ingredients to make anything more delicious: it's savory, tangy, and so loaded with umami flavors that even just as little as a 1/2 cup can transform your garlic rice into an adobo fried rice meal that's sure to make you want to have adobo all the time, if you're not craving it that often already!
How to Serve Adobo Fried Rice
The beauty of adobo fried rice is that it's already a meal by itself, but there are definitely other dishes you can pair with it to make it more delicious!
Serve it with grilled or roasted meats: Adobo fried rice will go really well with juicy barbecued chicken, tender pork chops, or succulent beef skewers for a delightful combination of flavors.
Serve it with seafood: Get the best of both worlds by pairing the savory adobo fried rice with seafood. Pair it with grilled prawns, buttery garlic shrimp, or a crispy fish fillet for a delightful fusion of land and sea.
Serve it with a side of veggies: Even picky eaters will love the combination of mildly sweet stir-fried veggies and the savory flavors of adobo fried rice! It's a great way to incoporate healthy dishes to your meal. 
Top it with a fried egg: Take your Adobo Fried Rice to the next level by crowning it with a perfectly fried egg. The rich, runny yolk adds a luscious and creamy element to the dish, and it's an easy tweak that will only take minutes to make.
How To Cook Adobo Fried Rice
Adobo fried rice can be made by adding leftover adobo sauce to fried rice and tossing it. To do this, you'll need to make adobo first! You can also use this easy adobo sauce recipe if you're looking for a quick fix.
Make the adobo: Start by sauteeing oil, garlic, and the pork, then adding the vinegar, soy sauce, black peppercorns, bay leaves, and water in a small saucepan. Bring the mixture to a boil, then reduce the heat and let it simmer until the pork becomes tender and the sauce has thickened slightly, reducing by at least half. Once done, remove the saucepan from heat and gently pull apart the adobo pieces. Set them aside. Alternatively, you can use 1/2 cup of leftover adobo sauce with 1/2 cup of pork and/or chicken pieces.
Make the adobo fried rice: Next, heat oil in a wok over medium-high heat. Add thinly sliced garlic and season it with salt. Stir and cook until the garlic turns golden. Add the rice to the wok and toss it to mix with the garlic. Then, add the adobo sauce and pork to the wok, tossing everything together until well combined.
ADVERTISEMENT - CONTINUE READING BELOW
Recommended Videos
Finally, transfer the adobo fried rice to a platter and sprinkle it with more crispy garlic chips if desired. Now, it's ready to be served and enjoyed!
Tips To Make Easy Adobo Fried Rice
1 Use day-old rice.
It's perfectly all right to use freshly steamed rice to make adobo fried rice, but the texture just won't be the same. Day-old rice is drier, which means that when you add in the adobo sauce, you'll be rehydrating it without making it mushy.
2 Adjust the flavors.
The beauty of adobo  fried rice is that it's very versatile, which means it's easy to adjust how potent or mild its flavors should be. You can add more flavor by adding more adobo sauce or adding a dash of soy sauce and vinegar when you're eating the adobo fried rice on its own, or make it milder when you pair it with other dishes so as not to overpower them.
3 Don't be afraid to add toppings or mix-ins.
Aside from topping the adobo fried rice with a sunny-side-up egg, you can also make it egg fried rice style by breaking and scrambling an egg straight into the pan right as the fried rice is done cooking! You can also fry shredded leftover chicken or pork adobo to make adobo flakes to top off the rice.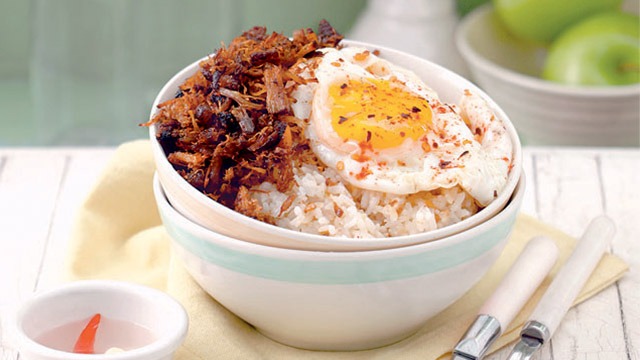 Adobo Fried Rice Storage Tips
1 Adobo fried rice can be refrigerated for up to 3 days.
Unlike plain adobo, which is well-known for its long shelf life, adobo fried rice can only be kept in the refrigerator for up to 3 days. That's because it's already go rice mixed in, and rice can spoil fast. Make sure to check for spoilage before reheating.
2 Freeze portioned adobo, but not adobo fried rice.
Freezing rice can ruin its texture. Instead, you can freeze pre-portioned leftover adobo or adobo sauce, and use that any time you're craving adobo fried rice! You don't even have to thaw it; simply add it to your fried rice and it should quickly melt into the rice in minutes.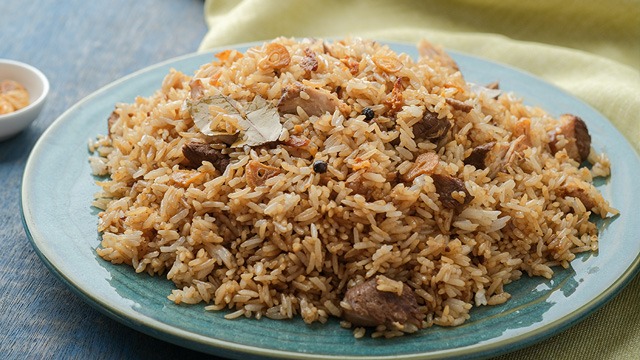 Adobo Fried Rice Recipe
Make a simple adobo sauce or use leftover adobo to make this appetizing fried rice.
Ingredients
Adobo Fried Rice Ingredients
2

tablespoons

canola oil

1/2

Cup

coconut vinegar

4

tablespoons

Soy Sauce

1/2

teaspoon

black peppercorns

crushed

2

pieces

bay leaves

3

cloves

Garlic

crushed

1

Cup

pork

menudo cut

2

cups

water

3

tablespoons

canola oil

3

cloves

Garlic

peeled, sliced

4

cups

day-old rice

or freshly cooked rice

Salt

to taste
Instructions
In a small saucepan over medium heat, sautee garlic, black peppercorns, and pork in oil.

Then, add vinegar, soy sauce, bay leaves, and water. Let the water boil, then turn down the heat to a simmer until pork is tender and sauce has reduced by at least half and has thickened slightly.

Remove from heat. Roughly pull adobo pieces apart. Set aside. Alternatively, use leftover 1/2 cup adobo sauce with 1/2 cup pork and/or chicken pieces.

In a wok over medium-high heat, heat oil and add thinly sliced garlic. Season garlic with salt, stir, and then cook until just golden. Add rice and toss to stir. Add adobo sauce and pork. Toss until well mixed.

Transfer to a platter, and sprinkle with more crispy garlic chips, if desired, before serving.
Try These Other Yummy Recipes: