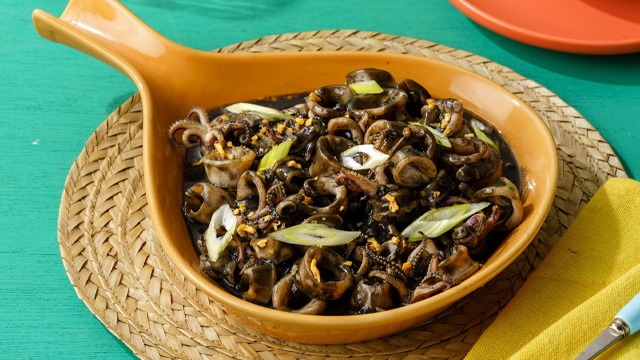 What is Adobong Pusit?
Filipino food is known for its big, comforting flavors, but one of the best open secrets to Pinoy ulam dishes is how versatile it is. Take adobo, for instance: aside from chicken and pork adobo, another popular version of this salty-sour dish features squid!
Adobong pusit or squid adobo is a Filipino squid dish that uses the adobo method, which is cooking meat (or in this case, seafood), in a soy-sauce and vinegar mixture. Adobong pusit is such a beloved dish, in fact, that it's one of Yummy.PH readers' top six favorite recipes!
Table of Contents
• Tips to Make the Best Adobong Pusit
• Watch: Adobong Pusit Recipe Video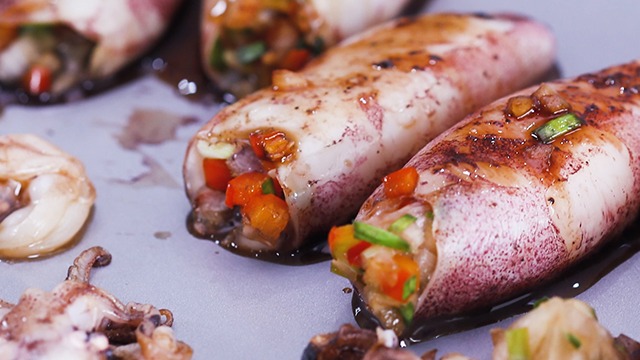 WATCH: Tips To Avoid Rubbery Squid
Posted in:
Cooking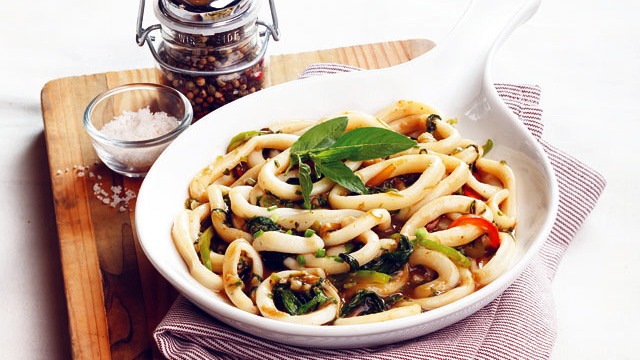 New Squid Recipes You Haven't Tried
Posted in:
Cooking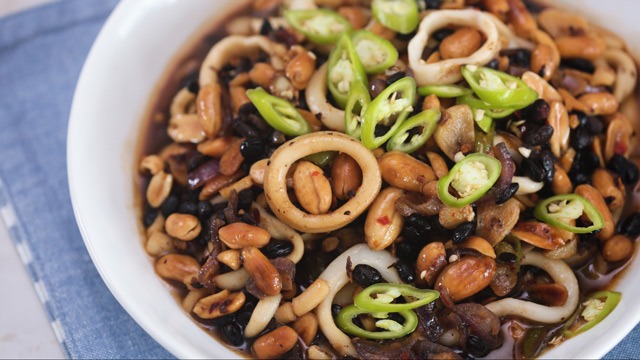 How To Select and Store Squid Like a Boss
Posted in:
Cooking
How to Serve Adobong Pusit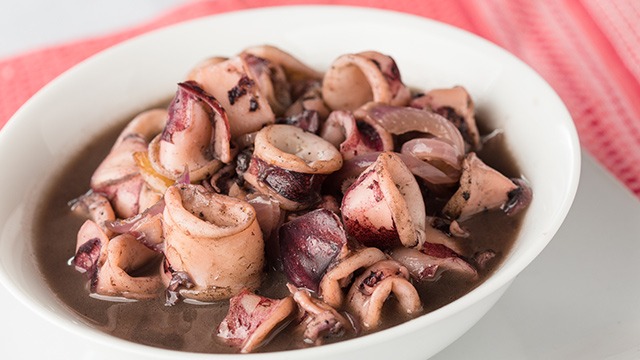 Adobong pusit is a well-loved dish for a reason: it combines the savory and sour adobo flavors we love with the tender seafood flavors of squid. It's also quite easy to make, so it isn't unusual to have squid adobo as an ulam for lunch or dinner! As with most Filipino dishes that have a lot of sauce, this flavorful dish is best served with lots of hot steamed rice.
How to Cook Adobong Pusit
The key to cooking irresistibly tender squid adobo is all in how the squid is handled. It's important to clean the pusit properly: peel away the dark outer skin and remove the transparent, plastic-like cartilage inside the body. What gives adobong pusit its distinctly seafood flavor is the ink sac, so make sure not to puncture it when your remove it and set it aside!
Once the squid is prepared, the process is as straightforward as chicken or pork adobo: saute the garlic and onions in oil, and then add the prepared squid, squid ink, and water. Unlike the adobo recipes that feature meat, however, the time it takes to tenderize the squid is much shorter! As soon as the squid is cooked through, ad the soy sauce and vinegar and let it simmer for 2-3 more minutes. Cooking it down this way will let the water evaporate and the sauce will naturally thicken up when you add the squid ink sacs. Serve warm with hot steamed rice.
Tips to Make Best Adobong Pusit
1 Clean and prepare the squid properly to avoid that rubbery texture.
Aside from cleaning out its spine (that's the plastic-like thing you need to pull out from a whole squid), it's important to peel off the thin, translucent skin from the squid. This purple-brown layer turns rubbery when heated, but removing it is relatively easy if you know how. If you don't, here's a video to help you learn how to properly clean pusit!
2 Don't overcook the squid so it stays soft and tender.
Squid becomes soft as soon as it's cooked through; the longer you boil it after it's cooked, the tougher it will get. How to avoid chewy squid? Raw squid is slightly translucent; as soon as it turns opaquely white, you'll know it's cooked and it's time to take it off the heat.
How to Store Adobong Pusit
1 It's best to eat adobong pusit right away.
Unlike its chicken and pork counterparts which taste just as good (if not better) overnight, adobong pusit is best eaten as soon as it's cooked because the more times you reheat the squid, the tougher and more rubbery its texture becomes!
2 If you need to store it, adobong pusit can be chilled or frozen.
Adobong pusit can be chilled for 2-3 days if it can be consumed within that time period. Reheating it once or twice more should be fine, but it may get increasingly tougher the more times it is heated. For longer storage, adobong pusit can be frozen for up to 5 days.
Watch: Adobong Pusit Recipe Video
Adobong Pusit Recipe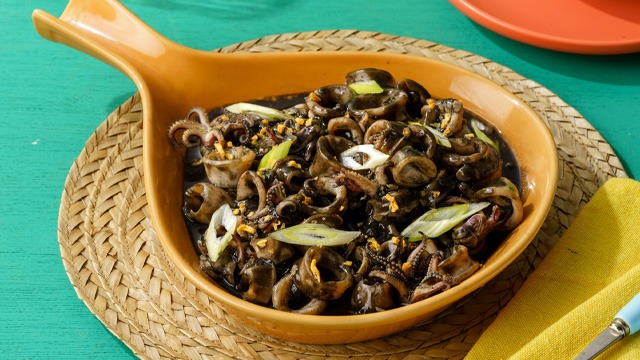 Adobong Pusit Recipe (Squid Adobo)
This Filipino squid dish uses the adobo method to make a delicious ulam.
Ingredients
Adobong Pusit Ingredients (Squid Adobo)
3

tablespoons

cooking oil

4

cloves

Garlic

minced

1

white onion

finely chopped

1

kilogram

Squid (Pusit)

sliced with squid ink set aside

2

tablespoons

Soy Sauce

4

tablespoons

Vinegar

Salt

to taste
Instructions
Saute garlic and onions in a wok with cooking oil.

Add the sliced squid along with the squid ink and water. Boil until the squid is cooked through, around 2 minutes.

Add the soy sauce and vinegar. Season with salt and pepper.

Let it simmer for up to 2-3 minutes or until the sauce is thick.