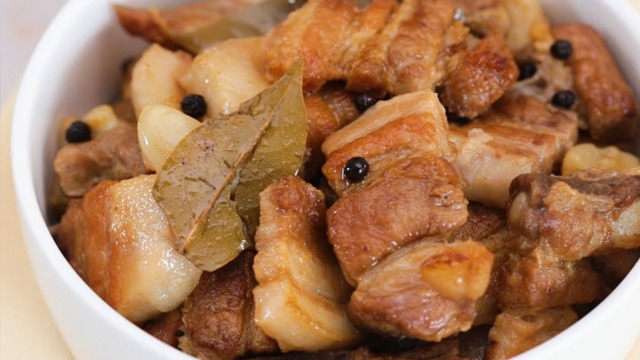 Adobo made with pork is the most common kind of adobo. For this recipe, however, one seemingly important ingredient is removed so that the vinegar, the common ingredient in all adobo recipes, is the starring flavor of this delicious Filipino ulam recipe called the adobong puti. 
What is adobong puti? 
What makes an "adobo" dish an "adobo"? "Adobo" means "to cook or marinate in vinegar" so it's perfectly acceptable for the soy sauce to be omitted from the recipe and still be considered an adobo recipe. That's exactly what this recipe does and the result is definitely still delicious. 
Instead of relying on Chinese soy sauce to deliver the contrasting savory flavor to the dish, salt or asin is the alternative for this ingredient. It still balances the sourness of the vinegar with its saltiness but without the dark coloring of the soy sauce that gives adobo its signature brown sauce. The dish is instead an appetizing dish that is unapologetically meaty in both looks and flavor.
You'll find a delightful play of savory from the salt, umami from the flavorful pork cuts, and tartness from the vinegar that's just right without the sharpness you may get if you didn't cook the vinegar properly.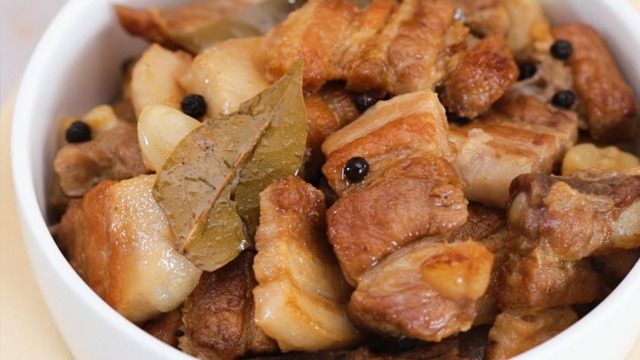 Adobong Puti Recipe
This recipe is just like your typical abodo minus one ingredient.
Ingredients
Adobong Puti Ingredients
1/4

Cup

canola oil

or any cooking oil

1

kilo

pork belly strips

cut into pieces

1

teaspoon

Salt

more to taste

1/2

teaspoon

whole black peppercorns

8

cloves

Garlic

peeled and smashed slightly but left whole

1/2

Cup

coconut vinegar

or any white vinegar

3

cups

water

more if needed

4

pieces

dried bay leaves
Instructions
In a pot or saute pan, heat oil over medium heat. Add pork in batches to the hot oil. Sear pork in batches until browned on both sides.

Once all the pork pieces are browned, return pork pieces to the pot and add salt, peppercorns, garlic cloves, vinegar, water, and bay leaves.

Bring to a boil then simmer over low heat, covered with a lid, for 30 minutes or until the pork is tender. (Add more water if needed.) Remove the lid and simmer again until the water has reduced and the leftover liquid has thickened slightly into a sauce.

Season to taste with more salt and stir to combine. Serve while hot with steamed rice or fried garlic rice.