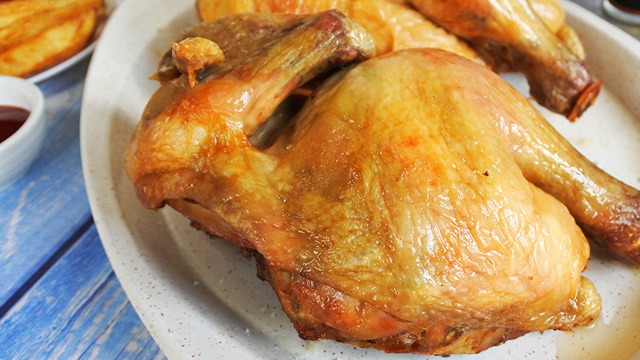 The Pinoy fried chicken is well-loved and is easily one of the best ways of enjoying fried chicken in its purest form. There's no coating to interfere with the chicken's flavor! That's why this kind of fried chicken is hard to recreate at home! 
With the air fryer, this fried chicken is made easier with less fuss. There's no dried out parts and the result is a juicy fried chicken that you'll want to enjoy complete with banana ketchup, hot sauce, Worchestershire sauce, and home-baked fries on the side.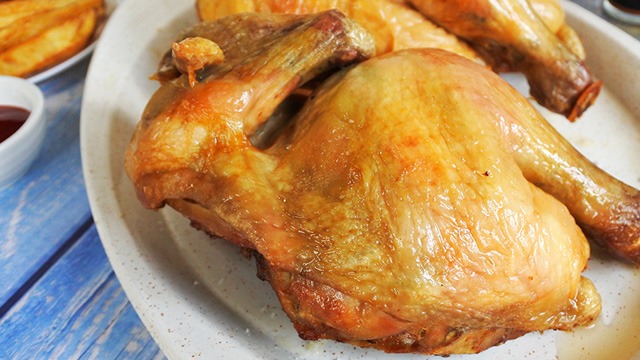 Air Fryer Max's-Style Fried Chicken Recipe
You can make it in the air fryer!
Ingredients
Air Fryer Maxs-Style Fried Chicken Ingredients
1

1.4-kilo whole

Chicken

1/4

Cup

rock salt

1

teaspoon

ground black pepper

or to taste

2

liters

water

or as needed

2

tablespoons

fish sauce (patis)
Instructions
Cut chicken in half through the backbone and the breast. Place chicken in a container with a lid. Rub the salt all over the chicken and season with ground black pepper. Pour enough water to cover. Place a plate on top to weigh down the chicken and ensure it s completely submerged in the brine. Cover and set aside for at least 4 hours or overnight in the refrigerator.

When ready to air fry, preheat the air fryer for 5 minutes at 350 degrees F or 180 degrees C.

Remove a half chicken from the brine and pat dry as much as possible. Pour or brush the patis all over the chicken. (Reserve the other half chicken in the brine for another meal.) Place half chicken in the air fryer basket.

Air fry the half chicken for 30 minutes, checking the fat from the chicken skin has rendered and beginning to turn crispy. (Cover any parts that are browning faster than others with foil, i.e. wingtips.)

Check doneness with a meat thermometer or pierce chicken in the thigh part for clear juices before removing from the air fryer basket. (Repeat with the other half chicken if desired.) Serve with banana ketchup, Worcestershire sauce, and hot sauce.