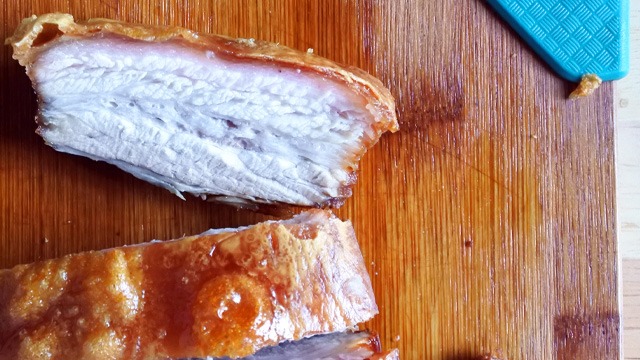 Crispy skin with juicy meat underneath are hallmarks of what a crispy pork belly dish or lechon kawali recipe should be. What makes this recipe so great is that it avoids oil splatters when it comes to deep frying the pork since the pork is air fried instead! 
What Is Air Fryer Lechon Kawali 
A lechon kawali is a Filipino dish that is made using the pork belly cut. It's called a "lechon kawali" because, unlike the traditional lechon which is a spit-roasted whole pig over red hot charcoal, it is instead cooked in a kawali or frying pan. The kawali can even be a wok since this is a deeper cooking vessel than a pan. 
The pork cut is commonly tenderized first before it's fried until the outside parts are super crispy and the inside tender and juicy. This is commonly served with the requisite lechon sauce, a sauce made with seasoned and pureed pork liver plus other ingredients and spices.  
For this recipe, however, we ditch the cooking process of deep frying in hot oil and swap that out instead by using the kitchen appliance extraordinaire, the air fryer. It requires little to no oil and may even cook it faster! Just heat it up, pop in the liempo piece inside, and let it do its work. You'll pull out a liempo that's worthy of being called a "lechon kawali" even without a kawali being used! 
How To Cook Air Fryer Lechon Kawali 
Preparing the lechon kawali is actually quite easy and almost hands-free! Place the pork belly slab and your desired seasonings in a large stockpot. Fill with water until the pork is completely submerged then simmer until the pork is fork-tender. 
Remove the pork belly and completely cool and dry. Wrap the meat in plastic wrap and either refrigerate or freeze if storing the pork for longer. (You can use the pork stock you just created for another dish!) 
When ready to serve, pop an already tenderized pork liempo slab in the air fryer, and in less than 30 minutes, you should have a gorgeously crispy pork belly slab ready to slice into crunchy nuggets of pork! 
How To Serve Air Fryer Lechon Kawali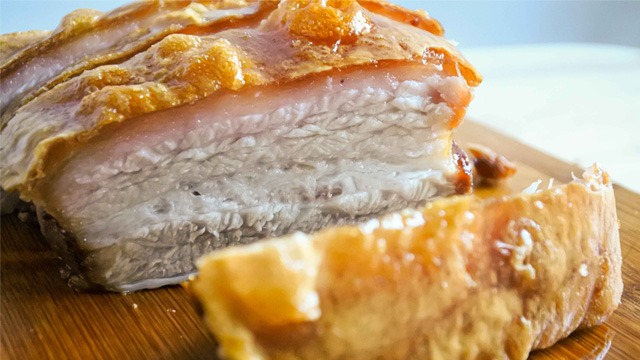 You can actually serve this as is since the liquid you cooked it in should have made it pretty tasty already. If you're partial to the traditional way of serving lechon kawali, serve with the sweet liver lechon sauce on the side or even a spiced vinegar to help cut through the fattiness of the pork. Rice is a must! 
Tips To Make Perfect Air Fryer Lechon Kawali 
An important tip that you really need to know when making the perfect lechon kawali is to remember to season the liquid when you tenderize it when simmering. The pork will emerge tasty and delicious even without the aid of the lechon sauce! 
Another tip to remember is to dry the surface of the pork belly slab. The drier the pork belly skin, the crunchier it will be when it is cooked in the air fryer or in hot oil. 
Finally, the pork skin won't feel crispy until it cools slightly so if the skin looks like it's no longer rubbery in all parts, it's good to remove it from the air fryer. Let cool slightly before slicing and you'll achieve that satisfyingly crunchy sound when you scratch the surface with your knife as we did in the recipe video. 
How To Store Air Fryer Lechon Kawali 
Did you know that prepping lechon kawali ahead of time can be helpful in prepping lunch, dinner, and even midnight snack recipes? If you make as many as you can buy on your grocery run, you just need to keep a stock of lechon kawali pork chunks ready so you can cook it at a moment's notice for when hunger strikes!
This preparation work that you just did is what makes lechon kawali the make-ahead meal you didn't think you had in your freezer! So what's the best way to store this lechon kawali? Frozen is best until you need to cook it for a meal. Best news yet is that you don't even have to thaw out the liempo slab before air frying it since it can be cooked straight from the freezer. 
ADVERTISEMENT - CONTINUE READING BELOW
Recommended Videos
You can watch how this entire process is done when you watch the air fryer lechon kawali recipe video: 
Air Fryer Lechon Kawali Recipe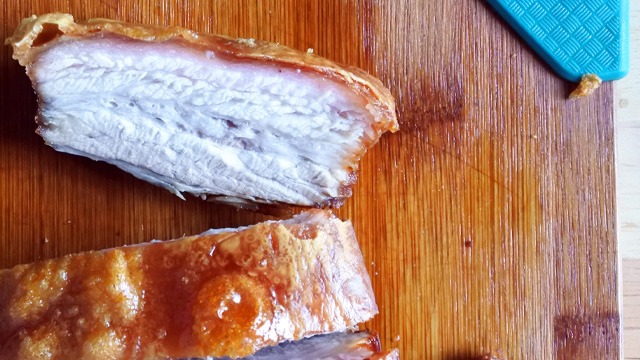 Air Fryer Lechon Kawali Recipe
The air fryer makes this crispy pork belly recipe easy to make.
Ingredients
Air Fryer Lechon Kawali Ingredients
1

kilo

whole pork belly (liempo)

1

tablespoon

Salt

1/4

Cup

patis (fish sauce)

1

teaspoon

black peppercorns

2

pieces

dried bay leaves

water

as needed
Instructions
Place the pork belly in a large pot. Add salt, patis, black peppercorns, and bay leaves. Pour enough water to cover.

Bring to a boil then simmer until tender, about 2 hours. (Alternatively, use a pressure cooker or instant pot to cut your cooking time in half.)

Remove tender pork from the water and set aside to cool. (Reserve water as pork stock for another recipe.) Once cool, set aside to chill overnight.

Preheat air fryer for 10 minutes at 200 degrees C when ready to cook.

Remove pork from the refrigerator and place it in the basket of the air fryer. Close and set the timer for 10 minutes. Decrease the heat to 180 degrees C and air fry for another 20 minutes.