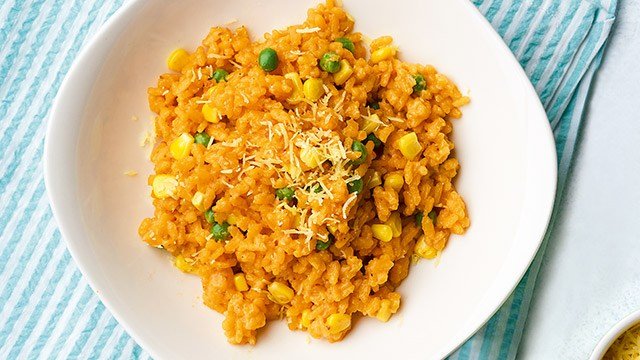 Love risotto and the flavors of crab fat? Add aligue to your risotto! Bottled aligue, or crabfat, is available in most major supermarkets. Don't have Arborio rice? Use malagkit, and cook it like risotto, but use more stock and stop cooking when rice is tender.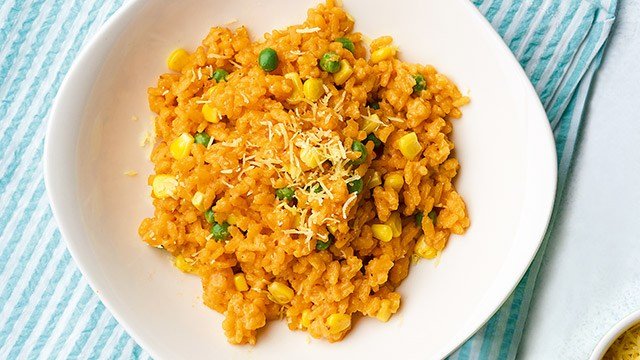 Aligue Risotto (Crab Fat Risotto) Recipe
Why not use aligue in your risotto?
Ingredients
Aligue Risotto (Crab Fat Risotto) Ingredients
1

chicken bouillon

4

cups

water

1/4

Cup

Butter

1

red onion

peeled, finely chopped

3

cloves

Garlic

peeled, finely chopped

1/2

Cup

crab fat (aligue)

1 1/2

Cup

Arborio rice

1/2

Cup

sweet corn kernels

drained

1/2

Cup

frozen green peas

thawed

1/2

Cup

Cheese

we used queso de bola, freshly and finely grated, plus more for serving
Instructions
In a pot over medium heat, dissolve chicken bouillon cube in hot water to make chicken stock.

In a large sauté pan over low heat, melt butter; sauté onion, then garlic, until both have softened. Add aligue; stir to combine. Stir in rice. Cook until heated through and rice turns orange.

Add a ladleful of hot chicken stock into pan. Stir. Continue cooking, stirring, until most of the stock has been absorbed by the rice. Add more stock; stir. Repeat until rice is almost tender.

Turn off heat; stir in queso. Season to taste with salt and ground white pepper as needed. Scoop into bowls, and serve immediately. Recipe originally published in the December 2015 issue of Good Housekeeping Philippines.