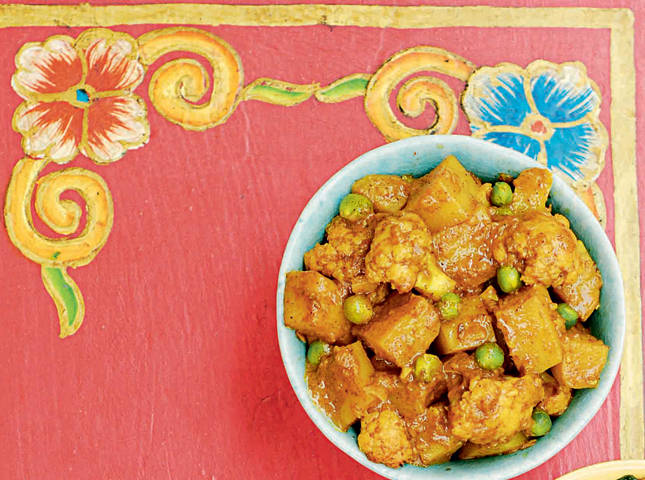 This curry is a dry curry; unlike the coconut milk-curries we Filipinos are used to having at home. The recipe features the optional addition of green peas (mutter) to make the dish more colorful. Enjoy this with Paratha (flatbread).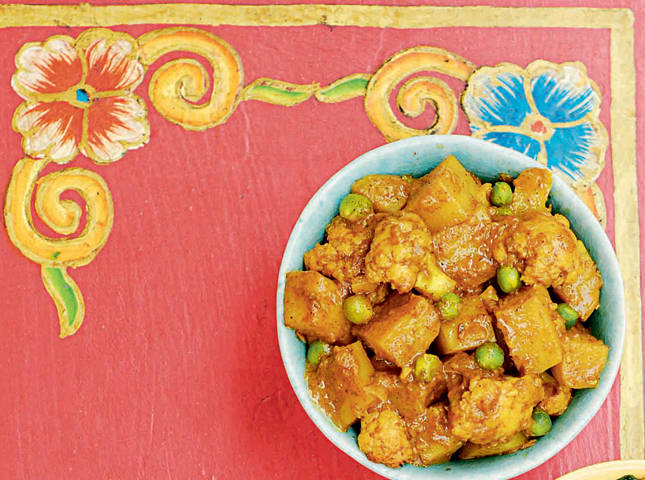 Aloo Gobi (Potato-Cauliflower Curry)
An Indian veggie dish of curried potatoes, cauliflower, and peas without the coconut milk.
Ingredients
Aloo Gobi (Potato-Cauliflower Curry)
4

tablespoons

vegetable oil

1

large

white onion

finely chopped

4

cloves

Garlic

finely chopped

1-inch

ginger

peeled and grated

1 and 1/2

teaspoons

ground coriander

1 and 1/2

teaspoons

ground cumin

1

teaspoon

garam masala

1/2

teaspoon

turmeric (luyang dilaw)

1

teaspoon

chili powder

500

Grams

Potatoes

peeled and cut into 1/2-inch cubes

500

Grams

cauliflower

cut into 1/2-inch pieces

1/2

Cup

frozen peas

Salt

to taste
Instructions
In a large saucepan over moderate flame, heat the oil until it shimmers in the pan. Add the onion, garlic, ginger, and spices, and turn down the flame to medium-low. Sauté, stirring constantly until the onion softens and the spices release their aroma, about 3 minutes.

Add the cubed potatoes and brown them with the spices. Add about 2/3 cup of water to the saucepan and cover. Let simmer for 10 to 15 minutes or until the potatoes are almost cooked (pierce one with a fork—if it still gives a bit of resistance, you're there).

Remove the lid and add the cauliflower and peas. Give the pan a good stir and simmer, uncovered, until the cauliflower is tender, about 10 minutes. The liquid will evaporate almost completely—keep stirring so the curry doesn t burn. Sprinkle with an additional pinch of garam masala and season the curry with salt. Serve immediately. Indian Cuisine 101: Garam Masala is an Indian spice blend of up to 12 different spices including cardamom, nutmeg, and black peppercorns. Add to curries near the end of cooking for a kick or sprinkle over the plated dish as garnish. Spice shopping spot: Assad Grocery is located at 1268-IJK Midtown Executive Homes, U.N. Avenue, Paco, Manila (tel. nos.: 526-5034, 526-1349); 5 Thaddeus Arcade, Gil Fernando St., Marikina City (tel. no.: 645-1596).