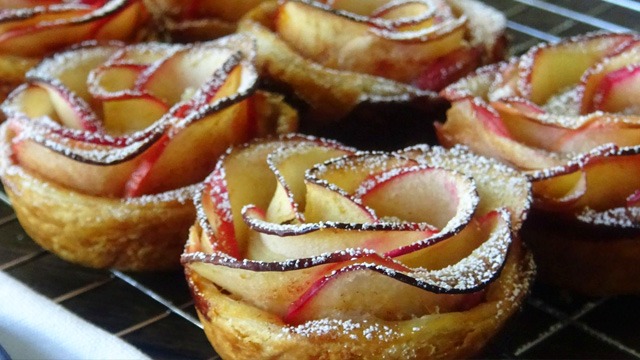 Looking for a creative and fun dessert? Try these easy baked apple roses! Lovely and delicious. You'll enjoy this with a big scoop of vanilla ice cream and a hearty drizzle of caramel. Simple, easy, and pretty!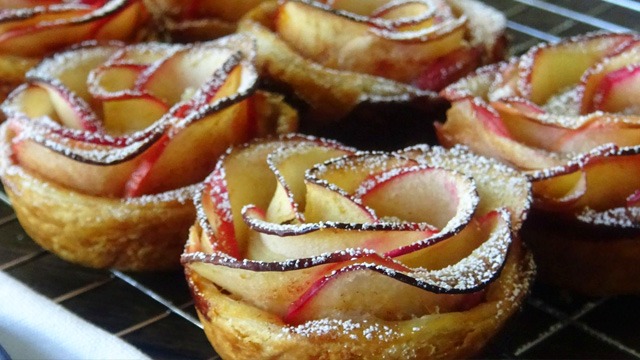 Apple Rose Tarts Recipe
These are baked apples made pretty.
Ingredients
Apple Rose Tarts Ingredients
1/2

400-gram package

Puff pastry

1

tablespoon

lemon juice

from 1/2 lemon

2

pieces

red apples

2

tablespoons

sugar

1

teaspoon

ground cinnamon

1

tablespoon

apricot jam

2

teaspoons

water

1

tablespoon

all-purpose flour

for dusting

confectioners sugar

for dusting

caramel sauce

for serving (optional)
Instructions
Preheat oven to 375 degrees F or 190 degrees C. Thaw puff pastry dough according to package instruction. Set aside.

Prepare lemon water: In a big bowl of water, add lemon juice. Cut apples in half and remove the cores. Slice thinly and immediately place in lemon water to prevent browning.

Microwave apple slices on High for 3 to 4 minutes or until softened. Use a strainer or a colander to remove the apples from the water. Set apple slices aside to dry and cool down.

Combine granulated sugar and ground cinnamon in a small bowl. Set aside. Add two teaspoons water to one tablespoon apricot preserve. Microwave for 30 seconds, mix well to combine. Set aside.

Dust working surface with flour and roll pastry dough into 12 by 11 inches. Using a pizza cutter cut dough into six strips (approximately 2 by 11 inches) each.

Brush each strip with the prepared apricot preserve. Add a generous amount of the sugar and cinnamon mixture. Arrange apple slices on the half part of the strip slightly overlapping each other. Fold the bottom half of the dough. Starting from your side gently roll dough to the other end forming a circle with apple slices sticking out formed like rose petals. Place in a large muffin pan sprayed with non-stick oil or greased with butter and flour. Repeat with remaining puff pastry and apples.

Bake for 35 to 40 minutes or until the puff pastry in the middle is cooked. Serve warm with caramel sauce and ice cream.