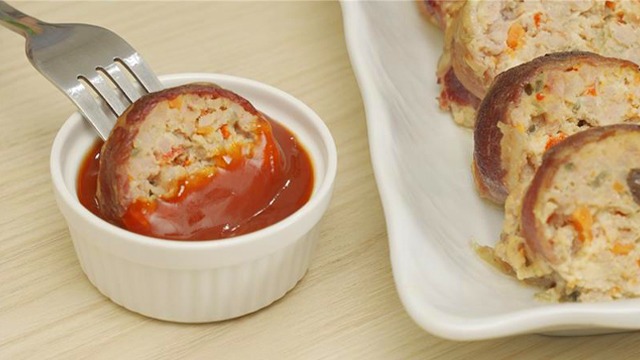 One of the most popular fiesta dishes include a dish that is made with steamed ground meat that's been rolled into a log and sliced. These can be served as is or fried so it develops more flavor and color. This log of rolled meat is the embutido, the Philippine version of the American meatloaf.
This bacon-wrapped embutido recipe is one of six recipes that we are featuring as our recommended recipes for your Noche Buena handaan. As one of Yummy's December digital cover recipes, this delicious dish is sure to make your Noche Buena feast a sure hit with everyone at your Christmas party.
What Is A Bacon-Wrapped Embutido?
An embutido is basically seasoned ground meat rolled into a log and steamed. This can be fried after steaming before serving so it not only looks better but also tastes better, too.
To make this into a more special version for the holidays (or any other special occasion that you want to celebrate), a simple wrap of bacon is added to the mix. This makes this dish more impressive (and more appetizing!) to those who spy it on your dinner table.
The embutido part of this recipe is based on one of our most popular embutido recipes. It's a classic recipe loaded with lots of flavor and ingredients that you expect a classic embutido dish to contain. You can swap out the embutido filling of this recipe with one that uses chicken, beef, or even fish!
How To Serve Bacon-Wrapped Embutido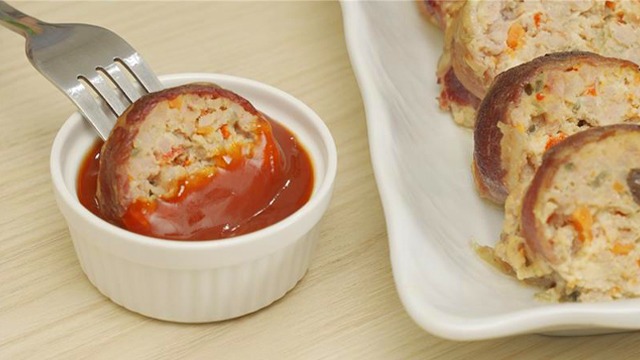 Just like a traditional embutido, this is steamed first and then fried. The frying is important because nobody like soggy bacon and you can fry it before you slice the logs into serving pieces. For this recipe, however, we opted to bake it instead or more specifically, broiled it to give it that crispy bacon wrap that will make this irresistible for anyone who loves bacon.
How To Cook Bacon-Wrapped Embutido
This embutido recipe starts off like any other embutido recipe: combining the ground meat with the other ingredients. The other ingredients for this recipe include cooked ham, red bell pepper, carrots, and cheese. These can be finely chopped up or even grated, so you can easily mix them into the ground meat mix. But you can also chop it up roughly so you can get chunks of ham, bits of carrot, and even creamy pockets of cheese so you can taste the ingredients, too.
Eggs are the binders of these different ingredients but for this recipe, we only used two eggs instead of the usual three. This makes the ground meat mix not too wet when it's time to roll it up in the bacon wrap.
Once the embutido mix is made, rolling it up means using plastic wrap to ensure both the bacon and the filling are secure before being wrapped again in foil. The plastic wrap won't melt in the steamer and ensures your embutido doesn't stick to the foil after steaming. However, the plastic can stick to the surface of the steamer, especially if you're using a metal steaming pot. The foil prevents that.
Once steamed, these can be chilled before frying or immediately fried so you can enjoy these rounds of flavorful meat immediately after.
Tips To Make Bacon-Wrapped Embutido
1 Use less bacon by covering the tops only.
We know how budget-conscious we can be and for those who think there is such a thing as too much bacon, you can cut the amount of bacon you use for this recipe by using only half the amount originally listed in this recipe. You can slice the bacon in half (or even in thirds!) and just roll up half the embutido in bacon. You still get the bacon flavor you want but since the entire roll isn't covered in bacon, you still get that embutido look that you want.
ADVERTISEMENT - CONTINUE READING BELOW
Recommended Videos
2 Broil the bacon until crisp.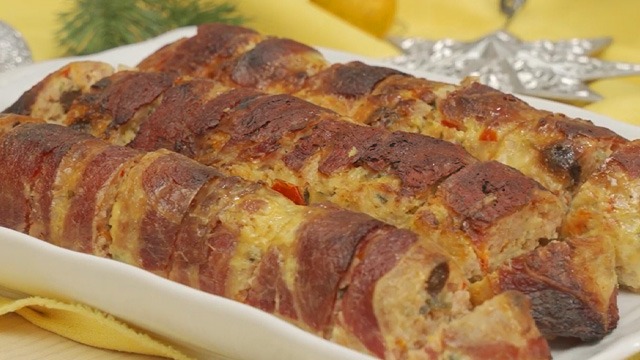 We didn't fry the embutido but instead used the oven on the broil setting. Broiling is when the oven setting is set so that only the upper heating coils are heated. This means that only the top of your food will be heated up, making it easy to brown food without overcooking it. This is perfect for bacon so that you can crisp up the bacon without burning or drying out the embutido.
How To Store Bacon-Wrapped Embutido
The embutido is normally wrapped in foil but in this case, it's wrapped in both plastic wrap and foil. This makes it easy to store since you can simply reroll the embutido in either wrapping and store in the refrigerator. If you want to store these embutido for longer, opt to wrap it in both again so you can store it safely in the freezer, without worrying about it absorbing odors from the other food in your freezer.
Watch: How To Make Bacon-Wrapped Embutido Recipe
Bacon-Wrapped Embutido Recipe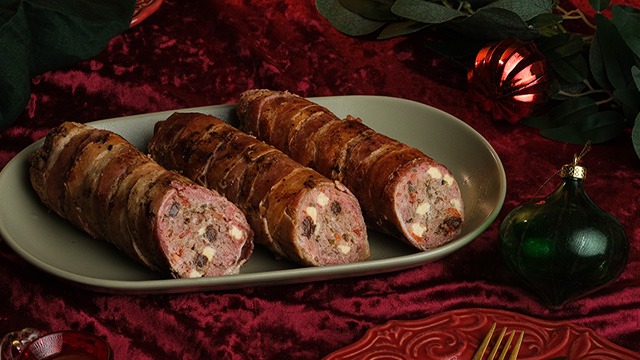 Bacon-Wrapped Embutido Recipe
Make this special version for the holiday or other celebrations.
Ingredients
Bacon-Wrapped Embutido Ingredients
1/2

kilo

ground pork

1/3

Cup

pickle relish

3

slices

cooked ham

chopped

1/4

Cup

raisins

1/2

Cup

Cheese

cubed small

1/4

Cup

red bell pepper

chopped

1/4

Cup

carrot

finely chopped

2

large

eggs

12

slices

bacon

Salt

to taste

ground black pepper

to taste
Instructions
In bowl, combine ground pork, pickle relish, ham, raisins, cheese, bell pepper, carrot, and eggs mix until well blended. Season to taste with salt and pepper. Cook a small portion to test for seasoning, and adjust seasoning as needed.

Divide the mixture into three. Place plastic wrap onto a flat surface. Place bacon strips down in an overlapping row with the short ends towards you near the bottom part of the plastic wrap. Place one part of the divided pork mixture onto the bacon. Form the pork mixture into a log. Roll tightly and seal the ends. Roll the plastic-wrapped embutido in foil to more securely wrap your embutido. 

Repeat with the remaining pork mixture. Place wrapped pork logs in a steamer and cook for 30 minutes. Remove from the steamer and cool completely.

Preheat oven to 400 degrees F or 200 degrees C. Place rack on the upper part of the oven. 

Open the steamed embutido. Place on a baking sheet and repeat with remaining embutido. 

Broil in a preheated oven for about 10 to 15 minutes or until the bacon is browned and crispy. Alternatively, place it in a toaster oven or air fryer at 200 degrees C. Remove from the oven and let rest for 10 minutes before slicing and serving.