This steak recipe is extra special: beef tenderloin is wrapped in tasty bacon! Serve it with a rich risotto on the side. This creamy side dish can balance out the stronger flavors that go with your steak, giving your taste buds a welcome respite.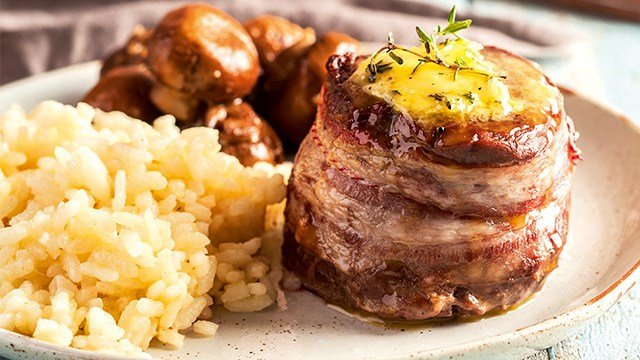 Bacon-Wrapped Tenderloin with Risotto Recipe
Beef wrapped in bacon? Yes, please!
Ingredients
Bacon-Wrapped Tenderloin with Risotto Ingredients
1

cut

beef tenderloin

wrapped in 1 slice bacon and tied with butchers twine

1

tablespoon

canola oil

3

tablespoons

Butter

divided

2

sprigs

fresh thyme

Salt

to taste

ground black pepper

to taste

3

tablespoons

Butter

1/2

medium

white onion

peeled, chopped

1

Cup

Arborio rice

1

cube

chicken bouillon

3

Cup

hot water

or as needed

1/2

Cup

quick melting cheese

grated

2

tablespoon

parmesan cheese

grated

Salt

to taste

ground black pepper

to taste
Instructions
Make the risotto: in a large saute pan over medium heat, melt butter. Add onion, and cook until just translucent. Add rice, stirring to coat. Cook until rice turns translucent. Add bouillon cube, stirring to dissolve into rice.

Pour in 1 cup water, stirring to dissolve bouillon into liquid. Bring to a boil, then simmer until liquid has almost evaporated. Add 1/2 cup water, stir, and then simmer again until liquid has almost evaporated. Repeat process until rice is almost tender.

Add cheeses, stirring to melt into the rice mixture. Season with salt and black pepper to taste. Serve immediately.

Open the windows. cover or point the fans toward your smoke alarm. turn on the range hood to High. (it will get smoky.)

Generously season your chosen steak with salt and ground black pepper on both sides.

Heat a medium pan over high heat. once hot, add oil. swirl to coat bottom of pan evenly. lay steak on the hot pan.

Let sear for 1 minute. Check doneness. continue cooking until desired doneness is reached. Flip. add 2 tbsp. butter and herbs, basting as desired. cook until preferred doneness is achieved. remove from heat onto a plate. top with remaining butter, if desired.

Let rest at least 10 minutes before slicing. serve while warm. Recipe originally published in the June 2016 issue of Good Housekeeping Philippines.