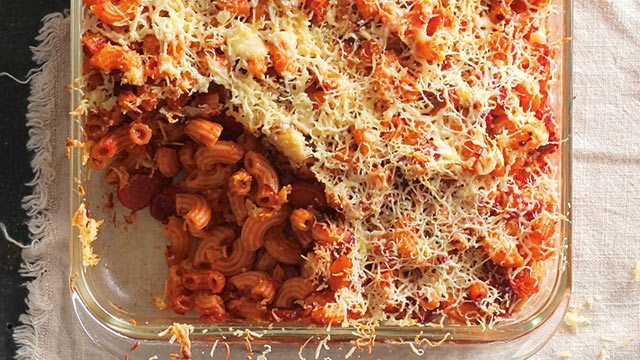 Chuck two Pinoy breakfast favorites, corned beef and hotdogs, into one baked macaroni dish for a lip-smacking meal your kids will love. It'll be an instant family favorite!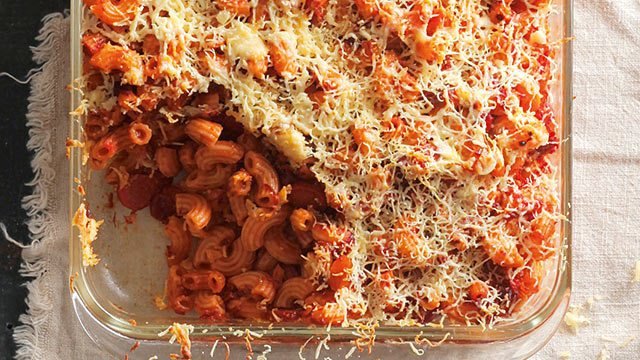 Baked Macaroni with Corned Beef Recipe
This baked macaroni is stuffed with breakfast favorites!
Ingredients
Baked Macaroni with Corned Beef Ingredients
1

500 gram pack

elbow macaroni

2

tablespoons

canola oil

1

medium

red onion

peeled, sliced

3

cloves

Garlic

peeled, chopped

1

380 gram can

corned beef

3

sliced

hotdogs

2

250 gram packs

Tomato sauce

1

Cup

banana ketchup

1

Cup

edam cheese or queso de bola

grated

2

225 gram blocks

quick-melting cheese

grated

Salt

to taste

ground black pepper

to taste
Instructions
Preheat oven to 350?F.

Bring a pot of water, salted, to a boil. Add macaroni, stir, and cook 8 minutes. Drain, and transfer to a large bowl. Set aside.

Meanwhile, in a wok over medium heat, heat oil. Sweat onions until translucent. Add garlic, and stir until fragrant. Add hotdogs then corned beef. Saute, stirring, until any liquid from the corned beef has evaporated. Pour in tomato sauce and banana ketchup; stir to combine. Season with salt, to taste, and ground black pepper.

Transfer sauce into the bowl with the pasta. Using two large spoons, toss to coat evenly. Dump pasta into a 13-inch by 9-inch glass baking dish and spread into an even layer. Sprinkle edam cheese and quick-melting cheese on top. Place in the preheated oven, and bake for 20 minutes, or until cheese has melted. Remove from oven, and serve while hot. Recipe originally published in the July 2016 issue of Good Housekeeping.