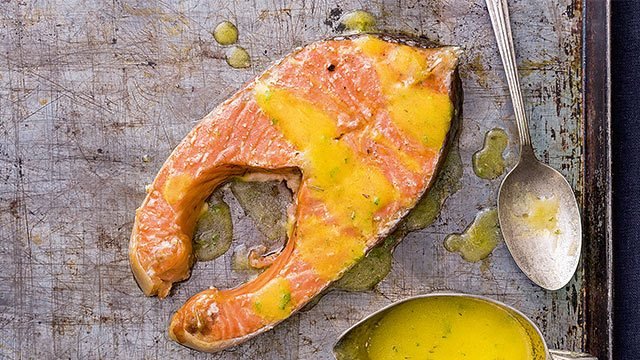 Love seafood? This fish recipe bakes quickly in your oven. Sweet and succulent salmon is paired with an updated lemon-butter sauce for a simple dish that's bursting with flavor.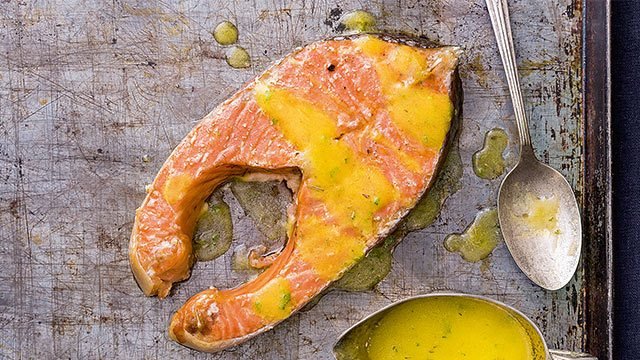 Baked Salmon with Herbed Butter Recipe
Bake this sweet and succulent salmon and finish it off with a lemon-butter sauce.
Ingredients
Baked Salmon with Herbed Butter Ingredients
350

Grams

salmon

steaks or fillets

1

teaspoon

ginger juice

extracted from grated ginger

2

tablespoons

canola oil

1

teaspoon

Salt

1/2

teaspoon

Pepper

1/2

Cup

unsalted butter

cubed

1/2

teaspoon

dried rosemary

1/2

teaspoon

dried thyme leaves

1

teaspoon

parsley sprigs

chopped

1

teaspoon

lemon zest

Salt

to taste

Pepper

to taste
Instructions
Preheat oven to 400°F.

Place salmon in an airtight container and add ginger juice. Chill for 30 minutes. Rinse fish under cold running water.

Heat oil in an oven-safe pan. Season fish with salt and pepper. Sear fish for 2 minutes per side. Remove from heat and bake in the preheated oven for 6 minutes. Remove from oven, cover with foil, and let fish rest for 10 minutes.

Make the herbed butter: Bring 2 tablespoons water to a boil in a pan over mediumlow heat. Slowly whisk in butter cubes, a few pieces at a time. Continue whisking over low heat until emulsified or slightly thick. Do not allow to simmer or boil. Stir in herbs and lemon zest. Season with salt and pepper. (You can mix in the juice from 1 lemon for a tangier sauce.) Serve immediately alongside fish.