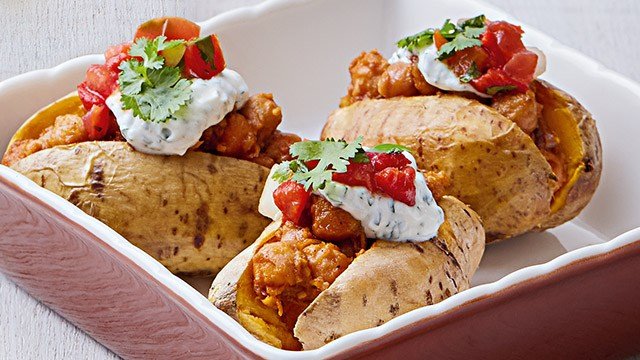 Sweet potatoes are nutritious—bake them and top with Mexican-style chickpeas. This easy baked potato recipe also includes a garlic-cilantro yogurt, making it extra tasty.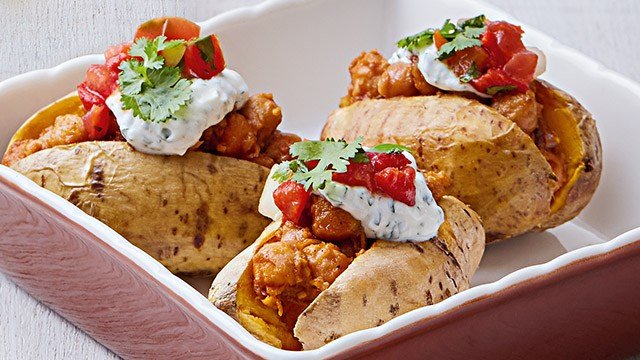 Baked Sweet Potatoes Recipe
Camote may be used for your next baked potato dish!
Ingredients
Baked Sweet Potatoes Ingredients
4

large

yellow sweet potatoes (kamote)

skin-on, scrubbed clean

olive oil

to drizzle

cilantro leaves (wansoy)

to garnish

1 1/2

tablespoons

olive oil

2

Small

red onions

sliced

3

cloves

Garlic

chopped finely

2

cans

chickpeas (garbanzos)

drained

2

teaspoons

ground cumin

2

teaspoons

Spanish paprika

Salt

Pepper

1/2

Cup

Greek yogurt

2

cloves

Garlic

minced finely

2

tablespoons

fresh cilantro leaves

chopped

2

tablespoons

extra virgin olive oil

Salt
Instructions
Preheat oven to 400°F. Drizzle sweet potatoes with olive oil and rub to cover each well. Place potatoes on a piece of aluminum foil, fold to seal, then place on a baking tray. Bake for 45 minutes to 1 hour, or until completely soft (a small knife inserted into a potato should easily slide in).

Meanwhile, make the Mexican-style chickpeas: Heat olive oil in a pan over medium-high heat. Sauté onions until soft and caramelized. Add garlic; cook until fragrant. Add chickpeas and toss. Add cumin and paprika; stir until well combined. Season with salt and pepper. Sauté for 1 to 2 minutes to allow flavors meld. (If chickpeas look dry, add up to 3 tablespoons water, a little at a time, to moisten.) Adjust seasoning as needed. Set aside.

3 Make the garlic-cilantro yogurt: Mix together Greek yopgurt, garlic, fresh cilantro leaves, extra virgin olive oil, and salt. Set aside.

Make a slit lengthwise down the middle of each sweet potato. Top with chickpeas, yogurt, and salsa. Garnish with cilantro. Serve with extra yogurt and salsa on the side.