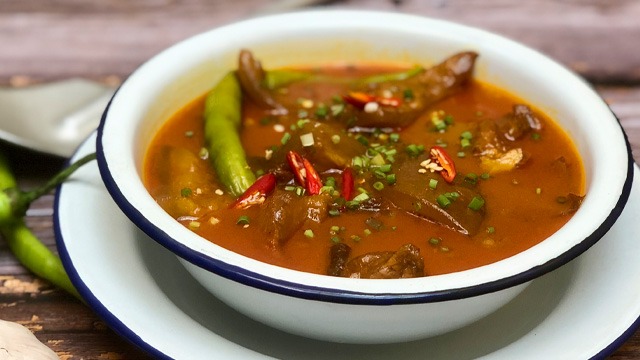 A rich and sticky stew made of oxskin is not a dish you think would be delicious but you'll discover you're wrong when you taste the balbacua! 
What is balbacua? 
You might think this is derived from the Spanish word "barbacoa", but that's a dish that's basically a barbecue which this is not. If you speak to someone from the Visayas region, you'll find out that the dish is a Cebuano ox skin and tail stew.
How to cook balbacua
The skin and the tails are tough parts so it requires a long cooking process to tenderize it and make it soft enough to eat. This cooking process, where the dish is commonly simmered for hours, is where the magic begins. Since the skin is stewed for hours until tender, the collagen in the skin, plus the oxtail if you're using this cut, break down into the simmering liquid. Collagen is similar to gelatin which results in a rich and sticky soup that you'll want to savor with every spoonful. 
The process of using oxskin in a dish requires cleaning the skin through boiling. This not only removes the impurities or scum from the skin. This ensures your soup is clear and not murky so don't skip the step! Once that's done, you just need to add the ingredients that make your balbacua flavorful and wait the hours it needs to tenderize and become super soft.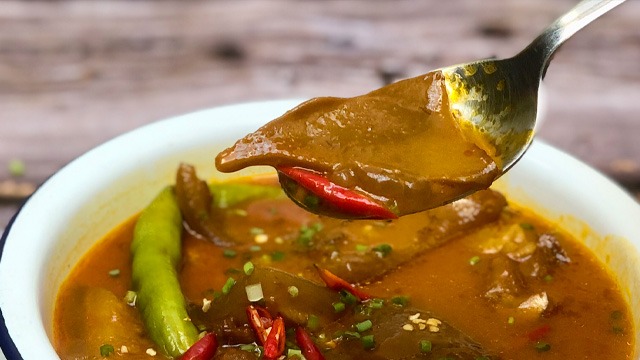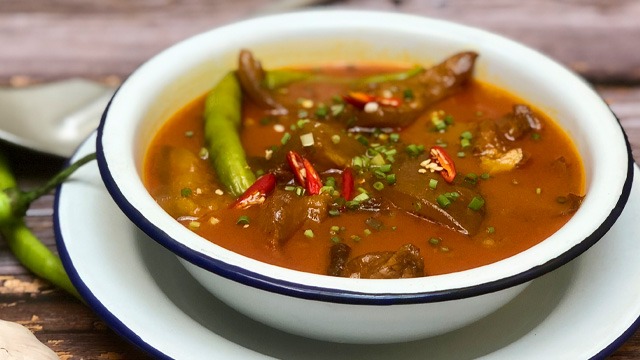 Balbacua Recipe
This collagen-rich stew is sticky, fatty, and absolutely perfect!
Ingredients
Balbacua Ingredients
500

Grams

ox skin

16

cups

water

divided, for boiling

1

head

Garlic

crushed

2

medium

Onions

thinly sliced

1

2-inch piece

ginger

thinly sliced

1

head

Garlic

crushed

2

medium

Onions

thinly sliced

1

2-inch piece

ginger

thinly sliced

3

stalks

lemongrass (tanglad)

3

pieces

laurel leaves

1/4

Cup

atsuete seeds

2

tablespoons

cooking oil

2

pieces

beef bouillon cubes

2

pieces

green finger chili (siling haba)

3

pieces

siling labuyo (birds eye chilies)

3

stalks

green onions

Chopped, for garnish

Salt

to taste

ground black pepper

to taste
Instructions
Clean ox skin thoroughly and cook in boiling water. Place oxskin with 8 cups water in a deep pot and bring to a simmer. Simmer until scum rises to the surface of the water, around 30-45 minutes.

Discard the water and clean the skin thoroughly again. Bring the remaining 8 cups water to a boil, add cleaned ox skin, and 1st batch of aromatics, lemongrass or tanglad, and laurel leaves. Boil for 6 hours.

Halfway through the boiling period, make the atsuete oil. In a small pan, add cooking oil and atsuete seeds. When the oil becomes orange in color, remove the atsuete seeds and add the 2nd batch of aromatics. Saute until ingredients are fragrant. Add salt and pepper to taste.

Add the sauteed aromatics with the atsuete oil into the pot with the oxskin. Add beef cubes, siling haba, and siling labuyo or bird's eye chilis.

Simmer until the skin is very soft and the broth has thickened. Add more salt and pepper if desired. Serve with green onions on top for garnish.
ADVERTISEMENT - CONTINUE READING BELOW
Recommended Videos