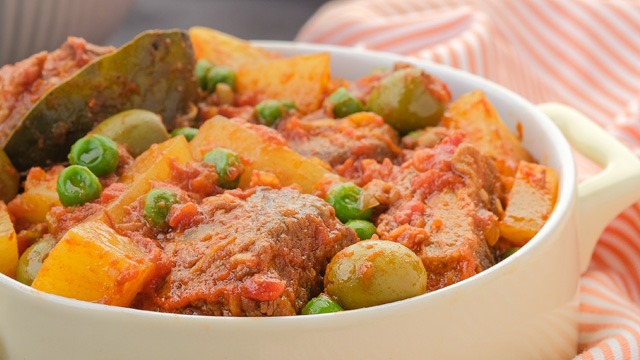 Beef estofado or estofadong baka is a Filipino stew made with beef in an herby, tomato-based sauce. It's a lot like kaldereta, which is also a classic Filipino beef stew. Beef estofado needs to cook for a long time for the beef to become tender, but it's well worth the wait; the longer cooking time allows the sauce and beef flavor to meld together, which makes it one of the most flavorful dishes you can make!
This recipe is made a little simpler, a little different. Instead of the usual seasonings, it uses oregano and paprika. Meanwhile, it still has your usual potatoes and bell peppers, but instead of carrots, we swap it out for stuffed green olives and sweet green peas. 
You'll love this beef estofado recipe if you're looking to make your Filipino ulam just a little different. You can also switch out the brisket with ox tongue or lengua to make this delicious lengua estofado recipe, but if you'd like to try it with other kinds of meat, you can also make this chicken estofado or try our pork estofado recipe!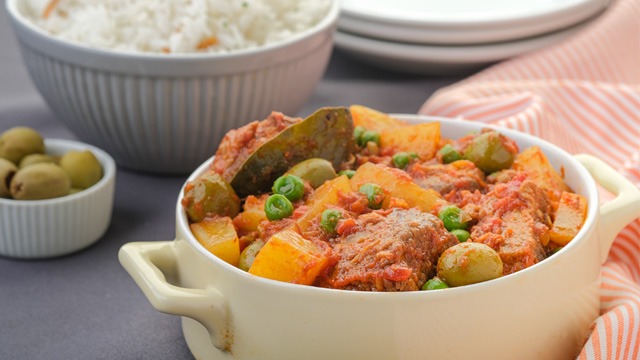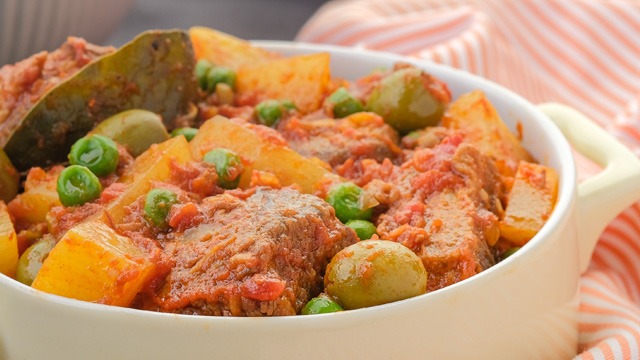 Beef Estofado Recipe
This is your kaldereta made simpler but no less tasty.
Ingredients
Beef Estofado Ingredients
1

kilogram

beef brisket

cut into large cubes

2

tablespoons

olive oil

6

cloves

Garlic

minced

1

400-gram can

diced tomatoes

1

teaspoon

dried oregano

2

pieces

bay leaves

1

teaspoon

paprika

Salt

to taste

ground black pepper

to taste

2

tablespoons

tomato paste

2

cups

beef stock

2

medum

Potatoes

peeled, cut into cubes

1/2

Cup

stuffed olives

1/2

Cup

green peas

water

as needed
Instructions
Heat a non-stick frying pan over medium heat. Season the beef with salt and ground pepper. Brown the beef cubes on all sides. (There is no need to add oil. As the beef browns, it will render enough fat to lightly fry the beef cubes.) Scoop out the beef cubes, and set aside.

In a thick-bottomed pot, heat the olive oil. Saute the garlic, onion, tomatoes, bell peppers, oregano, bay leaves, and paprika with a little salt and pepper.

When the vegetables have softened, pour in the stock. Swirl the pan and allow the mixture to boil over high heat for about five minutes or until the liquid is reduced to half. Stir in the tomato paste.

Return the browned beef cubes to the pot. Pour in enough water to cover the meat. Stir. Bring to a boil, lower the heat, and cover the pot. Slowly cook the beef for about two hours or until tender.

Stir the pot occasionally while cooking and check the liquid. Do not add too much water. Add more cooking liquid about half a cup each time, if needed, just enough to keep the beef simmering in the sauce.

When the beef is tender, add the potatoes, olives, and peas. Simmer for another 15 to 20 minutes. Taste the sauce one last time and add more salt and pepper, if needed. Serve hot.
ADVERTISEMENT - CONTINUE READING BELOW
Recommended Videos