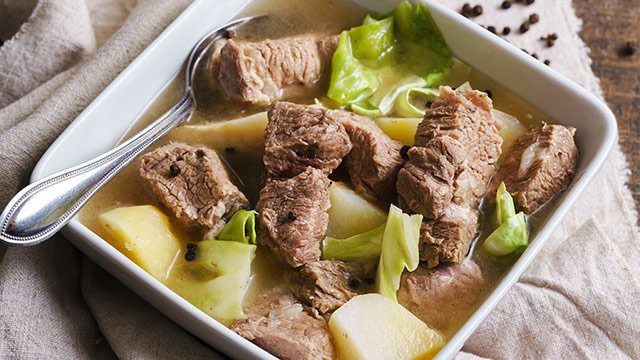 Beef nilaga is a beef soup with vegetables. Let the soup simmer slowly until the beef becomes super tender. Add the greens in the latter half of the cooking process to make sure they're still bright and crisp once you serve this beef soup.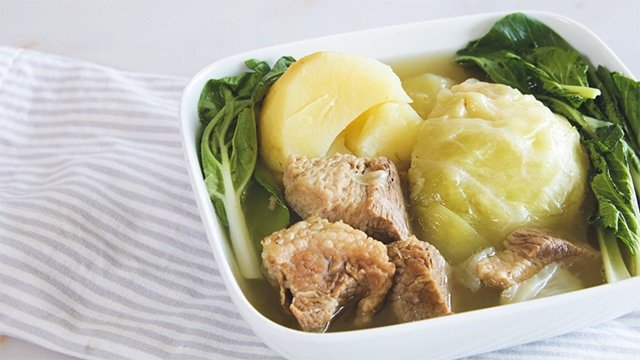 WATCH: How to Make Beef Nilaga
Posted in:
Cooking
Nilaga Recipe
Beef nilaga is a beef soup with vegetables.
Ingredients
Nilaga Ingredients
2

tablespoons

Oil

1

medium

red onion

peeled, quartered

1

kilo

Beef

(use beef cubes)

4

cups

water

2

tablespoons

patis

plus more to serve

1/2

teaspoon

black peppercorns

1/2

kilo

Potatoes

peeled, cubed

1

small head

cabbage

1

bunch

green beans

calamansi

to serve

siling labuyo

to serve
Instructions
Heat oil in a pressure cooker over medium heat. Add onion, and stir to lightly sauté. Add beef chunks, water, patis, and peppercorns. Increase heat to high, and bring to a boil. Remove any scum that rises to the surface. Cover and lock lid, lowering heatto low. Simmer 45 minutes or until beef is tender.

Release pressure before unlocking and removing lid. Add potatoes. Bring back to a simmer, and cook potatoes until tender. Add cabbage and green beans. Cook until just tender. Serve with steamed rice, patis, calamansi, and siling labuyo on the side. Recipe originally published in the April 2017 issue of Good Housekeeping Philippines.