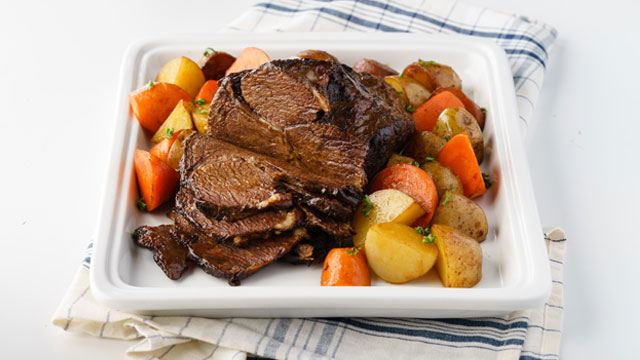 The best beef dishes are those with lots of flavor and this beef pot roast made on your stovetop is best when cooked long and slow over a low flame. You not only get the most tender beef, you get the most flavorful, too.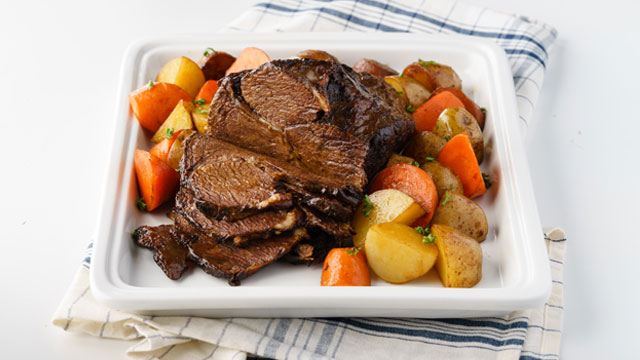 Beef Pot Roast Recipe
Long and slow is how you achieve a tender beef roast that's super flavorful.
Ingredients
Beef Pot Roast Ingredients
1/4

Cup

canola oil

1 1/2

kilograms

beef kalitiran

whole

1/4

Cup

all-purpose flour

3

cloves

Garlic

peeled, finely chopped

1

tabespoon

tomato paste

1/2

Cup

white wine

(Optional)

2

pieces

chicken bouillon cubes

4

cups

water

2

pieces

bay leaves

1

medium

white onion

peeled, quartered

4

medium

Potatoes

scrubbed, cubed large

2

medium

carrots

scrubbed, cubed

salt and freshly ground black pepper

to taste
Instructions
In a large heavy-bottomed pot, heat oil. Generously season beef with salt and ground pepper on all sides then sprinkle with flour. Place beef in the hot oil and sear on all sides. Remove from pot and set aside.

Add garlic to the remaining oil. Add tomato paste, stir, then deglaze the bottom of the pot with wine, stirring to remove any fond. Return beef to the pot. Add bouillon cubes, water, bay leaves, and onion; stir. Bring to a boil then lower to a heat. Cover and simmer until beef is tender, about 3 hours, turning the beef every 30 minutes or so to prevent it from burning. Replenish with water as needed to prevent the beef from drying out.

About 20 minutes before the beef is tender, add the carrots and potatoes. Cover and continue to cook until both vegetables are tender. (Remove carrots and potatoes from the pot if the beef is still not tender.)

(Alternatively, place beef into a pressure cooker and pressure cook until beef is tender, about 1 1/2 hours, or place in a dutch oven and bake in a 350F/180C for about 3 hours or until tender.)

To serve, remove beef and vegetables from the pot. Simmer liquid until thickened. Season to taste. Slice beef, pour gravy over beef, and serve with vegetables.