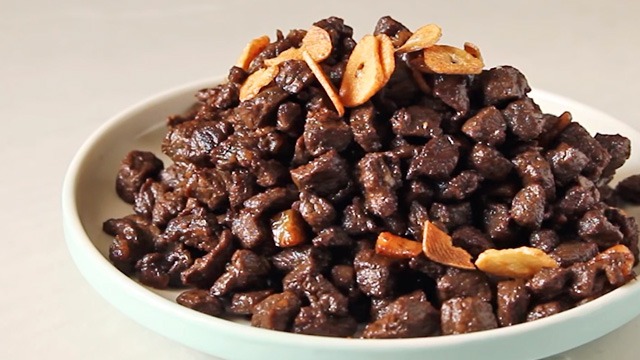 Need something to keep you going throughout your busy schedule? This easy beef salpicao recipe that takes minutes to cook is sure to satisfy any beef cravings.
What Is Beef Salpicao
"Salpicao" is the Spanish word for "splash". If you take that meaning and apply it to this dish, you can say that this is beef splashed with a few choice liquid ingredients which make it super tasty!
It makes sense because the basic ingredients of a beef salpicao are beef, garlic, salt, pepper, and Worcestershire sauce. The beef is marinated in this mixture, sometimes amped up with liquid seasoning or soy sauce, and then quickly cooked in a wok or saute pan and immediately served.
How To Serve Beef Salpicao With Liquid Seasoning
Most will likely serve this as an ulam, topped or paired with steamed rice. However, this can also be served like tapas since the beef cubes are easily speared with a fork and crusty bread for soaking up the delicious sauce and garlic bits.
How To Cook Beef Salpicao With Liquid Seasoning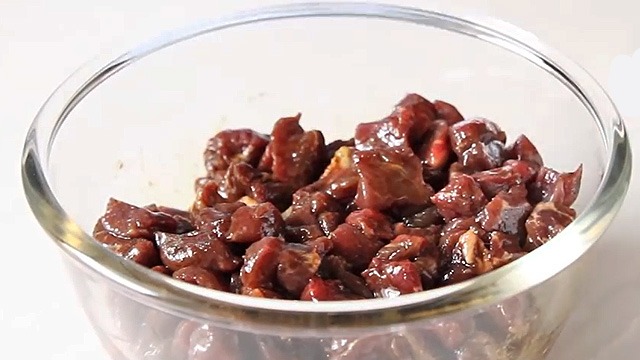 This is cooked fairly fast so the marination is key to super tasty beef. The marinade can be made with fewer ingredients but we say toss the beef with salt, pepper, Worcestershire sauce, and a few splashes of liquid seasoning, too. You just need 10 minutes to do this but it can be longer if you have the time. Once marinated, toast the garlic in butter and olive oil to give it even more flavor. Then, the beef can be tossed in and quickly cooked in the wok or saute pan until seared but still tender.
The quick-cooking time is key so that the beef stays tender and juicy, too. You can even do the same thing with pork, chicken, fish like bangus or tanigue, and, for the vegetarians, mushrooms and tokwa!
Tips To Make Tender Beef Salpicao With Liquid Seasoning
1 Marinate the beef.
The marinade makes the beef super tasty so if you have time, let the marinade and beef sit a little longer than just 10 minutes. There is not much acidity to toughen the beef so you have time to make the beef chunks as flavorful as possible. Just don't overdo the marination time or you'll end up with salty beef bites.
2 Sear the beef and do it quickly.
Simple, tasty, and flavorful, the beef salpicao is actually a fast and easy recipe. What can make this beef dish even more flavorful than it already is the browning or searing of the meat. The beef's flavor is enhanced when it is seared or caramelized during its cooking process. It's this browning that amps up the flavor of what might be a normal-tasting dish.
3 Add toasted garlic.
The most definitive aspect of the salpicao recipe is the tiny bits of crunchy and finely-chopped garlic. It has a short list of ingredients so if you love garlic, feel free to jack up the amount of toasted garlic that you add on top for extra crunch!
How To Store Beef Salpicao With Liquid Seasoning
This beef dish is easy to store. On the off-chance you do need to store it, just transfer the leftovers to a container with a lid and refrigerate it. Then gently reheat (You don't want to toughen up the beef!) until warmed through and enjoy!
ADVERTISEMENT - CONTINUE READING BELOW
Recommended Videos
Watch: Beef Salpicao Recipe With Liquid Seasoning
Beef Salpicao Recipe with Liquid Seasoning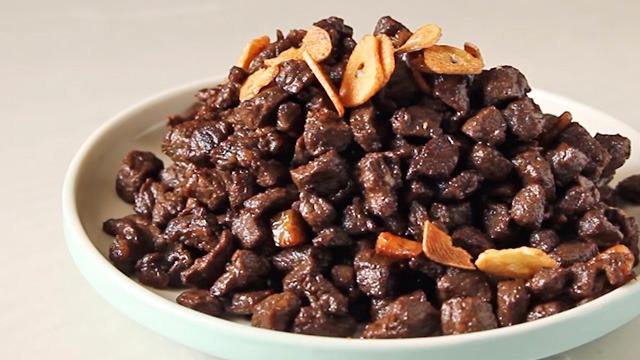 Beef Salpicao Recipe With Liquid Seasoning
This is a fast and easy beef dish!
Ingredients
Beef Salpicao Ingredients With Liquid Seasoning
1/2

kilo

beef sirloin

cubed small

1/2

teaspoon

Salt

1/4

teaspoon

ground black pepper

2to3

tablespoons

Worcestershire sauce

1

tablespoon

liquid seasoning

2to3

tablespoons

olive oil

2

tablespoons

unsalted butter

5to6

cloves

Garlic

sliced thinly
Instructions
Combine the beef, salt, pepper, Worcestershire sauce, and liquid seasoning then mix well. Leave to marinate for 10 minutes.

In a hot pan with olive oil, saute garlic until golden brown. Add the beef and sear on all sides.

Top with sauteed garlic bits. Serve while still hot.