Bibingka is a Filipino rice cake that's usually enjoyed during the Christmas holiday season.
How do you make a traditional bibingka galapong?
Traditionally made with rice flour, coconut milk, and eggs, the bibingka batter is charcoal-baked in banana leaves which gives it a fabulous flavor. It's best served warm, with melted butter on top, and sprinkled with queso de bola cheese or grated coconut or niyog. 
It's popularly enjoyed after Simbang Gabi but those who look for it even when it's not the holidays yet can still enjoy it. It's an easy recipe with easy-to-find ingredients.
This bibingka recipe is made with galapong or ground glutinous rice which is widely available and accessible. It tastes delicious, so whether it's the holidays or not, you can always have your bibingka fix.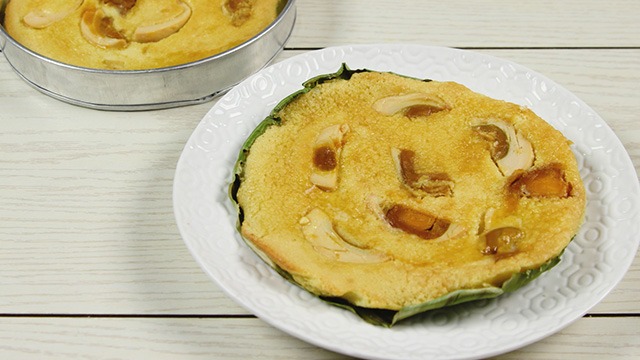 WATCH: How to Make Bibingka
Posted in:
Baking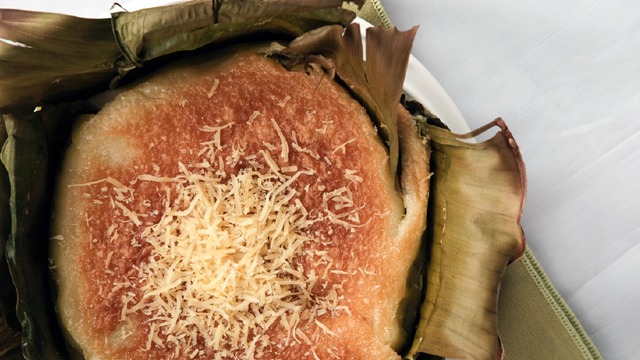 Bibingka Galapong Recipe
Have you tried this kind of bibingka yet?
Ingredients
Bibingka Galapong Ingredients
1/4

Cup

Glutinous rice (malagkit)

1/2

Cup

white rice

1 1/2

Cup

water

1 1/4

Cup

fresh coconut cream (kakang gata)

(canned coconut milk may be used)

3

medium

eggs

3/4

Cup

granulated sugar

3

teaspoons

Butter

melted

1/4

Cup

grated cheddar cheese

1/2

teaspoon

Salt
Instructions
Soak glutinous rice and white rice in water overnight.

Preheat oven to 350 degrees F (180 degrees C).

Drain the water from the rice. Place the rice in a food processor or blender. Add the coconut cream and process it until the mixture turns into a smooth consistency.

Pour in a bowl and mix in eggs, sugar, baking powder and butter. Mix well.

Line an 8-inch round pan with banana leaves.

Pour the mixture in and bake for 35 minutes.

Remove from the oven and let it cool. Brush with butter on top and sprinkle grated cheddar cheese over it.