Whether you know it as
bibingkang malagkit
 or as
biko
, this
sticky rice recipe
is basically sweet squares of steamed rice, sweetened with brown sugar, and usually topped with crispy coconut pebbles, the leftover remnants of simmered coconut cream. It's usually cooked as you would normal rice but with more water since this kind of rice needs more liquid than your everyday rice. We cooked this
kakanin
in a rice cooker, transfer the softened cooked sticky rice to
mamon tins
, and top each with a
heaping spoonful of latik or coconut jam
. Then we
toasted them in a toaster oven
. What you get are crisp edges with a spectacular, irresistible pool of
latik
in the center.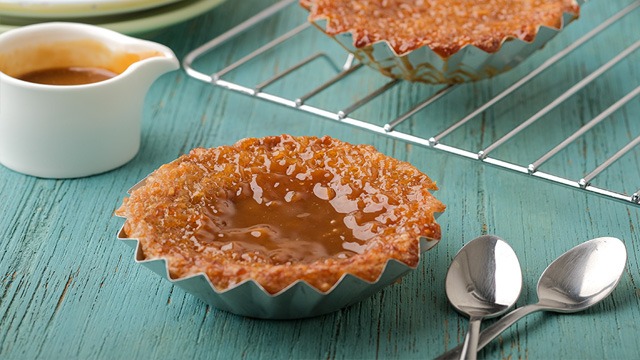 Bibingkang Malagkit with Sticky Latik Recipe
This sticky rice recipe is topped with caramelized coconut cream.
Ingredients
Bibingkang Malagkit with Sticky Latik Ingredients
1 3/4

cups

brown sugar

divided

2

cups

water

2

cups

Glutinous rice (malagkit)

rinsed

1 1/2

cups

coconut cream

divided

1/2

teaspoon

Salt

Oil

as needed
Instructions
Grease 6 mamon tins with oil. Set aside.

In a small rice cooker, dissolve 1 cup brown sugar in water. Add and stir in rinsed malagkit rice. Turn on rice cooker and let cook until cooked through.

Alternatively, bring rice, sugar, and water mixture to a boil. Lower heat to a gentle simmer, cover, and cook until rice is cooked through, stirring occasionally to avoid burning the rice. 

Once cooked, stir in 1/2 cup coconut cream, cover, and cook until the mixture has absorbed the cream. Spoon into the prepared tins, making a small depression in the center for the coconut jam. 

Meanwhile, heat remaining 1 cup coconut cream and 3/4 brown sugar in a saucepan. Bring to a boil then simmer on medium then cook, stirring, until caramelized and thickened, about 15 minutes. Spoon about 2 tablespoons over each rice-filled tin and spread until the rice is covered. 

Alternatively, use prepared coconut jam or coco jam. 

Place two tins on the tray of an oven toaster and set the timer. Toast until latik is caramelized and rice has bubbled, about 3 to 5 minutes. Remove and repeat with remaining bibingkang malagkit tins. Serve while warm with more coconut jam on the side. 
ADVERTISEMENT - CONTINUE READING BELOW
Recommended Videos