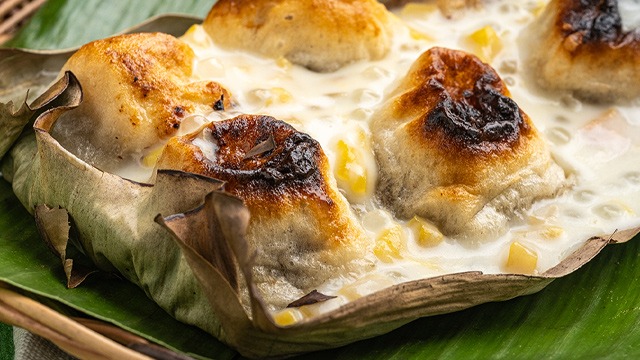 How to Serve Bibingkoy
The bibingkoy is served with its own ginataan halo halo sauce but that's not the only way to serve it. Here are other ways to enjoy this kakanin:
1 Serve with latik or caramel.  
Since the bibingkoy itself are not overly sweet, serving this with a sweet sauce like latik or coconut jam is a great idea, too. If you have caramel, that would make a great option as a sauce as well.
2 Serve with ginataang halo halo.
Who says you can't serve these giant stuffed bilo bilo in your ginataang halo halo? In fact, two or three would make anyone's bowl of ginataan extra special since these are stuffed with red bean paste.
3 Serve with sorbetes.
It's not just gooey inutak that tastes fantastic with ice cream! If you have sorbetes or creamier ice cream, these stuffed balls would be delicious served with it.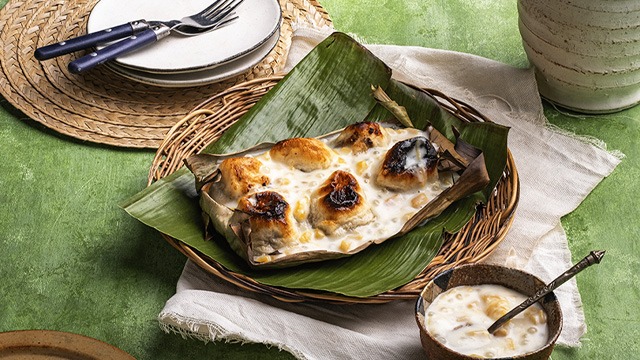 How To Cook Bibingkoy
Making bibingkoy unfortunately is harder than it looks. The bibingkoy starts with the red bean paste. You can cut time by using already softened red mung beans used for halo halo but these are best simmered until the beans are more tender so that these are easy to mash. (Alternatively, simmer dried red mung beans in water until softened, drain, then mash with a little sugar to taste.) Finely chop or mash the beans in a food processor or by using a fork. Form these into small balls the size of marbles or about ½ to 1-inch balls.
For the dough, mix water and glutinous rice flour together. Place this dough in a lightly oiled plate or heat-proof container before steaming, about 10-20 minutes. Using a plastic scraper, cut the dough into 6 pieces. Then with lightly oiled hands, take a portion and flatten it before sealing it closed around a red bean paste ball. You'll want to carefully pinch the seams closed and place each ball in an oiled and banana leaf-lined baking pan. Bake the bibingkoy immediately after forming into balls until the tops have puffed and are charred or toasted. Set aside.
Meanwhile, the sauce is a simple mixture of coconut cream, water, sugar, sago pearls, and langka. It's thickened with a little rice flour to give it that classic ginataang texture.
When this is done, it's ready to ladle over each serving of bibingkoy on your plate as desired.
Tips To Make Easy Bibingkoy
1 Stuff the bilo bilo before steaming.
If you find the sticky bilo bilo too sticky to handle, you can make the stuffed bilo bilo balls before steaming them. You might need to use more rice flour dough to form the balls but this can be easier for those who are not as dexterous as others forming the balls.
2 Use hot water. 
If you know how to make buchi, you know that hot water mixed into the rice flour can make it easier to work with before stuffing with the red bean paste. Use a little less hot water than indicated in the recipe so you can more accurately gauge the texture of the rice dough before rolling it into balls. 
3 Use oil, not water.
When you're ready to stuff the dough with the red bean paste, use oil to coat your hands, not water, when rolling up the balls. The oil will make your hands less sticky than water. You will also want to lightly brush the banana leaves with oil so the bibingkoy will be easier to remove from the baking pan when ready to serve.
4 Make the red bean paste ahead of time.
The hardest part beyond forming the balls is doing it around a red bean paste ball. The red bean paste needs to be firm enough to hold its shape so you can better wrap the gooey rice dough around it. 
ADVERTISEMENT - CONTINUE READING BELOW
Recommended Videos
5 Roast the steamed balls immediately.
Another challenge of making bibingkoy is baking these immediately after these are steamed. The soft, sticky nature of the bibingkoy is what makes it puff and rise in the oven. If you make the bibingkoy ahead, it's best to steam them again to return them back to its gooey texture before baking and charring the tops.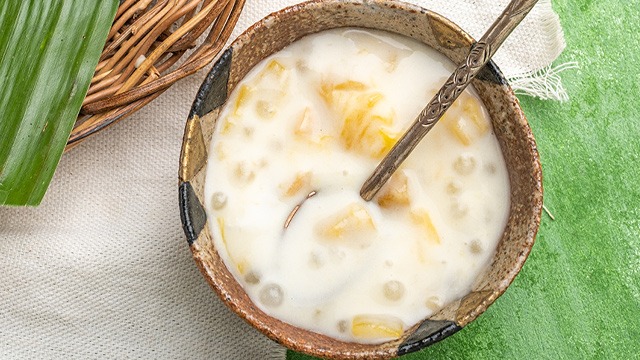 Bibingkoy Storage Tips
Refrigerate but steam again before serving.
Since these are baked, these puff and rise so the best way to enjoy these after storing in the refrigerator is steaming these again. That's because the sticky rice dough has a tendency to toughen when cold and when dried out.
Watch: How to Make Bibingkoy Recipe Video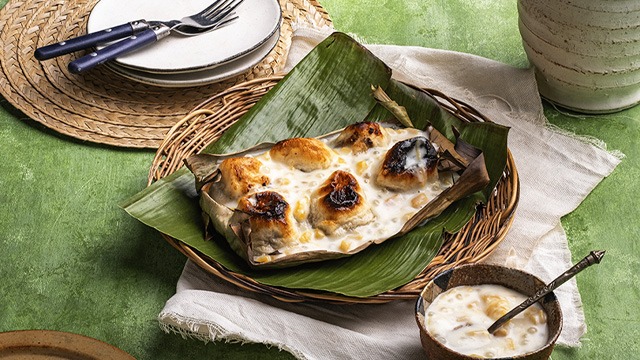 Bibingkoy Recipe
This gooey kakanin from Cavite is a cross between buchi and ginataang halo halo.
Ingredients
For the Stuffed Bilo Bilo Balls
1

cup

red monggo beans in syrup

drained, syrup reserved as needed

1 1/2

cups

glutinous rice flour

1/2

cup

water plus 2 Tbsp water

or as needed

Oil

as needed
For the Ginataan Sauce
3/4

cup

water

1/2

cup

coconut milk

1

tablespoon

glutinous rice flour

2

tablespoons

sugar

1/3

cup

sweetened langka

chopped

1/3

cup

cooked sago pearls
Instructions
For the Red Bean Paste
Dump red beans into a large saucepan and add water. Simmer until tender, about 1 hour. Drain and mash until a paste forms. Form into 6 balls. Set aside. Alternatively, use prepared red beans and use a food processor to finely chop the beans then mash until fine. Add syrup as desired.
For the Bibingkoy
Make the Bibingkoy: Prepare a steamer and preheat oven to 400 degrees F or 200 degrees C on the broiler setting with the rack placed near the top. Line a baking pan with a banana leaf. Lightly brush with oil. Alternatively, use parchment paper lightly brushed with oil. Set aside.

Make a dough with the rice flour and water. Place in a heat-proof bowl or plate and place in the steamer and steam for 10-20 minutes. (Dough should be sticky.) Divide the steamed glutinous rice into 6 portions using an oiled plastic dough cutter.

Rub your hands with oil, and grab one portion of the dough and flatten. Add a monggo ball in the center. Pinch the dough closed around the monggo and roll to form a ball. Place stuffed ball in the prepared baking pan. Repeat with remaining dough and bean balls.

Bake in the preheated oven until the tops of the rice balls are browned and toasted, about 5 to 10 minutes. Remove from the oven and set aside until ready to serve.
For Ginataan Sauce
Meanwhile, stir rice flour, coconut milk, water, and sugar in a saucepan placed over medium heat. Cook until thickened. Add sago pearls and langka bits.

To serve, transfer bibinkoy balls to a plate or platter and serve covered with ginataan sauce.
Try These Other Yummy Recipes: