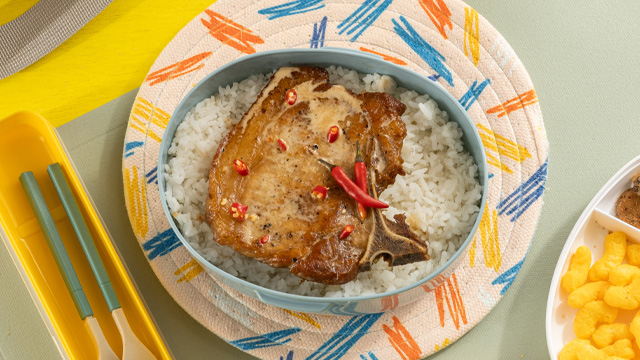 Swap out the chunks of pork of your usual Bicol Express with this delicious upgrade using pork chops. 
What Is Bicol Express Pork Chops?
The Bicol express dish is almost always associated with a spicy pork dish simmered in coconut milk and lots of chilis. However, who said that it can't be made with another cut of pork that's just as easy to cook? These pork chops are definitely made that much better because of the intensely flavorful and incredible-tasting sauce that's poured on top. 
How to Serve Bicol Express Pork Chops 
Rice, steamed, is actually the best kind of side dish to pair with this pork chop meal. It absorbs the sauce extremely well and is the perfect vehicle to use to slurp some of that sauce. 
Rice isn't the only side dish you can serve with it. Here is one more way to enjoy this dish:
Pair it with rice alternatives: Those who are avoiding rice so not have to do without their favorite ulam meals. Quinoa, adlai, and even couscous are all rice alternatives that can be a delicious pairing to these pork chops. 
How To Cook Bicol Express Pork Chops 
Cooking this pork chop couldn't be easier! For the pork, you just season it well with salt and pepper (and any other seasoning you like) and fry like normal. 
The sauce is where we get into more complicated territory. The sauce is easily put together in a large frying pan where it can simmer until thickened slightly. 
You can stop here and serve the two components separately or you can do as the Italians do with their pasta and simmer them together. This makes a more intensely flavorful pork chop that you'll be glad you made. 
Tips To Make The Best Bicol Express Pork Chops 
1 Flavor the pork chop properly. 
It goes without saying that not seasoning the pork chop is a horrific no-no in a chef's kitchen. Just like a chef instructs you to season at every step, you should season the pork, too, before cooking. This not only ensures your pork is tasty with or without any sauce but it also elevates its flavor. 
2 Use pork steaks. 
Pork chops are delicious but if everyone plans to have a pork chop meal at the same time, there may not be any pork chops available when you visit the supermarket or palengke. 
Don't worry if that ever happens to you because you have a fantastic and flavorful alternative: the pork steak. Just treat it just like a pork chop and you'll still enjoy having a pork chop worth stressing about even if a little.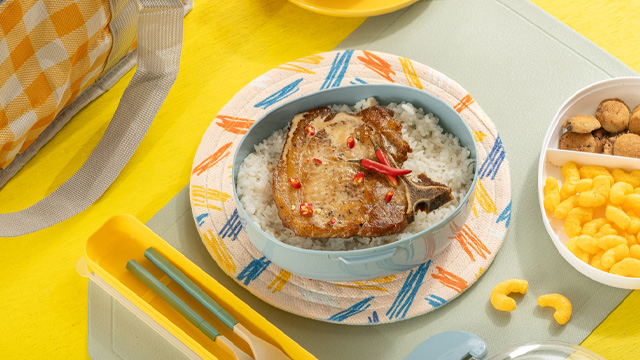 Bicol Express Pork Chops Storage Tips
1 Refrigerate the pork and the sauce. 
The pork chops and sauce can both be stored in the refrigerator, together or separately, if you need to prepare this meal ahead of time. 
2 You can freeze them, too! 
The great thing with this dish is that whether you have mixed the two components together already, you can store them together, too, even in the freezer. 
Watch: Bicol Express Pork Chops Recipe Video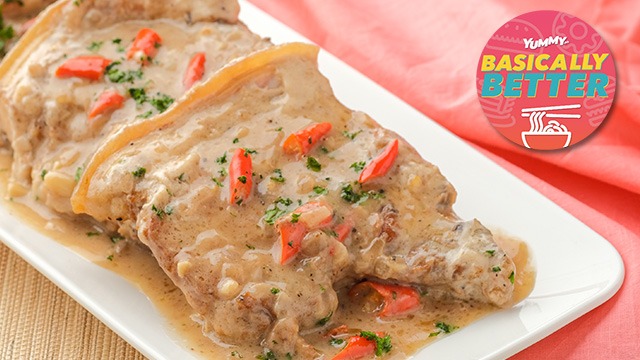 Bicol Express Pork Chops Recipe
Make your pork chops spicier, better with this delicious recipe upgrade.
Ingredients
Bicol Express Pork Chops Ingredients
4

pieces

pork chops

5

cloves

Garlic

chopped

1

medium

red onion

chopped

5

pieces

bird's eye chili (siling labuyo)

chopped

1

tablespoon

Bagoong (Shrimp Paste)

1 1/2

cups

coconut milk

Salt

to taste

ground black pepper

to taste
Instructions
Season the pork chops with salt and pepper.

Heat oil in a large pan. Add pork chops and sear on each side for 4-5 minutes until golden brown. Transfer to a plate and keep covered. Set aside.

Heat oil in pan. Add onions and garlic. Cook until onions are translucent.

Add the shrimp paste and cook for 1 minute. Add in the coconut milk and chilis. Mix well.

Add the pork chops and continue to cook for 10 minutes. Transfer the pork chops onto a serving plate and pour Bicol express sauce over the chops. Serve while hot.
Try These Other Yummy Recipes:
ADVERTISEMENT - CONTINUE READING BELOW
Recommended Videos