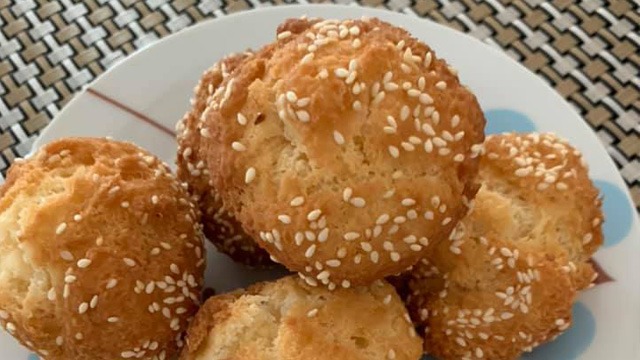 Updated as of April 12, 2023 by Jasper Castro.
What is Binangkal?
Binangkal is a native doughnut from Mindanao and Visayas, but also commonly found in most homegrown neighborhood bakeries or panaderias in the Philippines. It's especially popular in Cebu as a snack school kids can bring. Unlike most fried and fluffy donuts, binangkal bread is chewy, making it the perfect pair with sesame seeds. The sesame seed's nutty flavor is released with every bite and chew of the golden brown hard-crisp crust.
Binangkal gets its name after how these fried spherical donuts are shaped similarly to the fruits of the Nauclea orientalis tree, locally called "bangkal." The tree's fruits are also irregularly round, rough textured, and when partially opened, resembled the cracked part of binangkal.
Table of Contents
How to Serve Binangkal
Binangkal is at its peak flavor and texture when when it's freshly fried and still hot. What better time to get it at its best then, when easily made at home? This binangkal bread recipe is made with ingredients you already probably have, and doesn't need an oven.
This pastry perfectly pairs with your morning or afternoon coffee, or tablea hot chocolate which also carries its own nutty flavor. Eat it as breakfast or merienda, or as a snack you can bring almost anywhere.
How to Make Binangkal
This classic, nutty, crispy doughnut recipe uses common ingredients and require very little effort. First, combine all the dry ingredients in one bowl. Then, in another bowl, combine all the wet ingredients. Combine the two mixtures until it forms a dough. To shape it, using a spoon, simply scoop a ball and roll in sesame seeds. With lightly wet fingers, roll the shape and make sure that seeds are embedded into the dough.
Finish off by deep frying in very hot oil until you get that signature golden brown. Strain fried donuts and serve hot. Get more oil off the doughnuts by transferring to a strainer lined with tissue napkins.
Tips to Make Easy Binangkal
1 You can try using a combination of black and white sesame seeds.
Black sesame seeds have a stronger, nuttier, almost peppery flavor compared to regular white sesame seeds. Not only will the black sesame add flavor, you'll also bump up the visual appeal of these donuts.
2 Be a little adventurous by using almond extract.
Almond extract will give your binangkal a financier-like flavor! Simply replace the vanilla extract with almond extract. You can also double the amount of almond extract if you're especially fond of the flavor.
3 Use a toaster to warm up binangkal.
Generally, it's always better to warm up bread in a toaster for even dry heat that can also add crisp. Just be careful not to toast it too much or you might burn it!
4 Fry your binangkal with just the right heat.
Heat up oil to around 300 °F or 150 °C. If your oil isn't hot enough, your doughnut will absorb too much oil, but too hot and the outside of your donut will cook too much before it's able to cook the inside. It's best to cook one donut first to test and adjust as necessary. To maintain the heat of your oil, don't overfill your pot. Always fry only 6-8 doughnuts at a time. Cooking too many at a time will make the oil's heat drop.
3 Choose a neutral flavored oil.
Doughnut recipes generally will absorb the flavor of the oil used. Churros, a Spanish doughnut, is best fried with olive oil. This particular doughnut recipe though, is best fried with a neutral flavored oil which lets the nuttiness of the sesame shine through.
How to Store Binangkal
1 Keep binangkal at room temperature.
As with most bakery classics, these breads are designed to have a reasonable shelf life at room temperature as they're displayed in the glass shelves. Expect it to do well for 1-2 days on your table, or stored in an airtight container for a road trip.
2 To keep for a week, line your airtight container with tissue napkins.
Tissue napkins will help absorb the excess oil and help the bread keep longer. The high heat used for binangkal also helps with its sturdy shelf life. Still, we advise you don't let it last for that long as binangkal stales, it will tend to get harder and possibly tough to chew.
Binangkal Recipe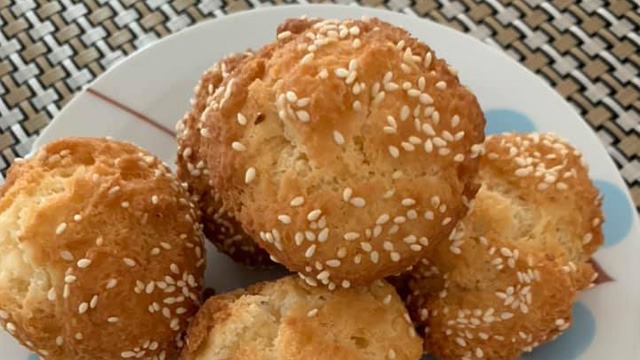 Binangkal Recipe
It's a Pinoy favorite!
Ingredients
Binangkal Ingredients
2

cups

all-purpose flour

1/4

Cup

cornstarch

3/4

Cup

white sugar

1/4

teaspoon

Salt

1

teaspoon

baking powder

2

tablespoons

salted butter

melted

1

large egg

1/2

Cup

evaporated milk

1/2

Cup

sesame seeds,

1/4

teaspoon

vanilla

Optional
Instructions
Combine all dry ingredients in a bowl: flour, cornstarch, sugar, salt, and baking powder. Mix well.

In a separate bowl mix together milk, melted butter, and egg. Mix well.

Slowly add the dry ingredients into the wet mixture. Mix well to form a dough.

Scoop a tablespoon mixture to form a ball and roll it into the sesame seeds.

Prepare oil in a pan for deep frying. Make sure the oil is hot before putting the dough.

Deep fry until golden brown.