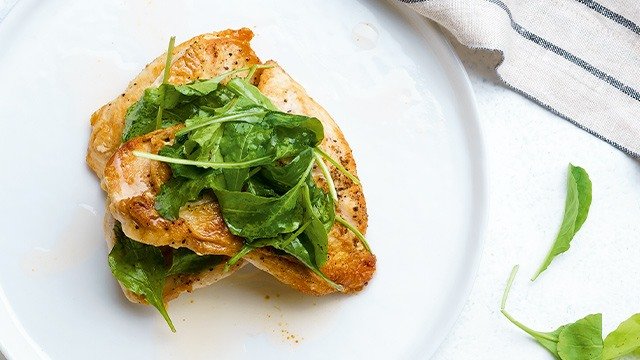 Use your favorite cut of chicken, chicken breast fillets! Boneless thighs make even tastier chicken fillets and require less pounding. This fried chicken recipe is a keeper.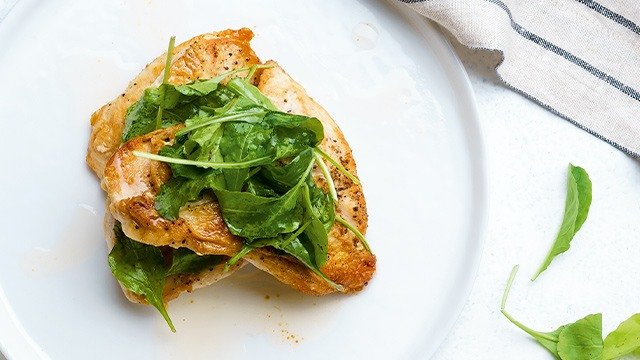 Boneless Fried Chicken Recipe
This chicken is for fuss-free cooking and eating!
Ingredients
Boneless Fried Chicken Ingredients
6

fillets

Chicken Breast

skin on

1

tablespoon

sea salt

or to taste

1

teaspoon

ground black pepper

or tot aste

1/4

Cup

canola oil

2

50-gram bags

baby arugula

1/2

cube

chicken bouillon

1/4

Cup

hot water

1/3

Cup

extra virgin olive oil
Instructions
Place a long sheet of plastic wrap on a chopping board. Place a fillet, skin side down, on the plastic wrap, and fold the plastic wrap over the chicken. Using the flat side of a meat mallet and concentrating on the thickest part of the breast, pound the chicken until 1/8 inch thin all over. Set aside, and repeat with remaining chicken. Season chicken generously with salt and black pepper.

Heat a large cast iron pan over medium-high heat. Heat about 2 tablespoons oil. Once hot, cook chicken breasts, skin side down, until the skin is brown and crispy and the top of the chicken feels hard to the touch. Flip and cook the other side until cooked through. Transfer to plate. Repeat with remaining chicken.

Meanwhile, in a jar with a lid, dissolve chicken bouillon cube in hot water. Pour in olive oil, close lid, and shake until emulsified. Pour into a large mixing bowl. Add arugula, and toss until coated.

To serve, baste chicken breasts with juices in the plate. Place one chicken breast on a plate, and top with arugula salad. Serve immediately. Recipe originally published in the December 2015 issue of Good Housekeeping Philippines.