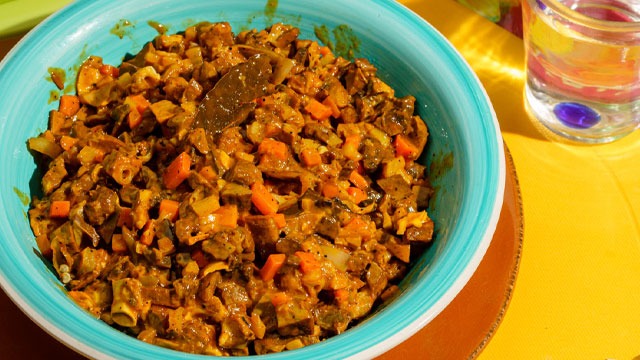 We bet you thought you could never make this karinderya favorite made of pork heart, pork lungs, and seasonings at home. You can, this easy recipe for bopis is one that we are featuring as one of your favorite karinderya recipes!
As one of Yummy's October digital cover recipes, this karinderya dish is sure to satisfy your love for all things food on Yummy.
What Is Bopis
The bopis is a Kapampangan pork dish. A recipe reveals that the dish contains the pork heart and lungs and is seasoned with lots of spices including chilis. That means that the bopis can be an everyday dish! That's because these are inexpensive pork parts that some people may not know are delicious to eat.
It's also known as kandingga in Southern Luzon. There are a few differences between bopis from the north and the version from the south. The kandingga from the south is also made from the pork heart and lungs but it can also include the spleen and the kidneys as well. These pork offal cuts are also seasoned in spices and chilis to make these pork parts delicious and appetizing.
Bopis may be one of those dishes that you might normally never see anywhere else but at the local karinderya that you visit for your everyday meals during workdays. This dish is affordable for karinderyas to make because it uses parts that normally are not too coveted by the masa.
The pork heart and lungs are pork cuts that are not normally presented in the display case, so if you plan to make this at home, you might have to ask if these parts are available or order either fresh or frozen from your local butcher or meat shop.
How To Serve Bopis
As a Pinoy ulam recipe, steaming hot rice is bopis' best pairing. However, this dish is also a great bar chow or pulutan dish. This is commonly served as pulutan because it pairs wonderfully with an ice-cold beverage. If this is served as a barkada pica pica, serve it as is with lots of chopped chilis, and calamansi on the side so your friends can enjoy this unique dish as they desire.
How To Cook Bopis
Since this dish uses pork parts that can have an odor that might have a gaminess that is unpleasant to the taste, the heart and lungs are simmered in water with vinegar, pandan leaves, lemongrass, and salt. As short as 20 minutes to do this is enough.
ADVERTISEMENT - CONTINUE READING BELOW
Recommended Videos
The pork parts are then chopped up into small dice. This may be the most intensive part of the recipe process since the heart and lungs are big parts to have to chop up small. You can speed up this process by using a food processor or chopper. Just note that you might end up with too tiny pieces if you don't keep an eye on the appliance you're using.
These chopped-up pieces are then ready to turn into bopis. Garlic and onions are sautéed before the pork is added to the pan. This mix is then seasoned with chilis, vinegar, patis or fish sauce, and black pepper.
Tips To Make Delicious Bopis  
Bopis is not a common dish to make for many people so if you need tips on how to make this recipe, here you go:
1 Ensure you get fresh pork parts.
The real trick to this dish is getting your hands on the pork parts and knowing where to get these. Make a call to or visit your local butcher, suking meat monger, or another trusted meat vendor at least the day before or even two days before you want to make the bopis recipe so you're assured of the availability of the pork parts.
While these parts are not always requested, you never know when there might be a city-wide bopis craving and all the parts you need won't be available. Then it's just a matter of following our easy bopis recipe to make the best bopis.
2 Smelly pork? Use salt and vinegar!
If you are unlucky enough to get pork parts that have an unpleasant smell to them or have not been cleaned well before boiling, this can be solved with a quick rub with coarse rock salt and rinsing the parts with water with a little vinegar to rid these parts of their lansa. This tip will help your kitchen (and your home!) not smell too offensive.
3 Make it saucy!
Curious about what the colors the bopis? That would be the annatto or atsuete seeds. You can use water or heat the seeds in oil to extract the color. You can even use prepared atsuete powder which is a great hack since these are commonly mixed with cornstarch so you don't need to add another ingredient to make your bopis slightly saucy instead of cooking it until dry.
4 Add lots of carrots.
Another reason why the bopis may be red-orangey is courtesy of the finely chopped carrots some karinderya cooks add to the bopis. The carrots not only bulks up the bopis but also lends its color to the dish. Adding 2 medium carrots to the recipe, as finely chopped as the pork parts, is a great way to introduce the dish to first-time cooks and eaters.
How To Store Bopis 
Storing bopis is the same as with most leftover Pinoy ulam dishes. It follows these same rules:
1 Always simmer the dish again, especially if you return leftover bopis back into the pot.
2 Store the leftovers in clean and dry containers, preferably air-tight.
3 Reheat the bopis well to kill off any bacteria and prevent faster spoilage.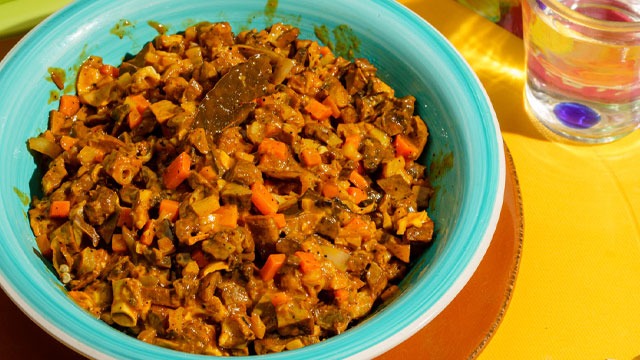 Bopis Recipe
You can easily make this delicious Filipino dish made of pork offal at home.
Ingredients
Bopis Ingredients
2

tablespoons

Vegetable Oil

1/2

kilo

Pork Heart

1/2

kilo

Pork Lungs

7

cloves

Garlic

1

large

Red Onion

4

pieces

Bay leaf

1

large

Bell Pepper

1

tablespoon

Siling Labuyo (Bird's Eye Chili)

2

stalks

Lemongrass (Tanglad)

3-5

pieces

Pandan Leaf

2

cups

Vinegar

1

Cup

Water

1

teaspoon

Fish Sauce (Patis)

Black Pepper

Red Chili Pepper
Instructions
In large pot, add pork heart and lungs, lemongrass, pandan leaves, 1 cup of vinegar, 1 tablespoon salt and enough water to cover the meat.

Bring to a boil and cook for 20 minutes.

 

Remove meat, let it cool down then dice the pork finely. Set aside.

In a heavy pan, heat oil and sauté garlic and onions.

 

Add the chopped pork lungs and heart, siling labuyo, stir fry for 3 minutes.

Add bell pepper, 1 cup of vinegar and water, bring to a boil and simmer in high heat until sauce thickens.

Add annatto water then season with fish sauce and lots of freshly ground black pepper.

 

Simmer for 2 minutes then place in a serving dish and garnish with red chili pepper.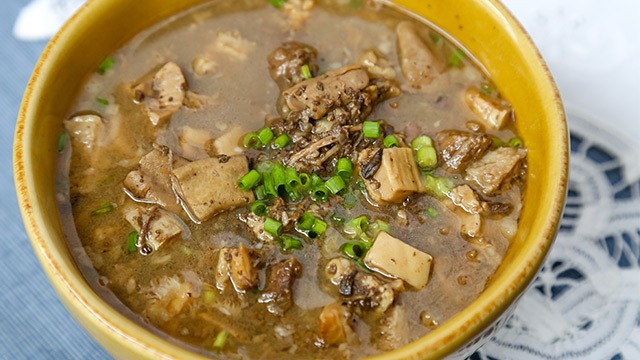 Batangas Goto Recipe
Posted in:
Recipe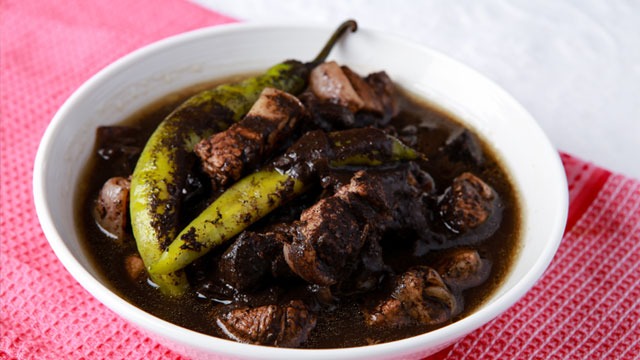 Pork Dinuguan (Pork Blood Stew) Recipe
Posted in:
Recipe
Igado Recipe
Posted in:
Recipe