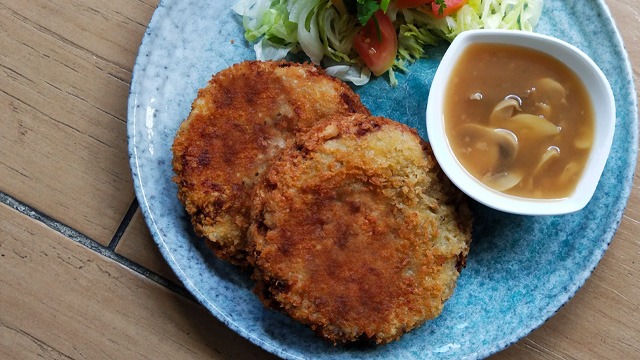 A burger steak is one of those ulam dishes made popular with its winning food combination: a succulent beef burger with a rich and delicious mushroom gravy poured on top and served with steamed rice so it can soak up all that luscious sauce. 
Are you drooling yet with that imagery? We sure are, but one thing that always made the burger steak less than perfect was that you could never get enough mushroom sauce with that burger bite. Spooning gravy straight up is not unheard of and neither is wishing there was more of that mushroom sauce to pour directly into our rice.  
If this is a problem you wish had a solution to, this recipe solves that problem!
This burger is breaded. That's why this burger can soak up all that delicious mushroom gravy and you get an even more irresistible bite! Without that breaded coating on the outside, the mushroom sauce can slide right off the beef. 
No more spooning that sauce as if it were soup!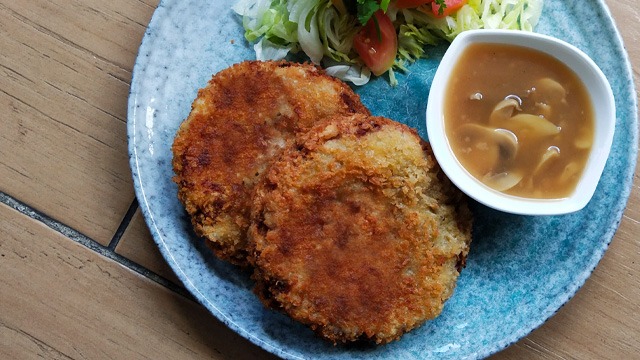 Breaded Burger with Mushroom Sauce Recipe
This burger can soak up all that delicious mushroom gravy!
Ingredients
Breaded Burger with Mushroom Sauce Ingredients
2

teaspoons

cooking oil

1

198-gram can

mushrooms

sliced

1

Cup

chicken broth

2

teaspoons

cornstarch

1

tablespoon

Soy Sauce

1

teaspoon

freshly ground pepper

2

tablespoons

salted butter

1

kilo

Ground beef

80-20 fat ratio

1

Cup

all-purpose flour

2

large

eggs

2

tablespoons

water

1

Cup

Japanese breadcrumbs (Panko)

Salt

to taste

ground black pepper

to taste

Oil

for frying
Instructions
Make the mushroom sauce: Heat a large skillet over medium-high heat. Add cooking oil. Sauté the mushrooms in the pan for 4 minutes or until mushrooms are lightly browned. Stir in broth, cornstarch, soy sauce, and pepper; cook 2 minutes or until sauce is slightly thickened. Remove from heat then add butter, stirring until butter melts. Set aside.

Shape the ground beef into patties. Freeze burgers for an hour.

Prepare 3 plates. In one, add flour and season with salt and pepper. In the next plate, add eggs and water and beat lightly. In the last plate, add panko bread crumbs. Take the patties out from the freezer. Season each patty with salt and pepper. Bread each patty, starting with the flour, then egg mixture, then panko. Take care to coat each patty evenly at each step. Place breaded patties on a clean plate.

Heat an inch of oil in a large cast-iron skillet or deep pan to about 360 degrees F/182 degrees C. Fry the patties until golden, about 3 minutes on each side. Drain on paper towels and rest for at least 5 minutes.

Place patties on a plate. Serve the mushroom sauce in a small sauce bowl. Serve with shredded cabbage, sliced tomatoes, and cilantro on the side or steamed rice as desired.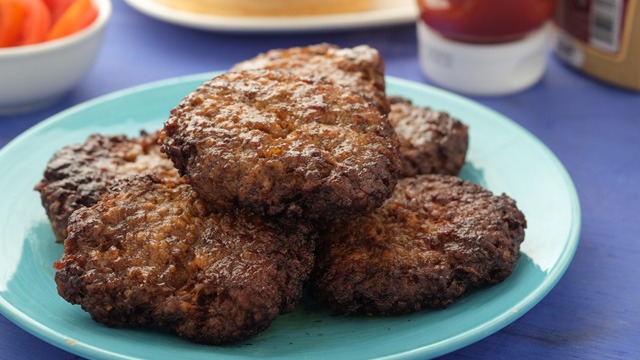 Beef Hamburger Recipe
Posted in:
Recipe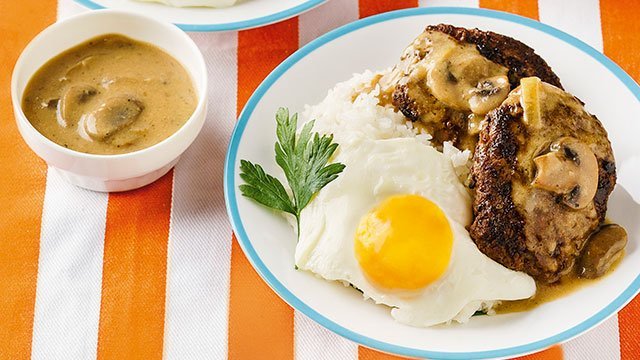 Burger Steak with Gravy Recipe
Posted in:
Recipe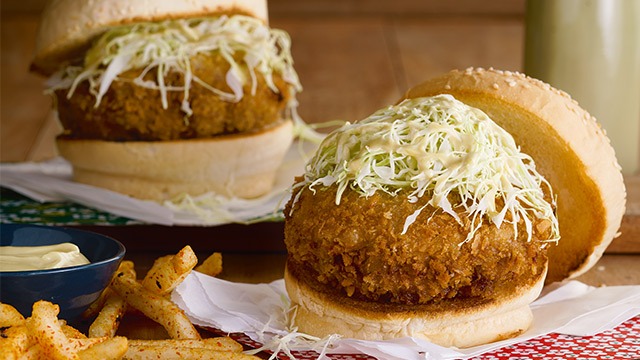 Katsu Burger Recipe
Posted in:
Recipe