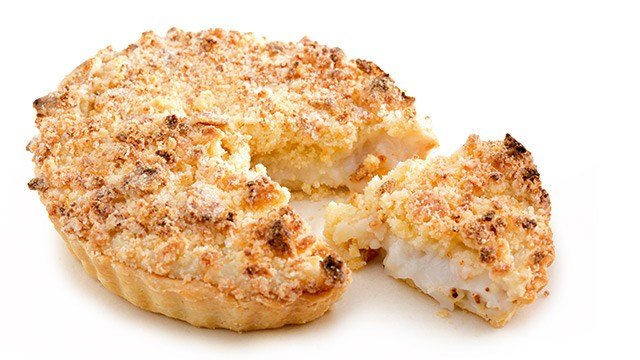 Whip up a classic buko pie at home and make it extra special by using a rich, buttery crust and a cheesy streusel topping!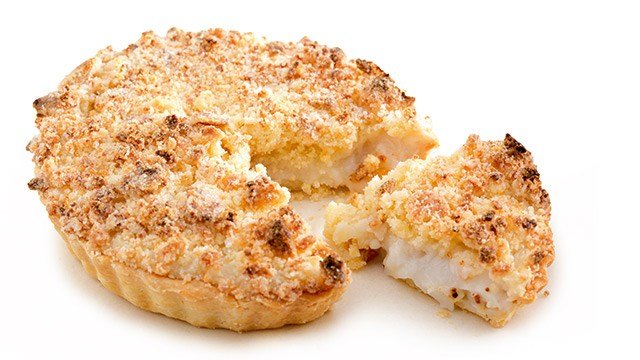 Filipino Streusel-Topped Buko Pie Recipe
This buko pie recipe is easy: a simple crust, delicious filling, and a quick streusel topping!
Ingredients
Filipino Streusel-Topped Buko Pie Ingredients
2

cups

all-purpose flour

1

teaspoon

Salt

1/2

Cup

Butter

cold, cubed

2

tablespoons

Shortening

4 to 6

tablespoons

water

ice-cold

1

25--gram can

condensed milk

2

cups

coconut water

fresh

1/2

Cup

cornstarch

1

tablespoon

Butter

4

cups

young coconut (buko)

(use coconut meat), sliced

1/2

Cup

all-purpose flour

1/4

Cup

sugar

1/8

teaspoon

Salt

1/4

Cup

Butter

cubed

1/2

Cup

cheddar cheese

shredded
Instructions
Make the crust: Mix flour and salt in a medium bowl. Cut butter and shortening into flour using a pastry blender or two forks until pea-sized crumbs form.

Drizzle in cold water. Mix gently with pastry blender until dough is evenly moist and begins to come together but does not form into a ball.

Transfer dough to a clean work surface. Divide into 3 portions and form each into a disk. Wrap tightly in plastic wrap. Refrigerate until well chilled, about 1 hour.

Let dough sit at room temperature for at least 10 minutes, then roll between 2 sheets of parchment paper or plastic wrap using a rolling pin until ¹/8 inch thick and 7 inches wide. (Alternatively, you can roll it into a 10-inch round to make a 9-inch pie.)

Preheat oven to 375°F.

Place dough on 3 (6-inch) tart pans and mold it onto the bottom and sides of the pans. Prick dough using a fork. Cover with plastic wrap and chill for about 20 to 30 minutes.

Place aluminum foil over dough and top with pie weights (dried beans and uncooked rice work well). Blind bake in the preheated oven for 15 minutes. Remove foil and weights. Bake for 10 more minutes or until golden. Set aside.

Make the filling: Cook condensed milk, coconut water, and cornstarch in a medium saucepan over medium heat, stirring constantly with a whisk. Bring mixture to a gentle boil and cook until thick.

Add butter; stir until well combined. Add coconut meat; stir with a wooden spoon until well combined.

Divide filling among pans.

Cut butter into mixture using a pastry blender or two forks until few lumps remain. Add cheese; mix well. (Mixture should be crumbly but chunky.)

Sprinkle streusel on top of pies, making sure to cover the filling completely. Bake in the preheated oven for 40 minutes or until tops are golden brown.

Before serving, let pies set and cool completely in pans set on top of a wire rack.