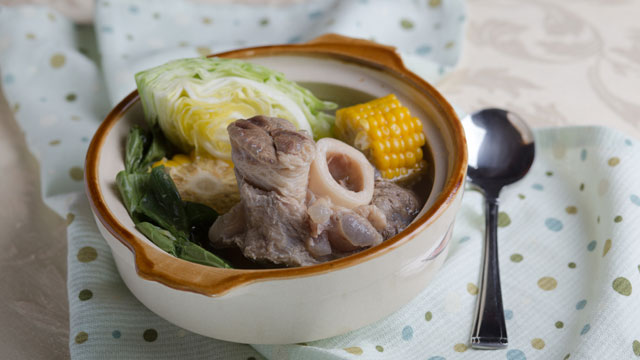 Updated as of May 25, 2023 by Jasper Castro.
What Is Bulalo?
Imagine this: it's a chilly, rainy night. It's time for dinner and you get a scoop (or two) of warm, fluffy rice. In front of you is a bowl of beef bulalo with its piping hot beef broth, melt-in-your-mouth beef shanks, sweet corn, fresh pechay and cabbage, and the all-important, sinfully satisfying bone marrow. This is bulalo in all its hearty and heartwarming glory.
If you are craving Filipino comfort food, look no further than this beef bulalo recipe. This classic Filipino dish is cooked with bone-in beef shanks, as they contain a lot of utak ng buto or bone marrow, which is one of the highlights of the dish.
The bulalo is a classic Filipino beef stew recipe originates from Southern Luzon but finds itself on every Filipino table across the country. Key to every version is boiling beef shanks until the flavorful fat and marrow have rendered into a clear soup.
How to Serve Bulalo
Serve bulalo with lots of rice: Like most Filipino ulam dishes, bulalo is one that's best enjoyed with rice. The fluffy, soft rice is wonderful at absorbing all that flavorful broth, and makes the whole meal a heartier one.
Serve it with a patis-calamansi dip: Bulalo can also be made even more delicious with a side of patis or fish sauce with calamansi for a touch of saltiness that brings outs the umami flavors even more. You can add red chili for a spicy kick.
How to Cook Bulalo
In a large pot over medium heat, boil your beef shanks for 10 minutes. Skim the scum that forms atop the soup. Now, discard the liquid and wash your beef under cold water. Bring the beef back into the pot with enough water to cover it then bring to a boil. Remove scum then season with onions, fish sauce, and peppercorns. Lower the heat and let simmer for 3 hours or until meat becomes tender.
Lastly, add your corn and simmer for 20 minutes again. Season and add your vegetables for another 3 minutes of simmering.
Tips to Make Easy Bulalo
1 Don't skip blanching your beef and removing scum.
The process of washing the beef in cold water and removing the first batch of boiling water will make a world of difference to your finished dish. Nobody likes fat hanging on to the roof of one's mouth after eating bulalo! That's why it's also important to skim off the scum until your soup is clear.
2 Get your beef shanks cut by your butcher so they can fit in your pot
Bone-in beef shanks are usually quite large, usually around 5 to 8 inches in length, so make sure to account for that when choosing a pot. Also remember that you will be adding other beef bulalo ingredients as well! If you don't have a big enough pot or want to cook a smaller batch, you can also use cross-cut beef shanks, which are smaller cuts of beef shanks (think: a 1- to 2-inch thick steak with bone marrow in the center).
ADVERTISEMENT - CONTINUE READING BELOW
Recommended Videos
3 Go fuss-free by using a slow cooker
If you want a fuss-free option of cooking bulalo, you can also opt to use a slow cooker. You will still have to do the first step, as mentioned, and then continue with the rest of the recipe in the same way with your slow cooker. Once it's in, you can leave it on High for the first 3 to 4 hours until the beef are fork-tender. However, if you want to leave it on for longer (for that creamy, melt-in-your-mouth bulalo), you can continue on Low for another 4 hours.
How to Store Bulalo
1 Remove your cooked vegetables before storing in the fridge or freezer
Freshly blanched vegetables are healthier and have a better mouth feel. Add in your fresh vegetables again when reheating. Then season again before serving.
2 You can freeze bulalo for up to 3 months.
Make sure you place it in a container with some space on top as the soup will expand as it freezes.
3 Refrigerate bulalo for only 3 days.
It's best to only keep leftovers for 3 days. To make sure you store it properly, once soup reaches room temperature, seal in an airtight container and refrigerate immediately.
Watch: How to Make Bulalo Recipe Video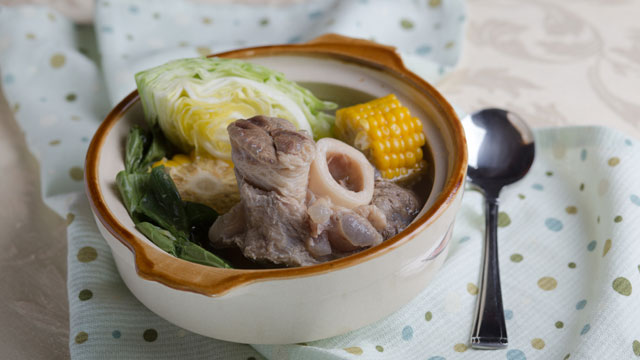 Bulalo Recipe
A bowl of piping hot broth, beef shanks, and marrow bones always spells comfort food.
Ingredients
Bulalo Ingredients
1

kilo

beef shank (bulalo)

bone-in

water

as needed

1

medium

onion

peeled and quartered

2

tablespoons

fish sauce (patis)

1

tablespoon

peppercorns

3

pieces

corn

husked and cut into 3 pieces

1

bunch

pechay leaves

leaves separated

1

head

cabbage

(small, cut into 6 pieces), cut into 6

Salt

to taste
Instructions
In a large pot over medium heat, put the beef shanks and add water to cover the meat. Boil for about 10 minutes, skimming scum that accumulates on top. Remove meat from water and wash under cold water to remove impurities. Discard liquid and rinse pot.

Return the meat and add enough water to cover the meat. Bring to a boil. Remove the scum from time to time. Once the broth is clear, add onions, fish sauce, and peppercorns.

Lower the heat, cover, and let it simmer for 3 hours or until meat is fork-tender.

Add corn and simmer for 20 minutes. Season with salt to taste. Add the pechay and cabbage, and cook for about 2 to 3 minutes.
Try These Other Yummy Recipes:
More Lessons About Bulalo and Beef Soups: