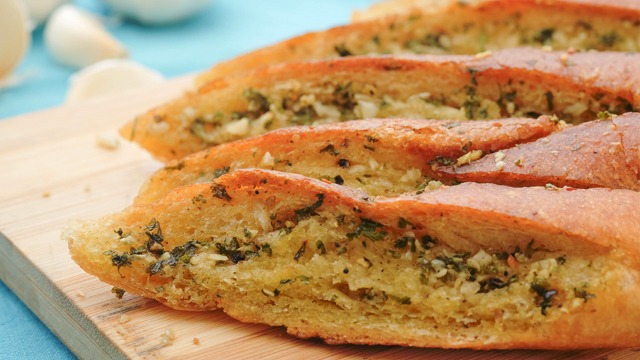 This garlic bread has a tender center that's soaked in buttery, garlicky, and herby goodness, and a deliciously crunchy crust. Every bite will taste like heaven. Our favorite thing about it? You can make this slice of heaven in one go, stock it, and toast it any time you want or need it. Your homemade spaghetti will never feel lonely again!
To speed this recipe up, simply throw your parsley, garlic, oregano, pepper, and salt together in a food processor or blender. Then, mix this pesto you made into your butter. Flavored butter lasts for weeks! 
Buttery Garlic Bread Recipe
Every crunchy and tender bite unleashes its buttery garlicky flavor.
Ingredients
Buttery Garlic Bread Ingredients
Instructions
Preheat oven to 350 degrees Fahrenheit (180 degrees Celsius).

Make garlic butter: Mix together all ingredients except French bread. Set aside.

Cut French bread in half to fit your oven, or into four to fit your oven toaster. Cut in a slanted manner or make diagonal cuts almost all the way down.

Evenly divide garlic butter according to how many batches you're making. Place bread at the center of a square piece of foil. Smother butter between the cut slices and on top. Wrap the foil tightly around the bread. You can store these at this point by sealing them in a freezer bag, and store in the freezer for a month or the refrigerator for two weeks.

Bake in the oven or oven toaster for 8-15 minutes. For a crunchier top, brush outside of the bread with olive oil and put back in the oven or oven toaster for an additional 4 minutes. Serve hot.