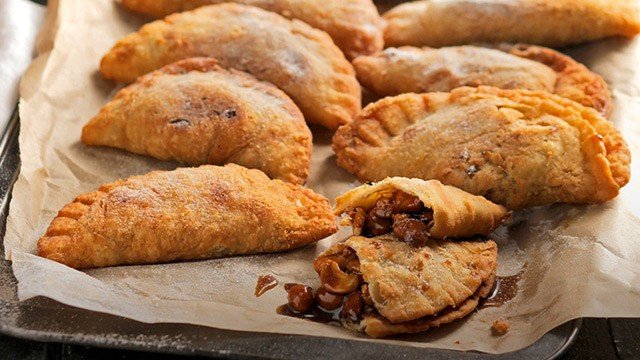 This is a new take on the empanada! We took the filling out of the pie and placed it into the Pinoy version of a hand pie: the empanada.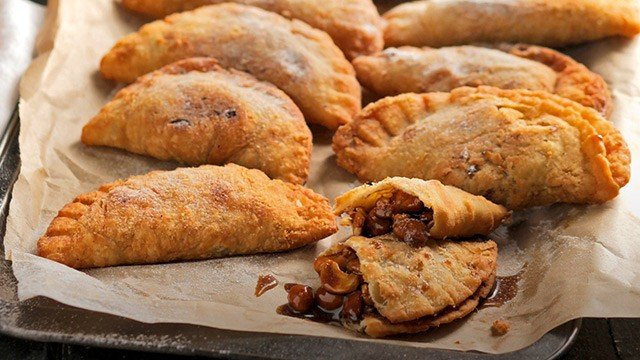 Cashew-Pili Empanada Recipe
This empanada recipe has three kinds of nuts instead of a meaty filling!
Ingredients
Cashew-Pili Empanada Ingredients
1 1/2 cup

Cup

all-purpose flour

more for kneading, rolling

1/4

teaspoon

Salt

2

teaspoons

sugar

9

tablespoons

Butter

diced, kept in freezer

2

tablespoons

cold milk

2

tablespoons

ice water

1

Egg

beaten, for egg wash

Oil

for deep-frying

Powdered SUgar

for serving

1

large

Egg

1/4

Cup

Butter

melted

1/2

Cup

brown sugar

2

tablespoons

honey

1/2

tablespoon

all-purpose flour

1/2

tablespoon

evaporated milk

1/4

Cup

cashews

1/2

Cup

glazed pili nuts

chopped

1/2

Cup

honey-roasted peanuts

1/2

teaspoon

vanilla extract
Instructions
Make the crust: in a food processor, pulse together 1 cup of the flour, salt, sugar, and butter until the mixture resembles peas. Add in the remaining flour and pulse until it resembles crumbs. Transfer to a large bowl, and moisten mixture with milk and water. Stir with a spoon until the mixture just comes together into a dough when pressed against the sides of the bowl. Working quickly, press dough together into a round, wrap in plastic wrap, and chill until ready to roll.

Meanwhile, make the filling: in a medium saucepan, beat egg well with a whisk. whisk in melted butter. Add sugar, honey, flour, and milk, and whisk until well combined. Place over medium heat. heat mixture, stirring, until thickened. Remove from heat, and stir in cashews, pili nuts, and peanuts. Set aside.

Flour a baking sheet. Place in the refrigerator. roll out dough on a flour-dusted surface until 1/4 inch thick. Cut out rounds, transferring to the chilled baking sheet as each is made. re-roll pastry trimmings until all the dough is made into rounds.

To assemble: Place a dough round onto a lightly floured countertop. scoop a heaping tablespoon of the filling onto the middle of the pie crust. Wet edges with egg wash and fold closed. Use a fork to seal edges. Repeat with remaining dough.

Heat enough oil in a deep saute pan for deep frying. Place an empanada into the hot oil, and cook until golden brown on both sides. Drain on a rack with paper towels. Repeat with remaining empanadas. Sprinkle with powdered sugar, and serve while warm. Recipe originally published in the July 2016 issue of Good Housekeeping.