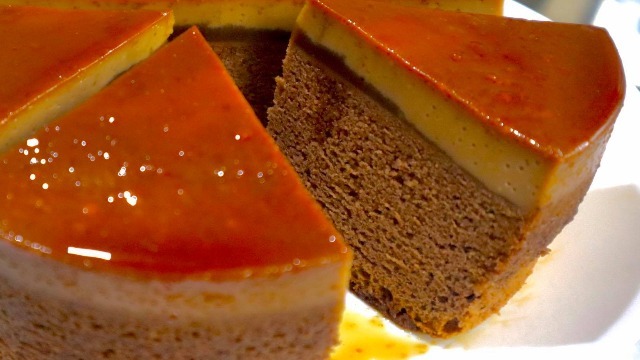 Castella custard cake is my version of a custard cake. It's a Filipino cake that is one of the all-time favorites here in the Philippines. It's a combination of castella cake and the custard which is the leche flan.
A Castella is a Japanese sponge cake made from a mixture of eggs, flour, butter, milk, and eggs. The difference between a Castella sponge cake and the ordinary sponge cake is that a Castella is more delicate, finer, and more bouncy in texture. It is jiggly. That is the beauty of this cake.
Combined with leche flan, the cake is bursting with so many flavors because as always I try to upgrade my cakes to a higher level. This recipe yields four different flavors of Castella Custard Cake—the original, chocolate, ube, and strawberry.
READ THESE: MORE CAKE RECIPES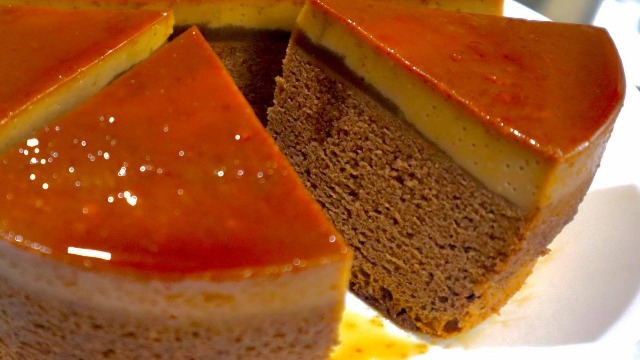 Castella Custard Cake Recipe
These flavored castella cakes are topped with leche flan!
Ingredients
Castella Custard Cake Ingredients
1 1/4

cups

white sugar

divided

6

large

eggs

1

370-ml can

evaporated milk

1

300-ml can

sweetened condensed milk

vanilla

to taste

chocolate syrup

to taste

ube flavoring

to taste

strawberry syrup

to taste

red food coloring

as desired

2/3

Cup

evaporated milk

3/4

Cup

unsalted butter

1/4

Cup

corn oil

1 1/2

cups

cornstarch

1 1/4

cups

cake flour

12

large

egg yolks

vanilla extract

lemon extract

chocolate syrup

2

teaspoons

cocoa powder

ube flavoring

to taste

purple food coloring

as desired

1

teaspoon

strawberry syrup

or extract

red food coloring

as desired

12

large

egg whites

1

teaspoon

cream of tartar

Optional
Instructions
Preheat the oven to 320 degrees F or 160 degrees C. Prepare 4 6-inch round, 3-inches high pans.

Start by caramelizing the sugar. Pour 1/4 cup white sugar per pan and then place the pan over direct heat to melt the sugar to a nice golden color, using medium heat for a sweet caramel. (A darker color could mean a bitter flavor, while a very light shade would have the caramel flavor but not the color.) Only swirl the pan but don t stir the sugar. Tilt the pans slightly to enable the caramel to cover the bottom of the pans completely. Set aside.

For the flan mixture, in a small tempered glass bowl, whisk 6 whole eggs, then add the evaporated milk and the condensed milk. (Careful not to incorporate so much air to avoid bubbles.) Strain the mixture. Divide into 4 and add the flavors: vanilla, chocolate syrup, ube flavorade, strawberry syrup, and drops of red food color. Then, pour into the prepared caramel-lined pans. Set aside.

For the cake: In a small bowl tempered glass bowl, combine milk, butter, and oil. Then heat in a microwave to melt for 1 minute. (Alternatively, place in a double boiler, being careful not to boil the mixture.) Sift the cornstarch and the cake flour into the hot mixture, and beat until the batter is sticky. (The heat will cook the flour and cornstarch slightly.) Add the egg yolks in two batches, and beat again. Divide the batter into 4 bowls and add in the flavors: vanilla extract and lemon extract in one bowl; chocolate syrup and cocoa powder in the second bowl; ube flavoring and purple food color in the third bowl; and in the last bowl, the strawberry flavor and red food coloring. Set aside.

For the meringue, beat the egg whites with cream of tartar (optional). Gradually add the remaining 1/4 cup sugar and continue beating until soft peaks are formed. Divide the meringue evenly between the four bowls. Carefully fold the meringue into the different flavors of egg yolk mixture, careful not to deflate the meringue. Tap lightly to remove big bubbles from the mixture. Pour each batter over the prepared leche flan mixtures. Place the pans in a large baking pan filled with hot water, making a bain-marie or water bath. Bake for 1 hour. Insert a toothpick into the cake part to test. If it comes out clean, then it's done.

Take the pans out of the oven and allow to cool in the water bath for at least 30 minutes. After 30 minutes, remove from the water bath and allow to cool before unmolding. READ THESE: MORE CAKE RECIPES Easy Vanilla Cake Recipe WATCH: This Cake Is Covered In Layers of Creamy Yema