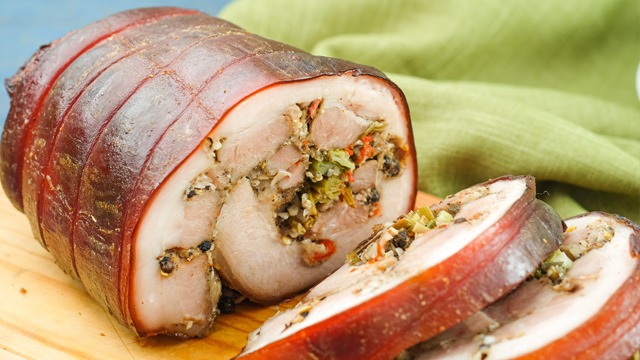 We can't all have hot charcoals to roast our whole pigs with, but we can still try to recreate the goodness of Cebu lechon with an oven and the right combination of spices!
Unlike the lechon in Luzon, which is served with a sweet, savory liver-based lechon sauce, Cebu lechon or lechon Cebu is served with a dip made with soy sauce and spiced vinegar like pinakurat. And while you can definitely make lechon Cebu-style by simply using herbs and spices that are normally used in a lechon Cebu recipe, another way that lechon Cebu is different from lechon from Luzon is that you can also make a lechon belly version! In fact, this Cebu lechon belly recipe takes the flavor of Cebu lechon and a technique from making porchetta so every bite can be amazing.
Plus, don't forget that there are two main reasons to make your own lechon: it's more affordable and everyone gets an equally amazing part. If there's a special event coming up, this Cebu lechon recipe is sure to be a showstopper. Admittedly, cooking your own lechon belly is labor intensive, so you might want to double the recipe so you can get twice amount of lechon for the same amount of time.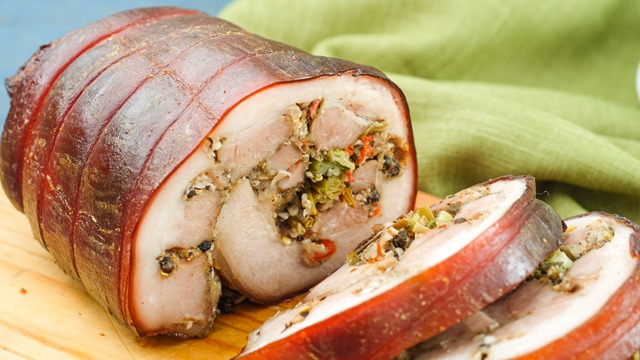 Cebu-Style Boneless Lechon Recipe
Get your lechon fix without spending a small fortune.
Ingredients
Cebu-Style Boneless Lechon Ingredients
5

cups

water

4

heads

Garlic

smashed, divided

16

pieces

birds eye chilies (siling labuyo),

chopped, dividedd

2

medium red onion

2

stalks

green onion leaves

divided

2

stalks

Lemongrass (tanglad),

4

pieces

star anise

4

pieces

bay leaves

1 1/2

tablespoons

peppercorn

divided

2

ginger

sliced thinly, divided

1/4

cups

Soy Sauce

1/4

Cup

Salt

1/4

Cup

sugar

1 1/2

teaspoons

Salt

1 1/2

teaspoon

black pepper

2.3

kilograms

boneless pork belly, skin on

3

tablespoons

evaporated milk

1

tablespoon

water
Instructions
Make your marinade: In a large pot on high heat, add water, 2 heads of smashed garlic, 8 pieces red chili peppers, 1 red onion, 1 stalk of onion leak, 1 bruised stalk of lemon grass, 2 pieces anise, 2 pieces bay leaves, 1 tablespoon peppercorn, 1 inch of ginger. soy sauce, ¼ cup salt, and ¼ cup sugar. When mixture start to boil, drop to medium heat and simmer for 15 minutes. Cool the mixture down.

As your mixture is cooling, prepare the pork slab: Make sure that it's shaved, that it's cut into an even rectangle, and the thickness is more or less even as well. Now, with the skin side down, using a sharp knife, score the meat diagonally 1.5 inches apart, cutting deep but taking care not to go through the skin. Make a crisscross pattern. This will allow the flavors to fully penetrate every part.

In a large enough freezer bag or big pot, place together pork and marinade. Massage the pork for 3 minutes. With the pork and marinade sealed in or covered, place in your refrigerator overnight to 3 days.

Make a dry rub: using a food processor, blender, or by chopping finely, mix together 2 heads of garlic, 8 red chili peppers, 1 medium red onion, 2 pieces star anise, 2 pieces bay leaves, 1/2 tablespoon peppercorn, and 1 inch ginger. Set aside.

After marinating, wash off marinade from the pork. Pat the pork dry with a towel. Place pork, skin side down on a clean surface. Sprinkle on salt and pepper evenly and rub into every crevice. Then, evenly distribute the dry rub through the whole slab.

Place 1 stalk of onion leak and 1 stalk of tanglad in the middle and roll. Tie twine around the pork. Place in a bowl and refrigerate for three hours to overnight, uncovered in the refrigerator.

Make basting mixture: Mix together evaporated milk and water. Brush all sides of the lechon. Completely wrap lechon in foil and place on a roasting rack. Or, simply place on the middle rack of your oven, then place a large enough baking pan or tray at the bottom rack of the oven to catch the drippings.

Preheat oven to 350 Fahrenheit or 180 Celsius then place the lechon. After two hours, remove the foil and continue cooking for 2 hours or more. Adjust the placement of your lechon every 20 minutes to keep the skin from burning. Remove from the oven once skin is crispy. Make sure to rest lechon for 20 minutes before slicing. Serve with your favorite vinegar.