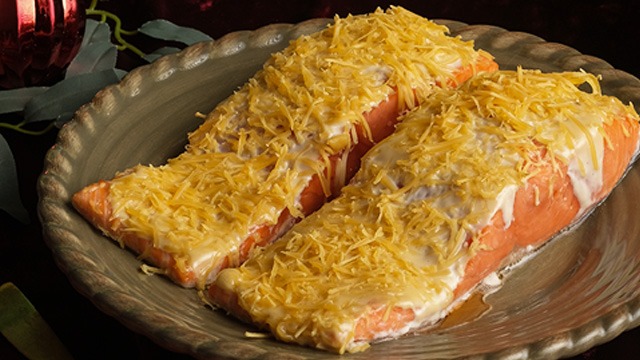 Make a restaurant-quality dish with just a few pantry staples and a toaster oven. This easy salmon recipe will be done in less than 30 minutes!
This cheesy baked salmon recipe is one of six recipes that we are featuring as our recommended recipes for your Noche Buena handaan. As one of Yummy's December digital cover recipes, this delicious dish is sure to make your Noche Buena feast a sure hit with everyone at your Christmas party.
What is Cheesy Baked Salmon?
A baked salmon rose to popularity with the now famous Baked Salmon of Conti's. If you wanted to impress your guests (or your host!), this dish did the trick. It's a dish that has a creamy and cheesy topping hiding a perfectly cooked salmon fillet underneath. It was an instant hit when it was first introduced to the market and has since then become a party staple for many gatherings.
However, not everyone had the budget to spend on a full slab of salmon or even possessed a full-sized oven that could fit it. For those of us who are on a budget and only have a toaster oven in their kitchens, a more humble size was necessary.
Enter this easy baked salmon recipe that uses affordable pantry ingredients to make it creamy yet addictive with the play of flavors that are mixed into the topping.
How To Serve Cheesy Baked Salmon
This salmon recipe serves two and is a creamy dish that would be fantastic with a side of steamed rice and buttered vegetables like the original. However, you can also serve this with a side of potato wedges that complement the creamy cheese and mayo topping on the salmon. In contrast, a side salad would also work as well to deliver instead a light yet still satisfying meal for those who prefer that.
How To Cook Cheesy Baked Salmon
Most baked salmon recipes are deceptively intimidating. The cost of the salmon might be what makes the dishes seem harder than it really is. One wrong move in the cooking or prepping process can mean a wasted expense.
That doesn't need to be the case for this salmon recipe. The salmon is simply prepared with garlic, lemon juice, and salt and pepper. It's topped with a mayo mix that includes liquid seasoning, enhancing the umami elements of an already irresistible dish. This mayo mix is slathered on the salmon slabs and then topped with grated cheese.
Baked in a regular oven toaster, just watch until the salmon is cooked through and the cheese is melted before removing. This is ready to serve to hungry diners as is with your choice of sides.
ADVERTISEMENT - CONTINUE READING BELOW
Recommended Videos
Tips To Make The Best Cheesy Baked Salmon
Here are a few things to remember so you end up with a salmon dish that will impress anyone who tastes it:
Hunt down and choose the best salmon fillet for this recipe since it's the star ingredient.
Use lemon juice or even calamansi juice to remove any fishy taste that your salmon may have.
Season the salmon lightly with salt and pepper even before it's covered with the sauce to ensure the salmon is delicious no matter what.
Don't be afraid to undercook the salmon (and don't overbake!) since the residual heat can be enough to keep cooking the salmon once removed from the oven. You still want flakey salmon, not dried-out chunks.
Prepare and make this on the day you will serve it for best results. Since the salmon takes less than an hour to make, you'll want to serve it as soon as it comes out of the oven for everyone to enjoy.
If cooking for a crowd, make extra of the mayo mix so you can easily spread it on the salmon pieces as it goes into the oven toaster.


How To Store Cheesy Baked Salmon
Baked salmon is best wrapped up or transferred to an airtight container. Store it in the refrigerator and consume within 3 days for best results. Fish is best not kept for a long period of time, stored properly or otherwise. However, if you do need to store it for longer than 2 days, freeze it wrapped well until ready to thaw and serve again.
Cheesy Baked Salmon Recipe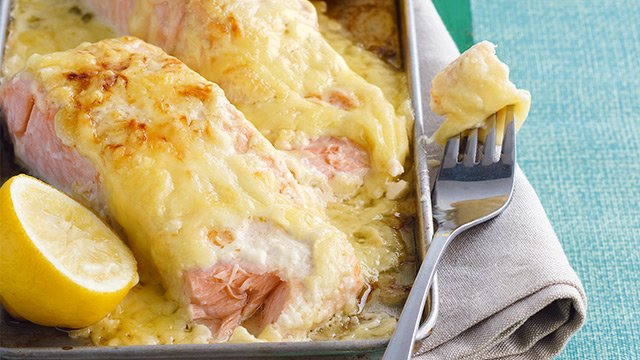 Cheesy Baked Salmon Recipe
This baked salmon recipe will be done in less than 30 minutes!
Ingredients
Cheesy Baked Salmon Ingredients
2

200-gram fillets

salmon

4

cloves

Garlic

1/2

lemon

juice only

1/4

Cup

mayonnaise

1

teaspoon

sugar

1

teaspoon

liquid seasoning

1/4

Cup

quick-melting cheese

grated
Instructions
Preheat a toaster oven. Line baking sheet with foil.

Rub salmon fillets with garlic, lemon juice, salt, and pepper. Arrange fillets, skin side down, on baking sheet.

Mix together mayonnaise, sugar, and liquid seasoning in a bowl. Spoon mixture over salmon fillets then top with grated cheese.

Bake in the preheated toaster oven until cheese is melted and fish flakes easily, about 10 to 12 minutes depending on your preferred doneness. Serve immediately.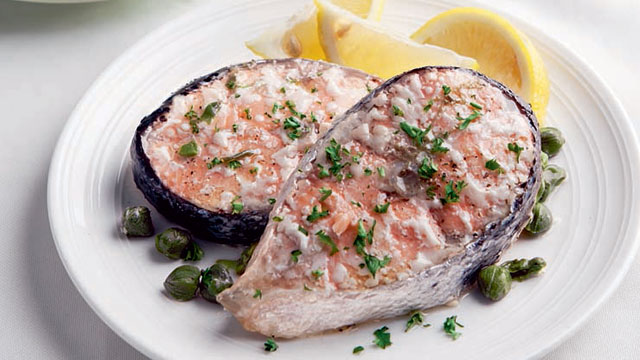 Baked Salmon with Capers Recipe
Posted in:
Recipe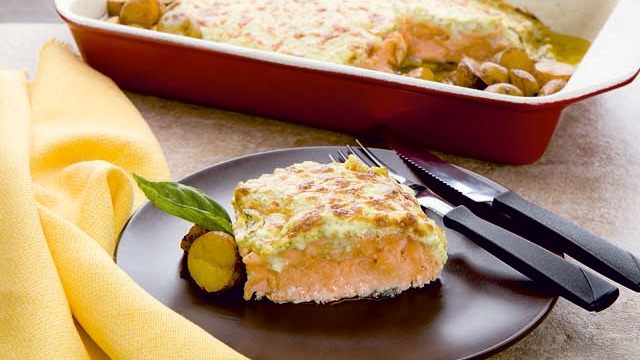 Baked Salmon in Pesto Cream Sauce Recipe
Posted in:
Recipe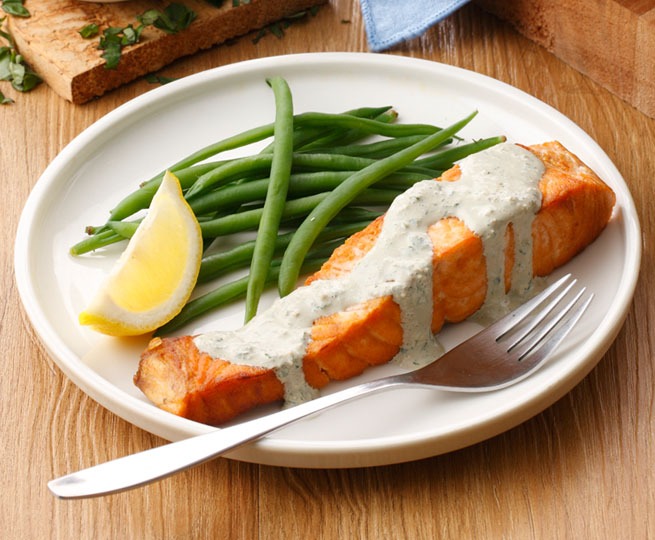 Creamy Pesto Salmon
Posted in:
Recipe