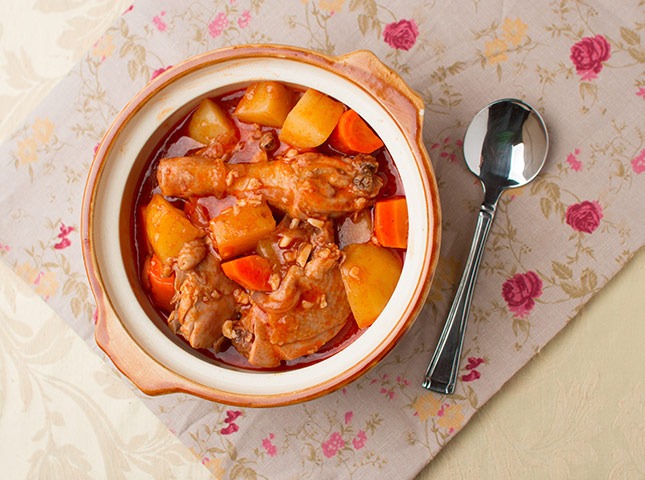 This local chicken dish is sure to be an easy family favorite. It's loaded with whole chicken pieces, big chunks of potatoes and carrots, and simmered in a flavorful tomato sauce.
How do you make afritada delicious?
Two things about the afritada recipe make it irresistible: it's a stew and it's made with chicken. Because it's a stew, you know the dish has been simmered for some time so it has had time to develop its flavors and become even more flavorful. Tomatoes are fantastic when it has had time to fully combine with other ingredients.
The chicken pieces in the afritada are kept whole, meaning each piece is on the bone and will also contribute to the overall flavor of the dish. The result is an aromatic, chicken and tomato stew made heartier with vegetables and tastier with time.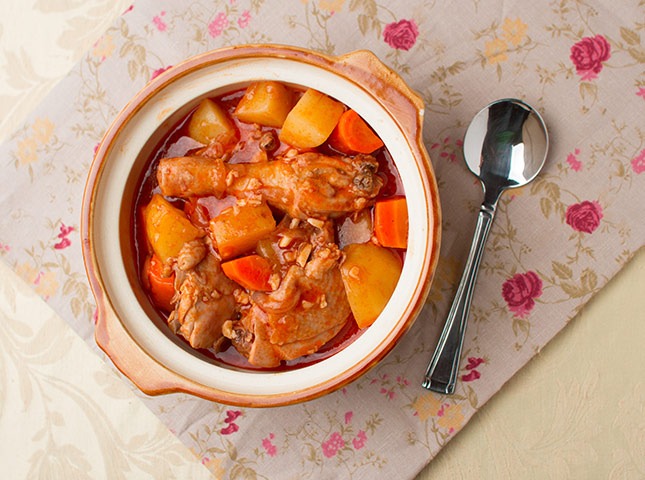 Chicken Afritada Recipe
There is so much to love about this hearty chicken and tomato stew.
Ingredients
Chicken Afritada Ingredients
4

tablespoons

cooking oil

1

medium

onion

diced

4

cloves

Garlic

minced

1

kilo

Chicken

cut into serving pieces

1

pack (200-gram)

Tomato sauce

1

Cup

water

1

large

Potatoes

quartered

1

large

carrot

sliced

1

large

red bell pepper

sliced

1

teaspoon

white sugar

Salt

to taste

black pepper

to taste
Instructions
Saute the onion and garlic in a preheated pan with cooking oil.

Stir in the chicken until the color turns light brown.

Pour-in tomato sauce and water then simmer for 30 to 40 minutes.

Add the potato and carrots then cook for 7 minutes or until the vegetables are soft.

 

Put-in the bell pepper slices. Season with salt, sugar, and ground black pepper then cook for a few minutes. Serve hot.