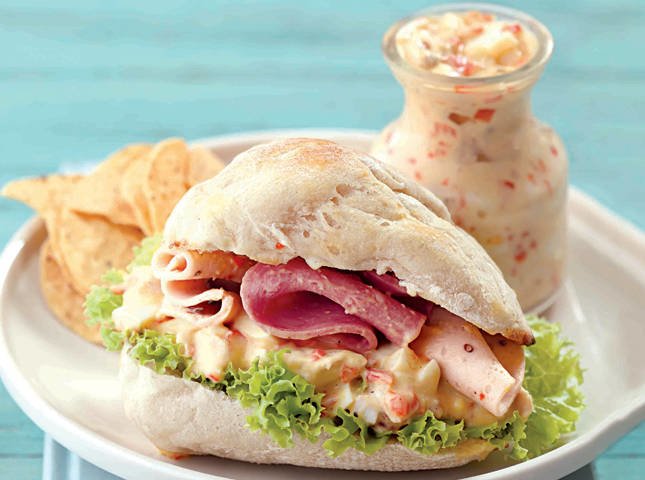 You can make small batches in your kitchen and sell them at a weekend market to start. There, you can observe how different customers respond to your product and zero in on your target market. Small-batch production also ensures that you keep things as fresh as possible.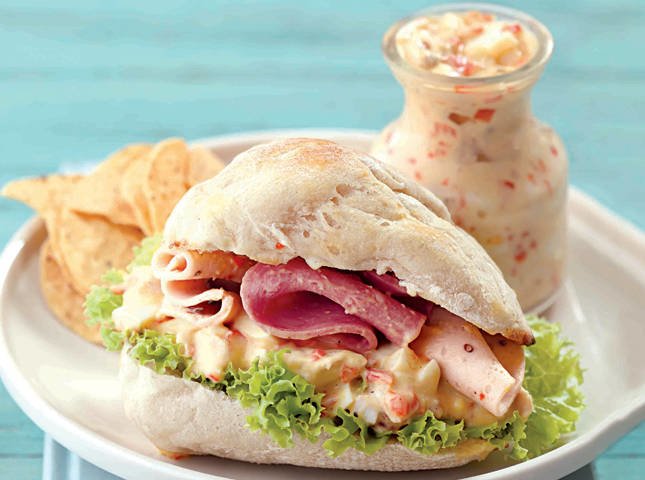 Chicken and Egg Pimiento Spread Sandwich
The unique egg-pimiento spread on this can be your startup biz's signature "secret sauce."
Ingredients
Chicken and Egg Pimiento Spread Sandwich
bunch

celery

leaves only

1

onion

quartered

1

bay leaf

Salt

300

Grams

Chicken

use fillets

6

Egg

hardboiled and cubed

1

whole piece

pimiento

chopped

3/4

Cup

Non-Fat Mayonnaise

Panini Rolls

lyoners

slices or cold cuts from the deli

potato chips

to serve
Instructions
Boil water in a pot large enough to submerge chicken fillets. When water boils, add in the aromatics—celery leaves, onion, and bay leaf. Season with salt and pepper, enough to flavor chicken. Place chicken in the pot then lower heat to poach chicken until well done, about 15 to 20 minutes.

In a large mixing bowl, mix together eggs, chopped pimiento, mayonnaise, salt, and pepper. Mixture will turn yellow or orange. Chill in the refrigerator.

When chicken is done, slice meat into cubes. The size should be equal to or, if not, be slightly larger than the cooked eggs. Cover with plastic wrap or transfer to a plastic container before chilling in the refrigerator.

When chicken and mayonnaise mixture are both cold, mix together. Adjust seasoning as needed. Transfer to sterilized bottles or plastic containers as desired. This keeps for about 7 to 10 days.

To serve as a club sandwich, toast panini rolls until crisp on the edges, about 3 minutes. Place two spoonfuls of the chicken mixture into the bread and top with sliced lyoners or cold cuts. Slice in half and serve with chips. Biz tip: Want to experiment with making spreads and salads? A few reminders: Make sure all the ingredients are cold before mixing together to prevent spoilage and prolong shelf life. You can also add chopped onions and chopped celery to the mixture to add more flavor, but this shortens shelf life.