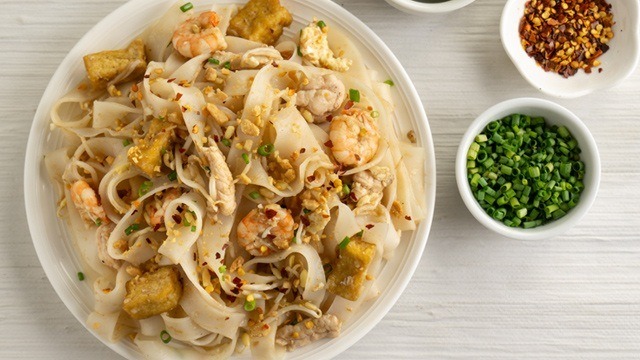 These thick rice noodles are tossed in a sweet, sour, and salty sauce made from a tamarind, or sampaloc, sauce made from scratch. Fried tofu, bean sprouts, chicken chunks, peeled shrimps, and a scrambled egg complete this version of the popular Thai dish.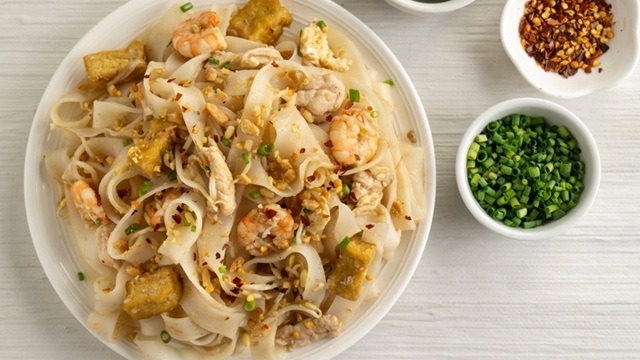 Chicken And Shrimp Pad Thai-Style Noodles Recipe
Fresh tamarind is the secret to the incredibly tasty sauce the noodles are tossed in.
Ingredients
Chicken And Shrimp Pad Thai-Style Noodles Ingredients
1/4

Cup

canola oil

divided

100

Grams

fresh suahe/shrimps

peeled and deveined, shells reserved

3/4

Cup

water

150

grams (1/2 package)

sweet tamarind pods

2

tablespoons

fish sauce (patis)

divided, more to taste

1/2

400-gram package

dried flat rice noodles

(dried hofan noodles)

1

medium

red onion

peeled, chopped

2

cloves

Garlic

peeled, chopped

1

chicken breast fillet

sliced thinly

1

large

Egg

beaten

2

squares

firm tofu

cubed, fried

1/4

Cup

peanuts

crushed

1/4

teaspoon

red pepper flakes

or to taste

1

Cup

bean sprouts (togue)

rinsed

3

stalks

spring onions

chopped

ground black pepper

to taste

calamansi

to serve
Instructions
In a saucepan, heat half the oil. Add shrimp shells and cook until the shrimp shells have turned a vibrant orange. Pour in water. Bring to a boil. Boil for 1 to 2 minutes or until the shrimp shells have colored the water. Remove and discard shrimp shells using a slotted spoon. Add the sweet tamarind (add 1/2 tablespoon sugar if not sweet). Bring to a simmer again, stirring and pressing down onto the tamarind occasionally to release its flavor and pulp into the water. Simmer until the water has thickened and mixture looks like a sauce (about 1/2 cup). Remove and discard seeds and any stems. Stir in 1 tablespoon fish sauce, and set aside.

Meanwhile, bring a pot of water to the boil. Lower to a simmer, and add flat rice noodles, cooking until rice noodles are softened. Drain, and keep warm. Set aside.

Heat the remaining oil in a wok over medium heat. Saute onion and then, garlic until just softened. Add chicken, and saute until just cooked through, stirring. Lightly season with salt and ground black pepper. Push ingredients to the side of the wok, and add egg. Cook, stirring, and lightly season with salt and ground pepper until cooked through. Add shrimp, and cook until just seared on both sides.

Add cooked tofu and cooked rice noodles to the wok. Pour in tamarind sauce, and toss to coat and mix. Add half the peanuts, bean sprouts, red pepper flakes, and spring onions, and toss to mix.

Transfer to a plate, and top with spring onions, red pepper, and peanuts. Serve with calamansi and more garnishes: red pepper flakes, spring onions, sugar, and more calamansi and peanuts on the side.